US lawmakers meet with Taiwan president in surprise visit amid China tensions
Just Earth News | @justearthnews | 27 Nov 2021, 11:07 am Print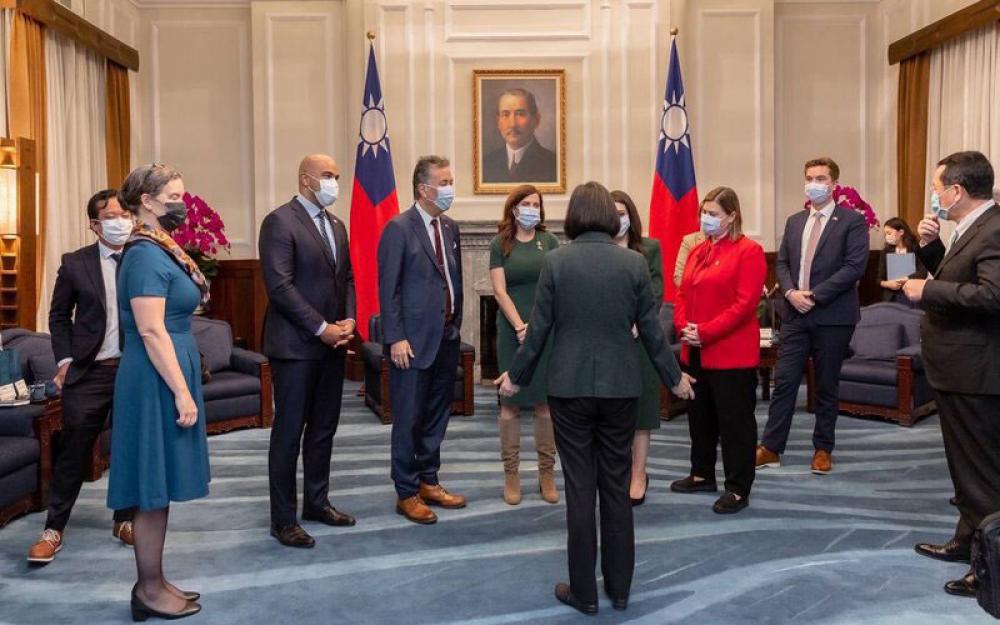 US Taiwan Relations
Twitter/Taiwan President Tsai Ing-wen
Washington/Taipei/IBNS: A group of five US legislators have met with Taiwan President Tsai Ing-wen in a surprise one-day visit, defying warnings from China to "stay out of the contested island", according to reports.
The visit of the US delegation intended to reaffirm the United States' "rock-solid" support for the self-governing island at a time when its military tensions with China are at their worst in 40 years, media reports said.
Thrilled & honored to welcome the #US congressional CODEL. We exchanged views on the situation in the #IndoPacific. Without a shred of doubt, we're great democratic partners in countering the expansion of authoritarianism & safeguarding our shared values. JW pic.twitter.com/8BfVIJpuhr

— 外交部 Ministry of Foreign Affairs, ROC (Taiwan) 🇹🇼 (@MOFA_Taiwan) November 26, 2021
"Thank you to Mark Takano, Elissa Slotkin, Colin Allred, Sara Jacobs and Nancy Mace. Your delegation's visit to Taiwan and your support strengthens my conviction that our democratic partnership will continue to be a key force for good in the region and world," Taiwan President Tsai Ing-wen tweeted.
Michigan Democrat Elissa Slotkin, who was among the five US lawmakers to visit Taiwan, said the side trip to the island came after celebrating Thanksgiving with US troops in South Korea and that the stop would "be good to connect with leaders here to discuss a whole host of economic and national security issues."
"When news of our trip broke yesterday, my office received a blunt message from the Chinese Embassy, telling me to call off the trip," Elissa Slotkin wrote Thursday on Twitter.
I'm midway through my visit to Taiwan & this much is clear: this place is on the rise. The fortitude & determination of the people, led by their dynamic (frankly, kick-ass) President, is downright inspiring — and I don't inspire easily. Democratic values still & always matter. https://t.co/PsM73nLTEI

— Rep. Elissa Slotkin (@RepSlotkin) November 26, 2021
"The auto industry's largest supplier of microchips is here in Taiwan, so supply chain issues will most definitely be on the agenda," she added.
According to CNN, earlier this month, an "unspecified group" of US lawmakers landed in Taipei on a Boeing C-40 military plane, and subsequently took off for Okinawa after a brief stay at the airport, and the delegation's arrival sparked immediate condemnation from China, with Beijing describing the trip as an "act of provocation."
Taiwan's Ministry of Foreign Affairs confirmed that visit and said the trip was arranged by the American Institute in Taiwan, the de facto US embassy in Taipei, but it did not disclose the names of the lawmakers involved in the visit, nor their itinerary, reported CNN.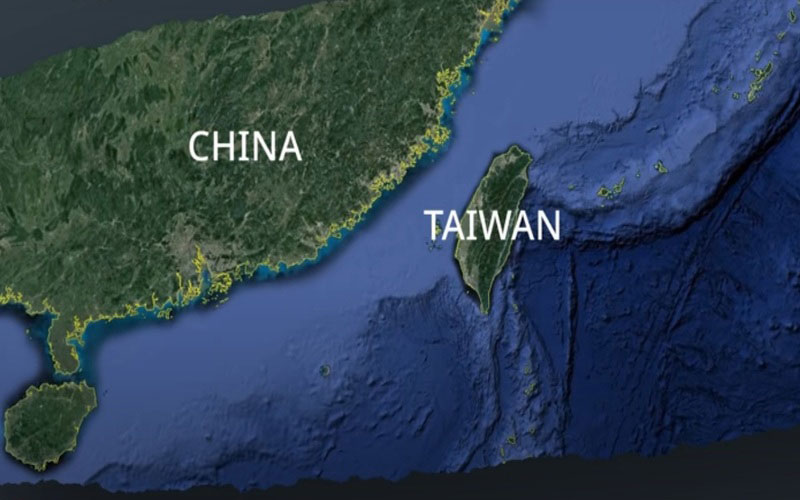 Taiwan-China map screen-grabbed from DW video on YouTube
Taiwan holds a fraught position in the deteriorating relationship between Washington and Beijing, with the cross-strait tensions running high as China increases its military posturing and warplane flights around the self-ruled island, which is not far away from mainland China.