INTERVIEW: 'Education has power to save lives,' survivors say, ahead of first Tsunami Awareness Day
Just Earth News 05 Nov 2016, 10:38 am Print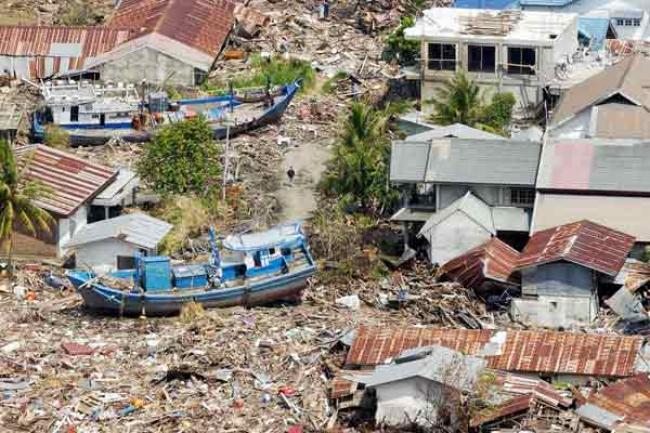 New York, Nov 5 (Just Earth News): Ahead of the inaugural World Tsunami Awareness Day on 5 November, two survivors of the most devastating tsunami in recent history – a Czech supermodel and a member of the Spanish family featured in the film The Impossible (2012) – have joined the United Nations' commemoration of the Day.
"It's like a concrete building, not water, falling on you," Petra Nemcova told the UN News Centre, describing the impact of the Indian Ocean Tsunami on 26 December 2004, which hit her and her partner in a bungalow on a Thai beach.

There was no warning, she said. In seconds, the bungalow completely crashed and there was glass everywhere and they were trying to hold on for dear life. She almost drowned many times, but after holding onto a palm tree for eight hours, she was found by a Thai man who risked his life to save the lives of strangers. Her partner was a strong swimmer but the power of nature was too strong for anyone.

Unfortunately, he was among the roughly 9,000 foreign tourists that perished in the disaster, which left more than 220,000 people dead.

"I'm happy to hear that finally tsunami has a dedicated international day to raise the awareness of the importance of early warning systems, education and preparedness," she said, stressing that "the power of education is not just to transform lives but the power of education is to really save lives."

She said that there is usually time to evacuate in the wake of earthquakes. The 2004 tsunami took two hours to strike Thailand. "In two hours, you can save your lives if there is an early warning system and enough education."

"Time is of the essence here. There is no excuse for countries not to have an early warning system or education," she said.

She defines herself as a supermodel, philanthropist and entrepreneur. Her tragic experience changed her perspective about life.

While holding on to a palm tree, she heard children screaming. She couldn't swim and help them because debris was around her. After half an hour she couldn't hear their voices anymore, which meant that they couldn't hold on any longer.

"In that moment, I didn't have a choice," she said. "But now I have a choice to help children."

In 2006, she founded Happy Hearts Fund (HHF), whose mission is to rebuild safe, resilient schools in areas impacted by natural disasters. "I'm happy to announce that we have now rebuilt 150 schools in 10 countries," including Thailand, Indonesia, Chile, Peru, Mexico, and Haiti.

Nemcova said that tsunami awareness education should take place everywhere, not just in school, because everyone travels. She proposed "smart partnerships," such as with airlines, which can introduce measures to warn passengers against disaster risks.

Tomas Alvarez-Belon, now 20 years old, was only eight, when he, his father Quique, mother Maria and brothers Simon, five, and Lucas 10, were staying at a resort hotel in the Khao Lak region of Thailand. All survived and reunited. The story of his family was portrayed in the film, The Impossible.

He was by a pool around 8 o'clock in the morning. "All of the sudden, the world started to shake, you don't understand what's happening. You suddenly see a black wall," he told the UN News Centre. People imagine big waves they can recognize, but that was not the case. "A massive wall approaches so fast, and before you even understand what happened, you are being drowned or pulled into the water."

When he finally resurfaced, "you don't see the world, you see people floating, people screaming, you see torn buildings. It's hard to recognize reality."

As for World Tsunami Awareness Day, he said "it is important that the world can not only mark an occasion to remember the victims of the disasters that have changed the course of history, and the course of many of our lives, but also to raise the awareness that we can prepare better and can avoid future deaths."

"It's never easy to go back to the moment of a tsunami and what happened in the aftermath, but it is so important to get the message out," he said, adding that he feels so fortunate to be able to share the story for a higher cause to fight for.

When he tells his traumatic experience, there are two key messages he underlines.

"First is the humanity of what we saw, how people helped each other anonymously – they did not have to be from the same country, from the same race, from the same religion. It was human helping human, and that is the core of my message," he said.

"Second is that a lot of what happened on the day tsunami hit could have been avoided if the warning system had worked […]," he said, stressing that hundreds of thousands of lives could have been saved.

Evidently, tsunami changed how he approaches nature. When he goes to a beach, he thinks what is the tallest building around there and where could he evacuate. "It's not a human instinct to think that way because when you are on a beach, you want to have fun," he said, stressing the need for local authorities to make visitors aware of tsunami risk.

"People around the world look up to the UN as a voice of reason, impartiality and sanity," said Belon, who is currently studying a B.S. in Science, Technology and International Affairs at Georgetown University. "It needs to be a movement that is born here in the UN and then spreads to Governments, and then from Governments to their people."

"We want to see concrete actions and we hope that the UN is the place where those actions begin," he said.

The tsunami experience has made him think deeply what he wants to do with his life, how fortunate he is to be alive, how valuable each day is and how he needs to be dedicated to helping others. "At the core of it is the humanity that resides inside each of us," he said.