Geopolitics
Governance/Geopolitics
Experts question Kim Jong-un's motive as N Korea inches towards denuclearization
Just Earth News | @justearthnews | 08 Mar 2018, 08:20 am Print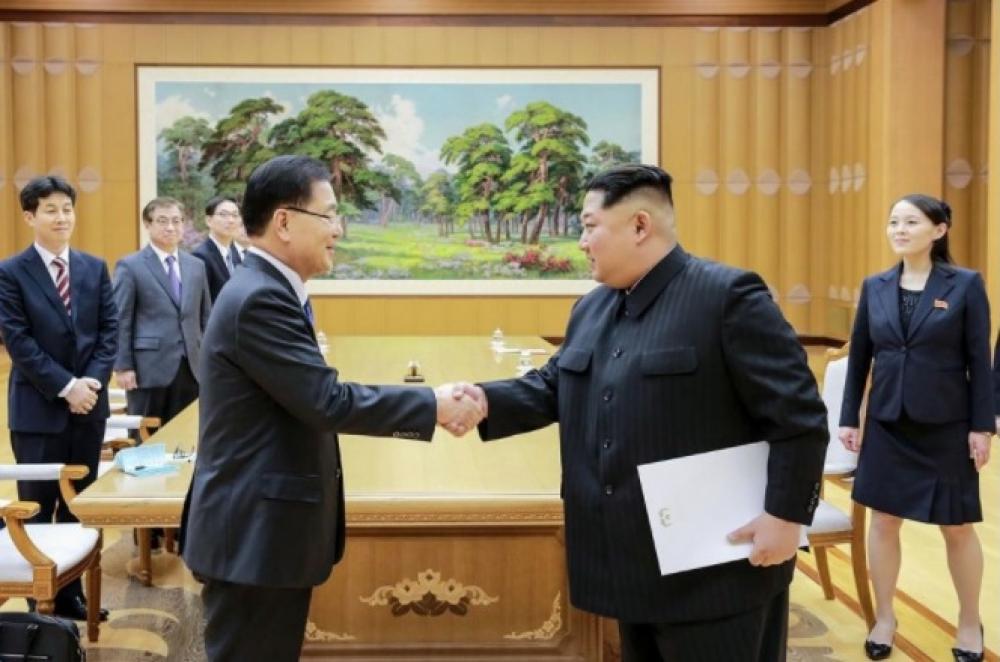 Pyongyang: Following umpteen nuclear tests, which threatened the initiation of a war with the United States of America, Kim Jong-un's North Korea is finally settling down and is ready to lay down its nuclear weapons, according to South Korean delegates who visited Pyongyang on Monday for a two-day high level North-South dialogue.
The move, though welcomed by the international community, has attracted its fair share of doubts.
Experts have questioned why North Korea, which defied all sanctions and carried out tests even a few months ago, is ready all of a sudden to give it up.
According to American journalist David Von Drehle, "Kim ain't stupid."
In his piece for Washington Post Service, he wrote, "With the announcement of a summit between North and South Korean leaders as a possible prelude to talks with the Trump administration, Kim has manoeuvred within view of a victory his forefathers only dreamed of: membership in the world community, on North Korea's terms."
"Many things can still go wrong. But his path forward now seems pretty clear," he said.
An Associated Press report said that some experts have questioned N Korea's sincerity, stating that it's "using past disarmament talks to wrest aid and concessions while covertly continuing its bomb program."
We've overcome one critical moment. But there are many critical moments that we still have to go through before reaching the denuclearization of the Korean Peninsula and a permanent peace," South Korea's president Moon Jae-in said in a meeting with church leaders.
Moon is also scheduled to hold a historic meeting with Kim Jong-un in late April, his office earlier this week.
With the recent events unfolding rather quickly, following the Winter Olympic Games at the demilitarised Pyongchang, the proximity between North and South Korea is now better than ever.
A part of this is due to South Korea's President's view to have an improved tie with its northern neighbour.
With peace slowly prevailing in the Korean Peninsula, US President Donald Trump, who has called for stricter sanctions on North Korea is slowly being stripped off choices.
"It's hard to see that Trump has much choice. The alternative to dangling carrots of safety and sovereignty is to wield the military stick, but this particular stick is in South Korea. Swinging it requires help from US allies on the front lines. Yet Seoul is not on board," Drehle wrote.
"Kim appears to understand that the US can hardly expose South Korea to a potentially apocalyptic war without support from Moon. To do so would court disaster diplomatically, economically and militarily," he added.
According to the US journalist, Kim has a model and ally in Xi Jingping, the Chinese President.
"His family has always believed modernisation threatens their grip on power, so they sealed it out, making theirs a hermit kingdom. But Xi Jinping, the Chinese premier, is attempting to prove that economic liberalisation can co-exist with political dictatorship. Kim may conclude that he can maintain power without utterly isolating his country," he argued.
Meanwhile, Japanese Prime Minister Shinzo Abe has said that his country's stance towards North Korea will remain the same, irrespective of it giving up weapons and being open to talks.
"We should not ease our stance, for instance relax sanctions, just because North Korea agreed to have a dialogue," Abe told a parliamentary session. "We should not give North Korea a reward in exchange for a dialogue."
On the other hand, China has credited itself for the improving inter-Korean relationship.
Chinese Foreign Minister Wang Yi told reporters in Beijing, "This proves that China's proposal of suspension for suspension was the right prescription for the problem and created basic conditions for the improvement of inter-Korean relations."
Image: Websitegrab from Kyodo News