Geopolitics
Art & Culture / Entertainment
Nature humbles you and puts you in perspective: Nomadland director Chloe Zhao
Just Earth News | @justearthnews | 10 Nov 2020, 04:08 am Print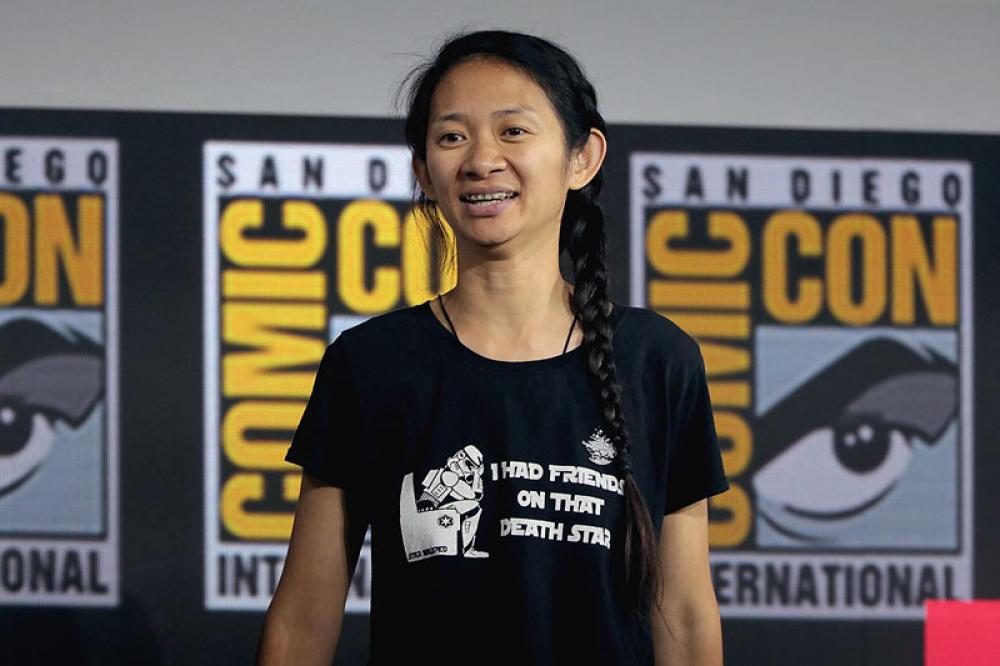 Nomadland I TIFF2020
Image credit: Wikimedia Commons
During one of the conversations series organized by the 2020 Toronto International Film Festival (TIFF), Chloé Zhao, director and producer of the film 'Nomadland', winner of TIFF 2020 People's Choice Award, tell Cameron Bailey, Artistic Director & Co-Head of TIFF, how she balanced the successful creation of the larger landscape of the vast portrait of contemporary American West against a more intimate portrait of the protagonist Fern. Asha Bajaj, JEN Canada's Special Correspondent, brings you the excerpts:
Excerpts:
Cameron to Chloe: Chloe, in the film 'Nomadland', how did you balance the successful creation of the larger landscape of the vast portrait of contemporary America against a more intimate portrait of Fern?

Chloe: Well from the very beginning I wanted Fern to be a guide to be able to bring us into this vast rich world of Nomadic living. Having tackled a big community with colorful characters in my first movie, I learned to anchor the audience into one person's intimate experience so that they can comfortably experience everything else without any loss.
To Chloe: One of the first things we learn about Fern is her freedom, But as we see more about her on the road, we see more layers including the very self-protective sense she has that may look like freedom to others. Can you comment on that?

I personally think that Fern was always a true nomad deep inside. And when she finally left the house after her husband's death and hits the road as a widow, picking up odd jobs when she gets them, she just mostly wanders. She meets fellow wanderers and takes in the beauty of the American frontier. It took her some time to figure out who she really is. I do think hopefully when you watch the movie in the end she is on the road which is not going to be easy.

To Chloe: She seems to be at home there. The film shows a lot of reality for many people not just in the United States but around the world, in terms of types of jobs they get, duration, and the security of these jobs. But the film does not feel primarily a work of social commentary. How intentional that was and how hard you want it to go on that message?

Pretty hard I think. Based on Jessica Bruder's book Nomadland: Surviving America in the Twenty-First Century, the film is a portrait of the struggle and loneliness of various wanderers, many of them women, and many of them older, in the American West. Some aspects in the book immediately struck a chord like the disappearance of the empire of the vast and the great American country town. Then Linda May as a woman wanted to build the Earthship and art yard. All these people are extremely human in characters and in their experiences. We try really hard to tell a story where the audience, irrespective of their beliefs, or political parties they belong to, can relate to the human level of the story before they make their own judgment. We are not here to teach but to communicate.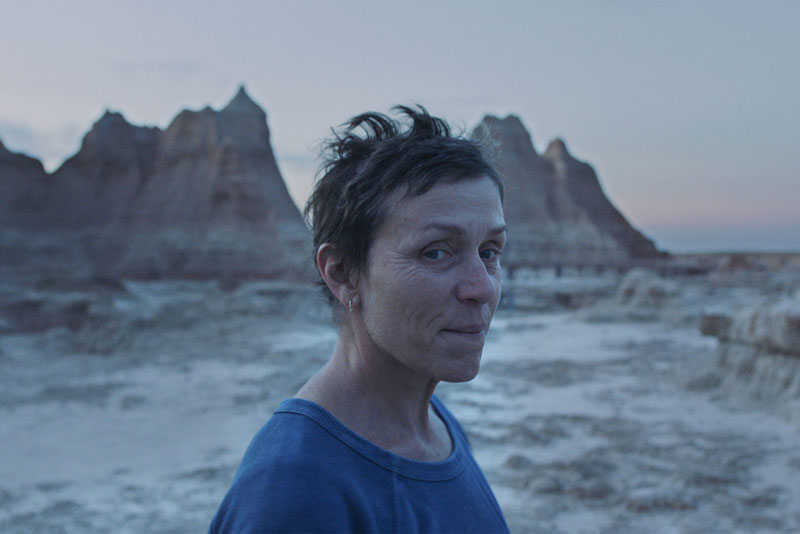 Frances McDormand playing Fern, nomad. Image credit: TIFF
To Chloe: All of your films, including Nomadland, have presented a beautiful setting of the landscape with beautiful images, sometimes just a glimpse as Fern moves through these places, and at other times the camera lingers on elements of the landscapes of the natural world a little longer. How do these elements of nature add to the human story you are telling?

Being deprived of nature while growing up in the cities, I did not think much of it. I felt the need and the importance of nature while visiting friends in California, or Fern in Bolinas and then we would go hiking. I have never been to northern California and the redwoods that I saw were only in the movies or when I traveled to places like South Dakota and Arizona. When you live in a van, or on the reservation you are just exposed to nature whether you like or not.
I just feel like nature humbles you and always puts you in perspective. And I think the curse of not having a house, or a traditional house is not a curse but a blessing. Nature changes people. And we wanted to tell the same aspect of Fern's journey. So, it was important for us to actually travel to those places, shoot in places within a fixed time with the right landscape at the right time of the year without extreme weather and just capture as much of that as possible.

To Chloe: The last thing I want to ask is being the co-writer, the director, and the editor is very interesting. How do you feel about this?

It is very humbling because you happen to see all the mistakes you made on set every day. It is both a blessing and a curse, a blessing that you just do not have to go to another person, a curse because you are not having another person's evaluation. It is very important for me to get feedback all the time and go through many cuts because you are in this capsule by yourself. I had felt this quite intensively in my previous two films. Many times I edit with a friend to be able to edit in my head and get all the coverage and then go into the editing room.