Kolkata cyclists demand right to ride
Just Earth News 29 Sep 2013 Print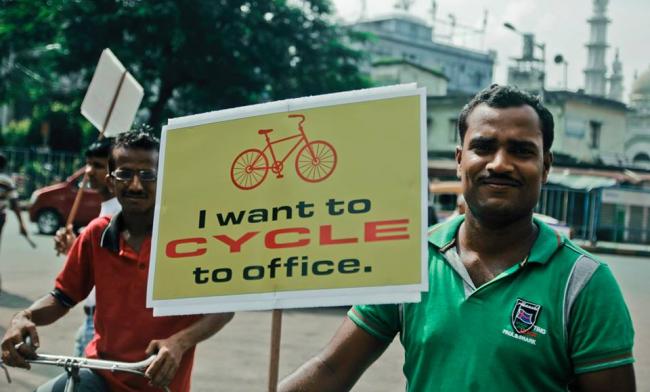 Kolkata, Sept 10 (JEN) Everywhere in the world, bicycling is reclaiming the city roads despite polluting automobiles. In Kolkata in eastern India, the right to ride in pollution free bicycles is instead being curbed.
So at a time when daily traffic snarls, skyrocketing fuel prices and unavoidable air pollutants are making life in the 'City of Joy' miserable, few men have taken up an initiative to establish the culture of cycling in the city and urge the state government to revoke the blanket ban on non-motorized transport via what they called 'Cycle Satyagraha'.
Amid regular honking by motorized vehicles, hundreds of people joined the ongoing movement to
protest
against the ban on cycles and other non-motorized transport as they rode on their cycles from Victoria House till Press Club on the heart of the city this Sunday.
The movement is initiated by Switch ON – a grass root organization committed to sustainability and equity - and Ride 2 Breathe – a group of passionate cyclists who cycle for health, environment, travel and to explore the city.
They are also supported by many
civil
society
organizations including PUBLIC, Public Relations
Society
of India, Greenpeace, WWF Kolkata and Centre for Environment and Development.
Demanding immediate steps by the West Bengal government, cyclists, who participated in the movement on Sunday, signed an open letter to state Chief Minister Mamata Banerjee, urging her to lift the ban and set up and head a Cell for non-motorized transport.
One Sudhyasheel Sen of the group posted on his Facebook page after the Cycle Satyagraha on Sept 8: "Every turn of the Wheel is a Revolution! was launched in the city with a Cycle March where hundreds of citizens marched the streets of Kolkata with cycles in hand to urge the government to revoke the blanket ban on cycles and non-motorized transport and rebuild the city sustainably."
Another Sudipta Ray said: "Looking forward to join future programs.....need to carry on this intitiative.....till goal is reached."
An official page named 'Cycle Satyagraha - Every turn of the Wheel is a Revolution!' kept buzzing as people expressed their thoughts on the initiative besides stating their opinion over Sunday's rally.
Ahead of the rally, during a press conference, Vinay Jaju from Switch ON said: "For a large number of people in the city, cycling is indispensable - From minor traders and suppliers to carpenters and masons, from the milk man and newspaper vendor to office clerks and courier delivery boys, the city depends on it. Nearly 2.5 million cycle trips are made every day."
Ekta Kothari from Switch ON said separate cycle lanes could be helpful in making the traffic movement in the city, which otherwise moves in snail's pace, gain some momentum.
Kothari said, "Average speed of traffic in Kolkata varies between 14-18 km/ hour.Cycles can easily match that, if not better it. If we could build separate cycle lanes, they would decongest the roads and help people travel faster."
The Central Government also gives priority to the construction of cycle tracks and pedestrian paths in all cities, under the National Urban Transport Policy (NUTP), to enhance safety and thereby enhance use of non-motorized modes.
Delhi has been at the forefront, with The Delhi Master Plan 2021 recommending cycle tracks for all roads.
Mumbai inaugurated its first 12-km cycling track in 2011 to encourage more city dwellers to use bicycles to commute to work, and ease congestion on the roads.
Even Chandigarh constructed 160 km of wide cycle paths between 2001 and 2003.

Demanding for solutions Gautam Shroff of Ride to Breathe said: "It is important to treat all cycles with the same discipline as other motor vehicles.Apply the same traffic rules, remedial fines or punishments as per the law and strictly enforce usage of helmets, front and rear lights and adherence to traffic rules /signals. Banning is not the solutions."


Images: Ride 2 Breathe