Tashnuva Anan: Bangladesh gets first transgender news presenter, creates history
South Asia Monitor | @justearthnews | 12 Mar 2021, 12:25 am Print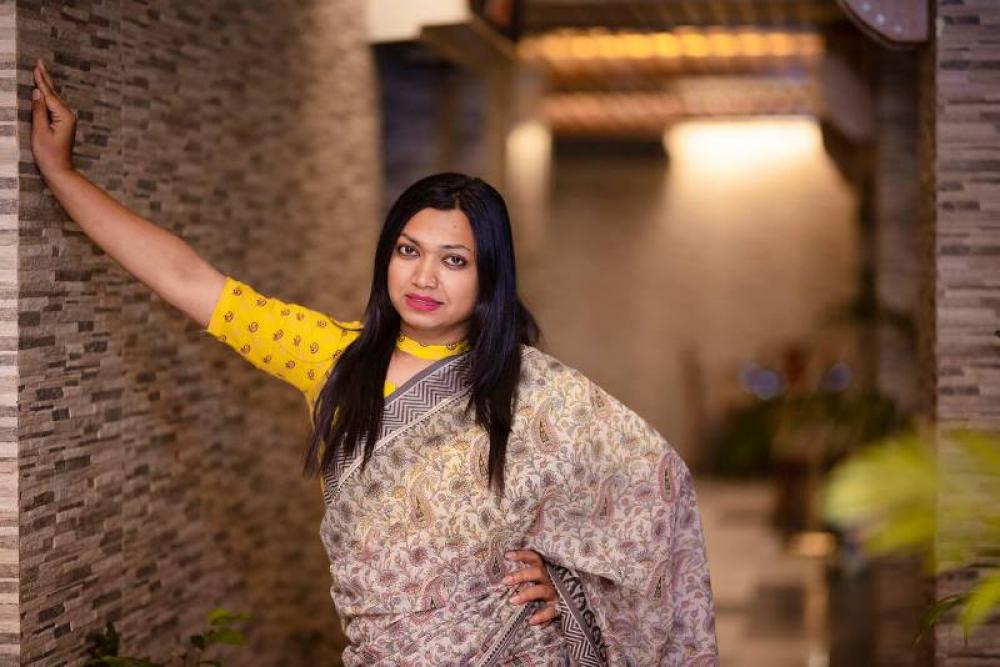 Transgender News Presenter
Tashnuva Anan. Photo: Facebook
Dhaka: For 29-year-old Tashnuva Anan Shishir and the transgender community globally, it was indeed a historic day. The woman, who survived bullying, assault and suicide attempts, has become the first transgender to become a newsreader in Bangladesh.
After delivering a perfect three-minute news bulletin on a private Bengali TV station on March 8 to commemorate International Women's Day, Shishir broke into tears – but only when the cameras were off.
Her achievement is now being hailed around the world.
Going live for Boishakhi News to present their 4 pm bulletin, she said on air: "This could be revolutionary and create a new dimension in people's thinking."
A dancer and a voice artiste, Tashnuva's precedence as the first-ever transgender news presenter will inspire thousands of transgender women in Bangladesh.
A talented model and actor, she began her acting career in 2007 with the theatre troupe Natua, according to The Daily Star.
She has been a part of the theatre troupe BotTola for more than two years, appearing in many notable productions and is set to appear in two full-length feature films this year.
"I want to build a team with aspiring dancers, actors, and media personalities from the transgender community to raise awareness about the obstacles we face. I want to help these individuals build sustainable livelihoods. We need to prioritise people's capabilities over their gender identities," she was quoted by the newspaper.
Shishir was selected for the job following an audition, and after several weeks of intensive training at the media organisation, she finally started her new role.
She said she was "shaking inside" before going on air, but thought of all the stage dramas she has performed and which gave her the strength to go live.
Born Kamal Hossain Shishir, she discovered in her early teens that she was trapped in a man's body. She said she was sexually assaulted and bullied for years.
The bullying over the years became so unbearable that she attempted suicide four times. Her father stopped talking to her. Dejected and depressed, she left home at the age of 16 and came to Dhaka.
She underwent hormone therapy, took jobs working for charities and acted in theatre, but kept on studying.
She knew that studies will help her achieve her dreams. Her hard work paid when in January, she received a scholarship and became the first transgender person to study for a master's in public health at the James P Grant School of Public Health in Dhaka.
Shishir told Daily Star in an interview ahead of her debut that such initiatives will enable further opportunities for people of the LGBTQ community in the country where they are often bullied and mistreated.
Lauding the 'brave' step taken by Boishakhi TV towards their inclusivity, she added: "There are thousands of 'Shishir' waiting for an opportunity to shine. I hope that this will make their journey easier."
Julfikar Ali Manik, a spokesman for Boishakhi TV said the channel was determined to give Shishir a chance to shine despite the risk of backlash from some viewers. Her debut marked a "historic step," he was quoted by the media.
Around 1.5 million people are transgender in Bangladesh and face discrimination and violence, with some forced to survive by begging or working in the sex trade.
In 2013, the Bangladeshi government allowed trans people to be recognised as a separate gender. In 2018, they were allowed to register to vote as a third gender. Bangladesh school also allows transgender students.
However, Shishir is not the first transgender presenter in the region. In Pakistan, Marvia Malik, anchored her first show on private broadcaster Kohenoor in 2018, while in India Padmini Prakash became the first transgender person to present a daily news show in 2014.