Rights
Human Rights/Free Speech/Media
UN urges Kenya to protect rights of indigenous people
14 Jan 2014, 06:42 am Print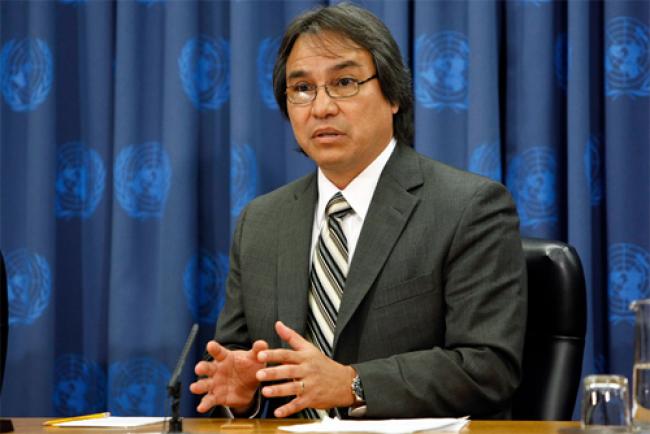 New York, Jan 14 (JEN): An independent United Nations human rights expert on Monday urged the Kenyan Government to protect the rights of the Sengwer indigenous people who have lived in the Embobut Forest for centuries and are now facing eviction.
"Indigenous peoples shall not be forcibly relocated from their lands or territories," said the Special Rapporteur on the rights of indigenous peoples, James Anaya.
"No relocation shall take place without the free, prior and informed consent of the indigenous peoples concerned and after agreement of fair and just compensation and, where possible, the option of return," he added in a news release.
The Sengwer people, also known as the Cherangany indigenous people, have lived, hunted and gathered in the Embobut Forest area in Kenya's Rift Valley for hundreds of years. On Monday, many of them still live in or near the Forest and continue to engage in cultural and subsistence practices in the area.
According to reports, police forces have been amassing in the area in preparation for evictions ordered by the Government in pursuit of its forest and water conservation objectives. Since the 1970s, Kenyan authorities have made repeated efforts to forcibly evict the Sengwer from the forest for resettlement in other areas.
"Any removal of Sengwer people from their traditional lands should not take place without adequate consultations and agreement with them, under just terms that are fully protective of their rights," Anaya stressed.
He urged the Government to ensure that the human rights of the Sengwer indigenous people are fully respected, in strict compliance with international standards, including the UN Declaration on the Rights of Indigenous Peoples.
Independent experts, or special rapporteurs, are appointed by the Geneva-based UN Human Rights Council to examine and report back on a country situation or a specific human rights theme. The positions are honorary and the experts are not UN staff, nor are they paid for their work.
James Anaya, Special Rapporteur on the rights of indigenous peoples. UN Photo/Paulo Filgueiras