Conflict
Crisis/Conflict/Terrorism
Afghan singers hiding in Pakistan after escaping Taliban onslaught: Report
Just Earth News | @justearthnews | 18 Sep 2021, 03:13 pm Print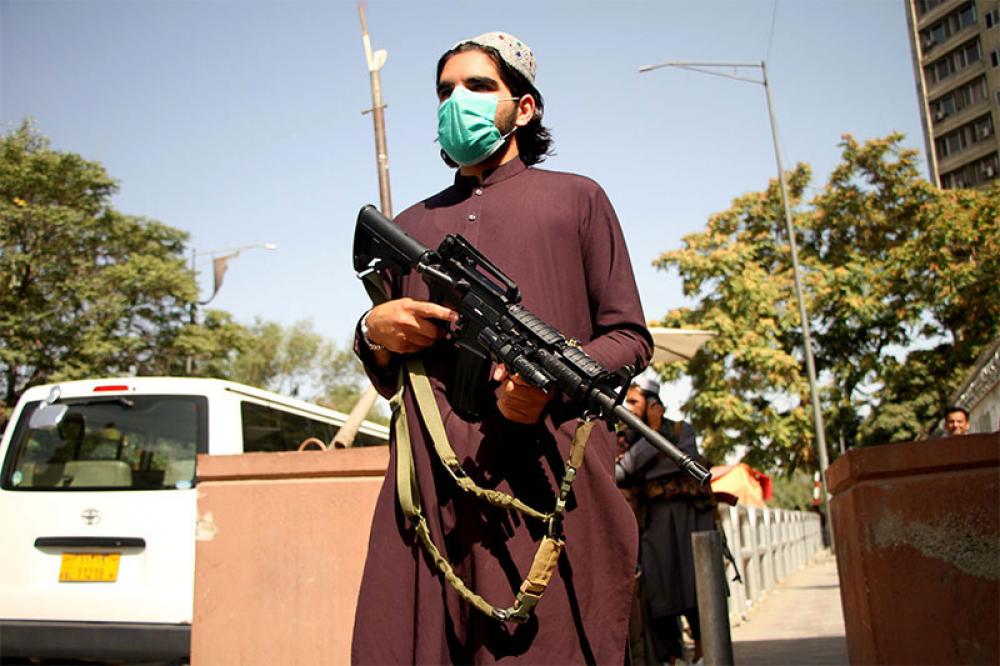 Taliban | Afghanistan
Afraid of being executed by the Taliban, several Afghan singers have fled their homeland and are living in hiding in Pakistan.
Soon after the Taliban took power in Afghanistan on August 15 last month, they killed a folk singer Fawad Andarabi in northern Baghlan. His son told AFP the Taliban leaders had visited their home several times before and even had tea with his father. But, they shot the singer in the head right in the family's farm.
BBC spoke to six Afghan singers who entered Pakistan illegally and are living in the hiding. They said there was no option as they fear of being killed if they lived in Afghanistan.
Taliban's brutality continues in Andarab. Today they brutally killed folkloric singer, Fawad Andarabi who simply was brining joy to this valley and its people. As he sang here "our beautiful valley….land of our forefathers…" will not submit to Taliban's brutality. pic.twitter.com/3Jc1DnpqDH

— Masoud Andarabi (@andarabi) August 28, 2021
After the Taliban seized power, they banned music. However, they haven't responded to the allegation of killing folk singer Andarabi.
I lost my nest
I always walked shoulder to shoulder with sorrow with you
Your my only love
Oh my homeland#Afghan singer sang in event held to celebrate Tajikistan's independence day.

"dont be sad," the Tajik pres condoled the singer. "these difficult&hard days shall too pass." pic.twitter.com/fBbePRga4z

— Sharif Hassan (@MSharif1990) September 12, 2021
Khan (name changed), a singer who escaped to Pakistan told BBC that he and others like him were not concerned when the Taliban were advancing in their country. They thought the armed group had changed and would allow them to continue with their music. But after the Taliban captured Kabul last month, armed men, who he thinks were Taliban, came looking for him and smashed up his instruments.
Another singer, who is now living with a friend in Rawalpindi, told the BBC that he believed the Taliban would execute him if they found him because he had sung a song for the Afghan national army before the fall of Kabul.
"Even when the Taliban were not in power, they used to make threats to me and I was a staunch opponent of them too," he said.
After the Taliban took over, he left his family behind and travelled to Pakistan.
Even before the Taliban had taken over Kabul, whenever they captured a city they would ban music on local FM radio stations and turn state-run broadcasting into the Voice of Sharia, referring to Islam's legal system, with programming consisting of religious chanting.
The Taliban do not approve of music because of their draconian interpretation of Islam.
Radio stations do not broadcast music unlike before, Massood Sanjer, who is director of the Moby group of channels, which include the Tolo News channel, told the BBC.
"The only music that is broadcasting at the moment on our entertainment channel is 'Naat', the Taliban's anthem," he said.
Another musician, who fled the country with five families of his friends and relatives, told the BBC that they feared for their lives, especially his seven-year-old daughter, who has a heart condition, throughout their journey.
It took them five days to reach a friend's place in Peshawar.
There is a growing group of musicians in Pakistan who have escaped Taliban rule in Afghanistan.
They hope to find a new place to live without fear, create music, and make their living out of it.