Schemes to support business initiatives of Scheduled Tribe members
Just Earth News 08 Aug 2016 Print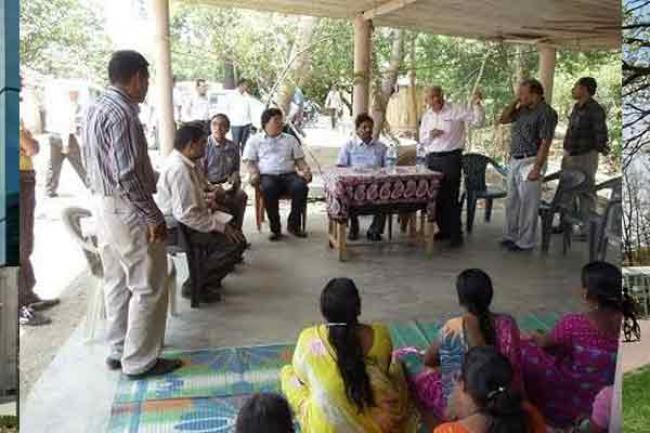 A meeting in progress with a self-help group/NSTFDC website
New Delhi, Aug 8 (Just Earth News): Union Minister of State for Tribal Affairs, Jaswantsinh Sumanbhai Bhabhor, in a written reply in the Lok Sabha on Monday highlighted that the National Scheduled Tribes Finance and Development Corporation (NSTFDC), under the Ministry of Tribal Affairs, extends concessional financial assistance to individuals or groups of Scheduled Tribes for undertaking income generation/ business activities for their economic empowerment.
The minister said that the financial assistance is extended through state channelising Aaencies and certain PSU Banks/ RRBs and National Cooperative Development Corporation (NCDC) having refinance agreements with NSTFDC for eligible STs upto Double the Poverty Line Income limit which is Rs.98,000 per annum for rural areas and Rs.1, 20,000 per annum for urban areas.
Some of the key schemes from the list include:
One of the key schemes available is the Adivasi Mahila Sashakti KaranYojana (AMSY) under which women from the Scheduled Tribes can undertake any income generation activity and get loans upto 90 per cent for a scheme costing upto Rs.1 lakh at a concessional rate of interest of 4 per cent per annum.
Under the Micro Credit Scheme for Self Help Groups, the Corporation provides loans upto Rs.50,000 per member and Rs. 5 Lakhs per Self Help Group (SHG) at an interest rate of 6 per cent per annum.
The Corporation has recently launched a scheme for NGOs/ EVAs too under which NSTFDC provides loans upto Rs.50,000 per member and Rs. 5 Lakhs per Self Help Group (SHG) through NGOs/ EVAs, where the interest rate chargeable is 12 per cent per annum from members of SHGs against which they will get an interest incentive of 4 per cent on timely payment thus making the effective rate of interest to 8 per cent.