Geopolitics
Governance/Geopolitics
China's action 'pre-meditated' to spike border standoff, says India amid global warning to Beijing
Just Earth News | @justearthnews | 17 Jun 2020, 09:51 am Print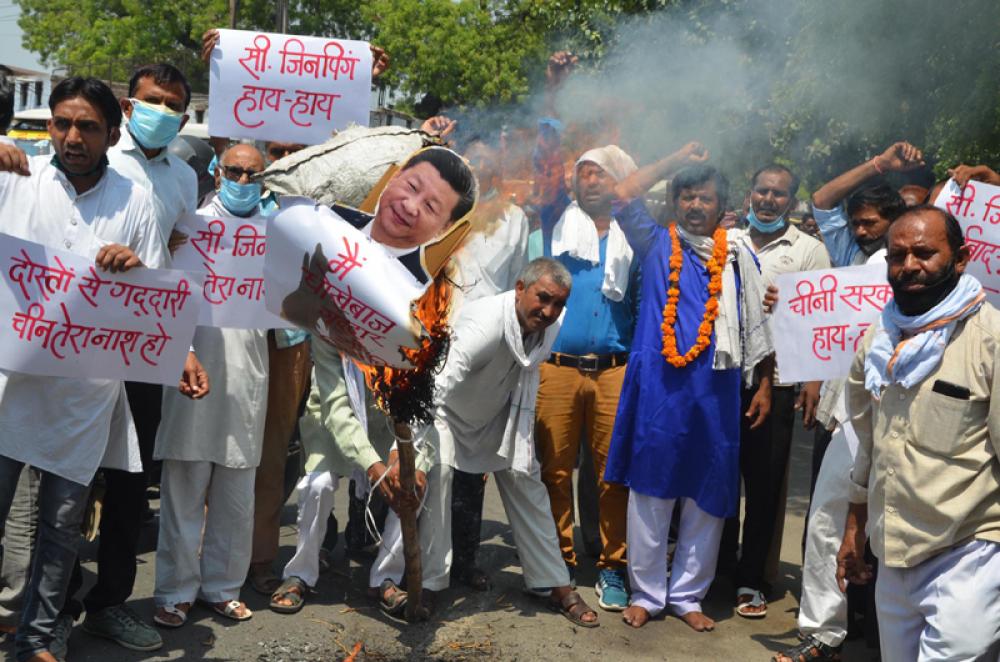 Indians protest against Chinese aggression
New Delhi/Beijing: India on Wednesday blamed China for the violent standoff between the armed forces of the two nations in the Galwan valley of Eastern Ladakh, accusing the Chinese side of 'premeditated and planned action' resulting in deaths even as geopolitical experts warn Beijing of awakening a rising power fed on nationalism under its powerful leader Narendra Modi.
The Indian Army confirmed the death of 20 soldiers in the incident while China has not officially furnished any death toll despite fears of a casualty.
Action premeditated: India
India's External Affairs Minister S Jaishankar spoke to his Chinese counterpart Wang Yi over the phone and said Chinese side took 'pre-meditated and planned action' that was directly responsible for the resulting violence and casualties.
"It reflected an intent to change the facts on ground in violation of all our agreements to not change the status quo," the Ministry of External Affairs said in a statement issued on the interaction between the top leaders of the two warring nations.
"EAM [External Affairs Ministry] conveyed the protest of the Government of India in the strongest terms on the violent face-off in Galwan Valley on 15 June 2020," the statement said.
The Chinese government is already facing the heat internationally with several world leaders earlier holding it responsible for the COVID-19 virus that has hit nearly all corners of the globe triggering an economic catastrophe and a health emergency that claimed countless lives so far.
Beijing has also been facing pressure over the unending protests in Hong Kong city over the imposition of new national security law. The move had earned criticisms from countries like the US and UK.
China has taken such an aggressive stance against India at this point when New Delhi is battling the COVID-19 virus which is believed to have originated from the neighbouring country.
Indian Prime Minister Narendra Modi earlier in the day reacted to the escalation of tension between the nuclear armed neighbours and said the country is capable of giving a befitting reply if it is instigated.
"India wants peace but if instigated then the country is capable of giving a fitting reply, be it any kind of situation," he said as he gave a strong message to Beijing.
India clarifies its position:
Indian External Affairs Minister S Jaishankar recalled that at the meeting of senior Military Commanders held on 6th June, an agreement was reached on de-escalation and disengagement along the Line of Actual Control (LAC).
"Ground commanders were meeting regularly to implement this consensus throughout the last week. While there was some progress, the Chinese side sought to erect a structure in Galwan valley on our side of the LAC," read the statement.
Jaishankar underlined that this unprecedented development will have a serious impact on the bilateral relationship.
"The need of the hour was for the Chinese side to reassess its actions and take corrective steps," read the Indian statement.
"The two sides should scrupulously and sincerely implement the understanding that was reached by the Senior Commanders on 6th June. Troops of both sides should also abide by the bilateral agreements and protocols," the statement said.
The Conflict and Casualty:
At least 20 Indian soldiers, including a Colonel, were killed during a "violent face-off" with Chinese forces along the Galwan Valley in Eastern Ladakh on Monday night, the Indian Army confirmed Tuesday.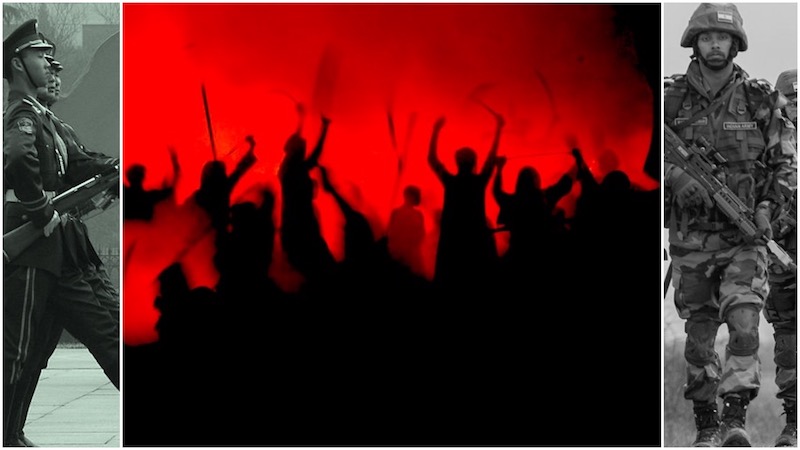 "17 Indian troops who were critically injured in the line of duty at the stand off location and exposed to sub-zero temperatures in the high altitude terrain have succumbed to their injuries, taking the total that were killed in action to 20," the Indian Army said in a statement.
China as expected did not share any casualty figure though several sources put it at anything between 35 and 43.
International reactions:
The US said it is in support for a "peaceful resolution" of the current conflict between India and China.
"We are closely monitoring the situation between Indian and Chinese forces along the Line of Actual Control. We note the Indian military has announced that 20 soldiers have died, and we offer our condolences to their families," a US State Department spokesperson told The Hindu newspaper.

"Both India and China have expressed a desire to de-escalate, and we support a peaceful resolution of the current situation," read the statement.
The United Nations also urged India and China to "exercise maximum restraint" .
"We are concerned about reports of violence and deaths at the Line of Actual Control between India and China," U.N. spokesperson Eri Kaneko was quoted as saying by VOA. "We take positive note of reports that the two countries have engaged to de-escalate the situation."
Experts react to development:
American Enterprise Institute (AEI) research scholar Michael Rubin said in an opinion piece published on The National Interest: "India is today ascendant. It does not face the same demographic nightmare that China now confronts due to decades of Beijing's previous one-child policy. India's conventional military has advanced substantially over the last half-century and it has, since 1974, also been a nuclear power. "
Highlighting India's current economic position, he said: "Despite all of India's internal inefficiencies, bloated bureaucracy, and protectionism, its economy is in far greater shape than it was a half-century ago. The world has also changed. When China initially invaded Indian territory, President John F. Kennedy offered some arms, but it was too little too late, and his official neutrality likely encouraged Indian leaders to tilt even more toward the Soviet Union."
"Today, however, belief in a strong U.S.-India partnership is one of the few topics which still unites Democrats and Republicans on Capitol Hill and across administrations. It is not the stuff of hushed backroom diplomatic negotiations, but openly embraced," he said.
"Xi may believe he can digest Hong Kong and crush its freedom spirit, but he will be wrong to believe that India is weak or that the United States—even under the Trump administration—would simply ignore his aggression. Instead, the United States would likely open the floodgates to provide any intelligence and weaponry which India would need to defend itself and bog down China in a morass of Xi's own making," he wrote supporting India's advantageous position at present.
Incidentally, India and China had fought a war in 1962.
Political analyst and journalist Tom Rogan wrote in an opinion piece published in Washington Examiner: "Beating 20 Indian soldiers to death Monday evening, China's People's Liberation Army has provoked the Indian nationalist tiger."
He said the US should stand with India on the current conflict with China.
"The United States should stand with India here. The world's most populous democratic nation is facing the same Chinese aggression that Vietnam, Malaysia, and the Philippines experience nearly every day in the South China Sea," he said.
"And it poses an existential threat to the American-led liberal international order," he wrote.
He also highlighted the fact that Indian PM Modi's power flows from the nationalist base.
Rogan said: "Prime Minister Narendra Modi's power flows from this nationalist base. Shaping a foreign policy vision of India as a global power capable of and willing to defend its interests, Modi has skillfully redirected Indian nationalist sentiments away from their prior obsession with domestic sectarian interests (though this remains a problem) and toward the idea of India as a key international player."
Speaking on the pressure on Modi at the current scenario, he said: "But where Indian soldiers have been brutally beaten to death at the hands of a foreign aggressor, Modi faces a distinct challenge. He will feel especially pressured to respond forcefully given perceptions in his Bharatiya Janata Party that he acted too timidly to a February 2019 attack by Pakistani terrorists."
Romanian-American political scientist Edward Nicolae Luttwak tweeted: "With its new defense-roads organization in lieu of the accursed BRO, India can react to Chinese attacks in Ladakh by building all-weather roads, eg to/from Daulat Beg Oldi airstrip 5065 meters/16,614 feet high. With its giant C-17s the IAF can now out-reinforce the PLA."
With its new defense-roads organization in lieu of the accursed BRO, India can react to Chinese attacks in Ladakh by building all-weather roads, eg to/from Daulat Beg Oldi airstrip 5065 meters/16,614 feet high. With its giant C-17s the IAF can now out-reinforce the PLA

— Edward N Luttwak (@ELuttwak) June 16, 2020
"Xi Jinping evidently believes in escalation --but controlled, hence the PLA's "fire" is stone throwing & its "movement" is infantry advancing with barbed-wire clubs, not guns. But what is the purpose ? Grab yet more territory ? Is it to divert attention from the Taiwan defeat ?" he said.