Geopolitics
Governance/Geopolitics
PODCAST: Preventing the young terrorist of on Wednesday – former Taliban supporter says UN has key voice in global debate
Just Earth News 24 Aug 2016, 12:55 pm Print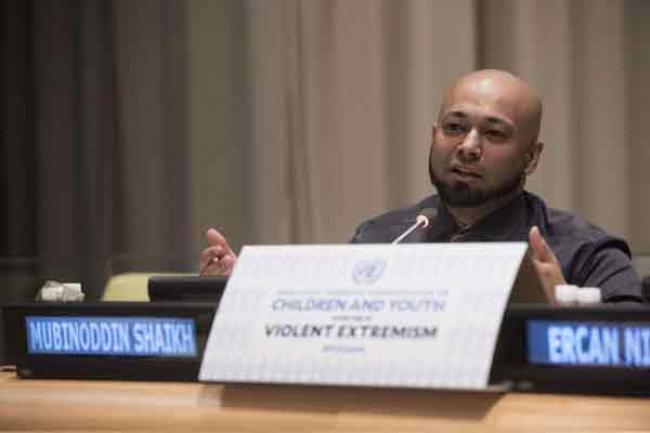 New York, Aug 24 (Just Earth News): When he was 19, Mubin Shaikh, believed that "you could change the world overnight, and you could do it through violence."
But the former-supporter of the Afghanistan-based Taliban extremist group, told UN Radio for its latest podcast, The Lid is On, that he realized a commitment to violence was a perversion of his religious faith that would be self-defeating, and he has some advice to young would-be terrorists on Tuesday.

"What are you going to be left with, other than violence? I think they need to understand that they have a role to play," he said, adding: "Their role has to be constructive. If it's going to be destructive, then you are just going to be another statistic. All they're left in is a loop of violence that only ends in death."

Now 40, the Canadian national, who was indoctrinated by the Taliban in Pakistan in the 1990s, is committed to what he calls a revival of classical or traditional Islam, and helping to re-educate young people vulnerable to jihadist ideology.

He was at United Nations Headquarters in early June, as a panellist in a day-long High-Level Thematic Conversation on Children and Youth affected by Violent Extremism convened by the General Assembly.

In January, the Secretary-General Ban Ki-moon presented to UN Member States a Plan of Action to Prevent Violent Extremism, calling for a comprehensive approach addressing not only security issues, but "systematic preventive steps to address the underlying conditions that drive individuals to radicalize and join violent extremist groups," according to the UN Counter-Terrorism Implementation Task Force.

Shaikh told UN Radio producer, Matthew Wells that the UN had an important and significant role in helping turn young people away from joining terrorist groups such as Da'esh (also known as the Islamic State of Iraq and the Levant or ISIL), Al-Qaida, Boko Haram, and Al-Shabaab.

"The countries that are most affected, their representatives are here" he said.

He added that the UN provided "a forum itself, for young people to come and speak, to hear what people at this level are saying […] People at the United Nations saying, Islamaphobia's a problem, don't just pick on Muslims […] If they hear this at that level, then it's easier for them to disseminate it at lower levels."

Shaikh described how he rejoiced as the first plane hit New York's World Trade Center on September 11, 2001, but then fundamentally re-thought his entire relationship with his faith and jihadism, following the attacks.

He went on to become a counter-terrorism operative for the Canadian government, and is currently studying for a PhD at the University of Liverpool, in the United Kingdom.