FAO launches project to boost agricultural production in northern Mali
02 Apr 2015, 03:20 pm Print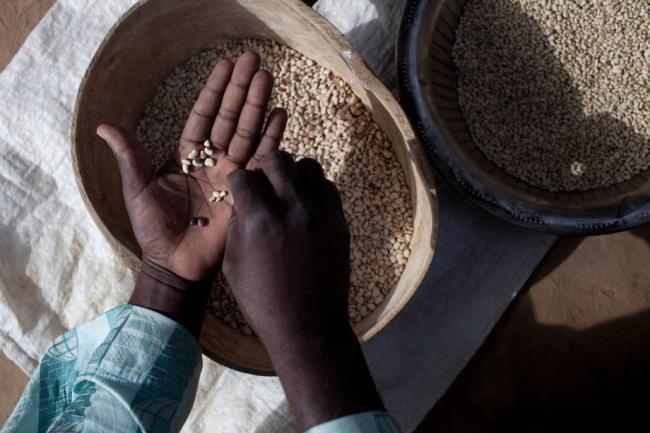 New York, Apr 2 (JEN): A new project aimed at restoring the livelihoods of some 33,000 households affected by armed conflict and climate change in northern Mali has been launched Wednesday by the country's Government and the United Nations agriculture agency.
"This work represents a contribution to Mali's peace process, because without security there cannot be food security and where there's food insecurity, conflicts often erupt," said the Director-General of the Food and Agriculture Organization (FAO), José Graziano da Silva, during an official visit to the country.

The implementation phase of the project has now begun, with the FAO and the Government working together to rehabilitate agricultural production for families in the Gao, Mopti and Timbuktu regions.

Activities will focus on helping 25,000 households to restart food and horticultural production and on providing 8,000 pastoralist families with feed and veterinary products for their cattle. Beneficiaries will also receive training in farming and nutritional good practices, with emphasis on the needs of women's groups engaged in horticulture.

The project is part of a larger $100 million World Bank Economic Recovery and Reconstruction Programme in Mali and the FAO is implementing the agricultural component in the north of the country at the Government's request.

"The partnership between the World Bank and FAO is win-win, because it allows for FAO's technical know-how to be deployed to support the investments that Mali so very much needs," Graziano da Silva noted.

Agriculture in parts of Mali, particularly the north, has been seriously affected in recent years by civil strife and related impacts such as labour shortages due to population displacements, lack of agricultural support services and fragmentation of markets. Although last season's rains have been good, in recent years erratic weather, dry spells, and flooding have exacerbated these problems.

Across Mali, the FAO's $15.4 million strategic response plan aims to improve living conditions of about 400,000 people facing food insecurity and to ensure a sustainable return of the displaced persons and refugees in the best possible conditions, while supporting host communities.

The agency's work in Mali is part of a broader United Nations Strategic Response Plan for the Sahel region which aims to build the resilience of rural livelihoods and local food and nutrition security systems.
It is combining humanitarian assistance and development efforts to help countries deal with threats and disasters that affect agriculture, food security and nutrition in a proactive and efficient way, and this year, an appeal was launched for $116 million to help support 5.4 million people in the region.

Photo: FAO/Swiatoslaw Wojtkowiak