Mahsa Amini death: At least 31 killed in Iran as authorities crack down on anti-hijab protesters
Just Earth News | @justearthnews | 22 Sep 2022, 09:24 pm Print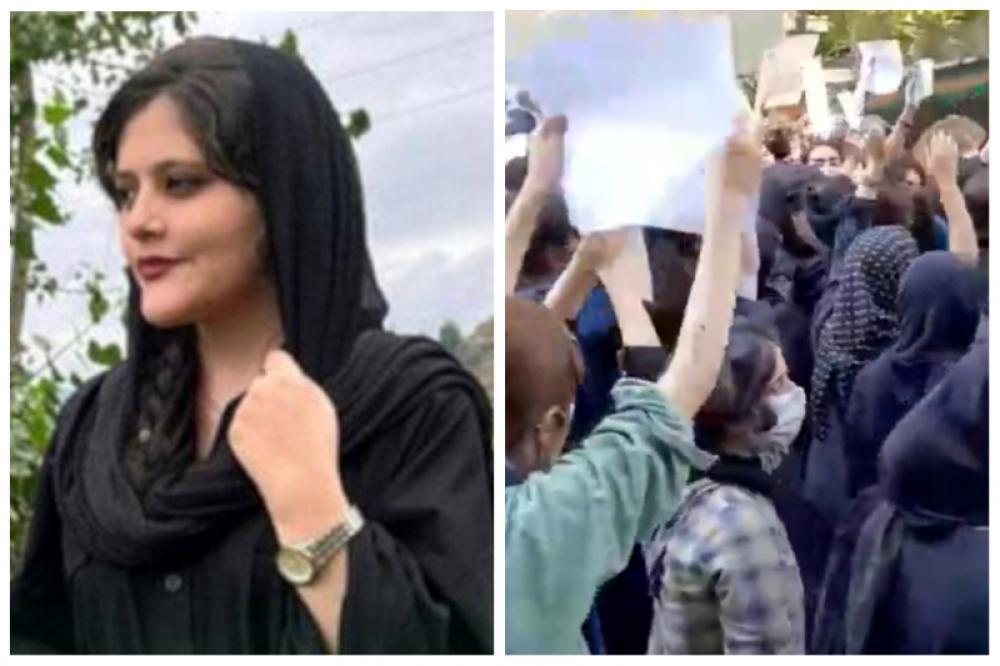 Mahsa Amini
Image Credit: Ellie Cohanim Twitter page/video grab
At least 31 people have been killed across Iran in the crack down on anti-hijab protests triggered by the custodial death of 22-year-old woman Mahsa Amini, who was arrested for "improper hijab" and allegedly beaten up by the Islamic Republic's "morality" police, media reports said citing Oslo-based NGO Iran Human Rights (IHR).
از بابل خبر رسیده Ú©Ù‡ دست‌Ú©Ù… جنازه شش نفر از شهروندانی Ú©Ù‡ با شلیک مأموران امنیتی کشته شده‌اند، در بیمارستان یحیی نژاد در این شهر رؤیت شده است. همچنین بیش از Û³Û° نفر Ú©Ù‡ بر اثر شلیک گلوله‌های جنگی Ùˆ ساچمه‌ای زخمی شده‌اند، در این بیمارستان بستری هستند. مأموران امنیتی⬇️#MahsaAmini

— Iran Human Rights (IHR NGO) (@IHRights) September 22, 2022

IHR said Thursday that protests are taking place in more than 30 cities and other urban centres. "Mass arrests" of protesters and civil society activists is feared, it added, reported AFP.
"The people of Iran have come to the streets to achieve their fundamental rights and human dignity... and the government is responding to their peaceful protest with bullets," Iran Human Rights (IHR) director Mahmood Amiry-Moghaddam said in a statement, publishing a toll after six days of protests, according to the report
مردم ایران برای رسیدن به حقوق بنیادین Ùˆ کرامت انسانی به خیابان‌ها آمده‌اند Ùˆ حکومت با گلوله به اعتراض مسالمت آمیز آنها پاسخ Ù…ÛŒ‌دهد.محکومیت Ùˆ ابراز نگرانی دیگر کافی نیست. جامعه جهانی Ùˆ همه انسان‌هایی Ú©Ù‡ به حقوق بشر پایبندند باید اکنون از مطالبات مردم ایران حمایت کنند #مهساامینی https://t.co/gojNrhSEMk

— M. Amiry-Moghaddam (@iranhr) September 22, 2022
The protest first erupted in northern province of Kurdistan, from where Amini originated.
The 31 deaths include 11 people killed Wednesday night in the town of Amol in the northern Mazandaran province on the Caspian Sea, and six killed in Babol in the same province.
"Condemnation and expression of concern by the international community are no longer enough," Amiry-Moghaddam said.
Kurdish rights group Hengaw had earlier confirmed that 15 people had been killed in Kurdistan province and other Kurdish-populated areas of the north of Iran, including eight on Wednesday night.
Some Iranian women published videos on social media that showed them cutting their hair, as well as burning hijabs and rusari kerchiefs, which they are obliged to wear on their heads.
Meanwhile, the Iranian authorities have restricted access to social networks, including Instagram and WhatsApp due to ongoing protests across the country, Iranian media reported on Thursday.
Access to the social networks was limited on Wednesday evening, Iranian news agency Fars reported, adding that it is unknown how long the ban will last.
According to the news agency, protests are fuelled by special revolutionary groups seeking to turn the citizens against the Iranian authorities and cause damage to national security.
On September 13, Mahsa Amini was detained by Iran's so-called morality police in Tehran for wearing an "improper" hijab, an offense punishable by prison.
On September 17, Iranian President Ebrahim Raisi ordered a special investigation into the case and expressed condolences to Amini's family.