Fear lingers on as ISIS tracks down its escaped sex-slaves abroad
Just Earth News | @justearthnews | 13 Feb 2019 Print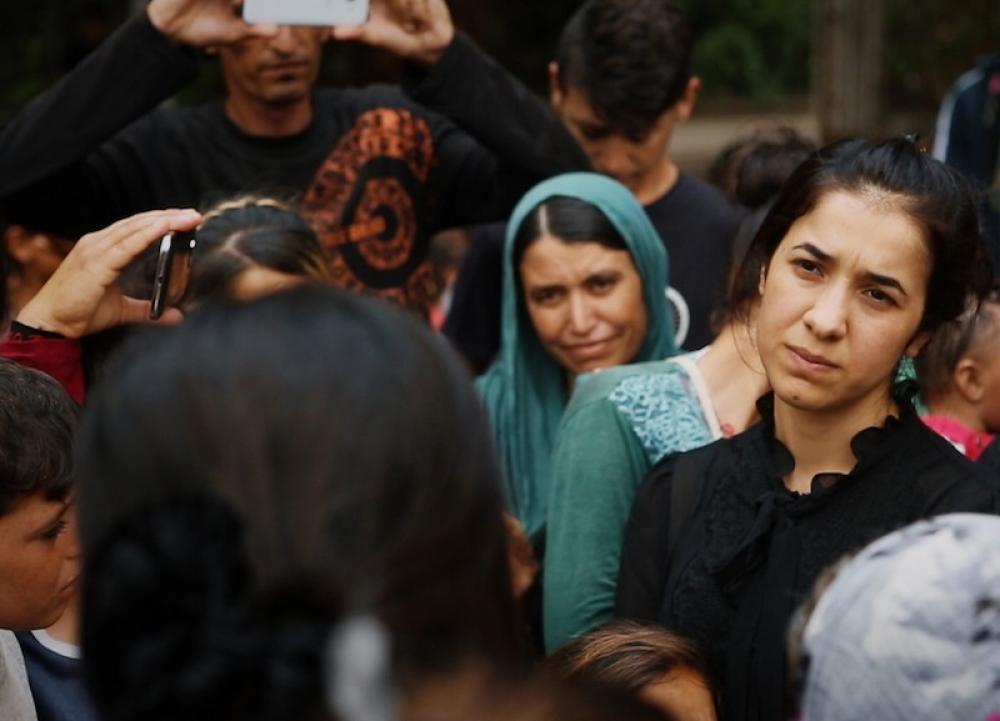 Nadia Murad speaking for sexual war crime. Image by UNICEF USA
Nadia Murad was abducted along with other Yazidi women in August 2014 when their village of Kocho in Sinjar, northern Iraq, was attacked by ISIS.
Captured alongside her sisters, she lost her mother and six brothers. She was raped and tortured by the Islamic State militants. She had lived for three months as a sex slave when she was bought and sold several times before she managed to escape.
In 2018, she was awarded the Nobel Peace Prize jointly with Congolese gynaecologist Denis Mukwege.
Recalling the horrors of her captivity, she wrote in a memoir: "At some point, there was rape and nothing else. This becomes your normal day."
"I was only one of hundreds of thousands of Yazidi victims. My community was scattered, living as refugees inside and outside of Iraq, and Kocho was still occupied by Isis. There was so much the world needed to hear about what was happening to Yazidis," said Nadia Murad in her media interactions later.
But months after the guns went silent and Islamic State is getting reduced to only a few remote pockets of the Middle East, former ISIS sex-slaves, who are hoping to start a new life abroad in Canada and Germany, are in deep fear as they are still getting threatening calls and messages of rape and murder.
The first group of Yazidi women & children arrived in Paris tonight. We are grateful to @EmmanuelMacron and the French people for welcoming members of the Yazidi community from Iraq. pic.twitter.com/nHYEp6c1JE

— Nadia Murad (@NadiaMuradBasee) December 20, 2018

Image: A TV grab of former ISIS victims in Canda receiving threatening calls
The Tactics of Terror
Recalled Nadia in an article in The Guardian: Attacking Sinjar and taking girls to use as sex slaves wasn't an impulsive instinct decision of the battle hardened Islamic fanatics. Islamic State planned it thoroughly as an instrument of striking fear in the heart of its opponents; how they would come into homes, what made a girl more or less valuable, which militants deserved a sabaya [sex slave] as incentive and which should pay. They even discussed sabaya in their glossy propaganda magazine, 'Dabiq', in an attempt to draw new recruits.
But ISIS is not as original as its members think it is. Rape has been used throughout history as a weapon of war – from Persia and Rome in the past to Bangladesh and Rwanda in the recent decades.
However, even by the bloody standards of the Afghan war, ISIS had gained an unmatched reputation for brutality; mass rapes, human trafficking, routinely beheading opponents and foreign reporters, forcing them to sit on explosives, burning them alive to even crushing them under battle tanks.
"My husband was a farmer and now I can't face my husband and my neighbours and so, despite the danger, I left," said Ms Zarifa, a mother of three from a remote area of northwestern Afghanistan, who was violated at her own home by ISIS.
Another woman, Ms Samira, who escaped Darzab and now lives in Sheberghan, said fighters came to her house and took her 14 year-old sister to their commander.
Like Ms Zarifa, she did not want to use her full name because of the stigma against victims of sexual violence.
"This girl was there with Daesh for 10 months, but after 10 months she escaped and now she's with us. But I can't tell anyone about this out of shame...'Daesh' has committed many horrors in Darzab that can't be told," said the Taliban's main spokesman, Zabihullah Mujahid.
'Daesh' is an Arabic term for ISIS.
Stories like those told by Ms Samira and Ms Zarifa have emerged in recent months as thousands have fled Darzab.
History written with Yazidi's blood
Among the many victims of the advance of the Islamic State (IS) in the Middle East are a group of about 50,000 Yazidis, who were trapped in the mountains in northwest Iraq without food or water.
Yazidis are an Iraqi ethnic and religious minority descends from some of the region's most ancient roots and face executions for a reputation as 'devil worshippers'.
The population of this historically misunderstood group has dwindled considerably over the course of the past century due to persecution, like other minority religions of the region, such as the Druze and the Alawis.
These minorities had been hit by waves of violence and turmoil since the 2003 US-led invasion of Iraq. Then, IS singled them out for attack.
UN human rights experts refer to what happened next as genocide, which has been called a "forced conversion campaign"
Around 5,000 Yazidis were killed, 10,000 sold into slavery or forced to become child soldiers, nearly 7,000 women and girls were abducted and sexually abused. It is believed that hundreds are missing or still being held captive.
"All my family is split up. My father is missing. My brothers were kidnapped," said Shireen, who escaped from slavery in Mosul. "We still have one sister held by IS."
Shireen and her grandmother, Huri, live in Khanke camp, near Dohuk. Like many displaced Yazidis, they cannot yet envisage returning home.
"They [houses] were destroyed by IS or US air strikes [against IS]," Huri explains. "Without our men, we can't rebuild."
40-year-old Bissa softly recounts being "bought and sold" by six different jihadists.
"We did everything they wanted to do with us. We couldn't say no," says the Yazidi woman, after fleeing her IS captors.
Bissa was one of at least seven Yazidi women and girls to finally escape captivity last week, after years as "sex slaves" at the hands of the extremist group.
More than 36,000 people have fled a crumbling IS holdout near the Iraqi border in recent weeks, among them 3,200 alleged jihadists.
But now in territory held by the US-backed Syrian Democratic Forces (SDF), none perhaps have tales as harrowing as those of the Yazidi women.
17-year-old Nadine, who jihadists kidnapped from Sinjar when she was just 13, said she twice tried to escape. Both times the jihadist group's police caught her.

"They flogged me with a hose. It left marks on my back, and I couldn't sleep on it," she says. "The second time, they said I couldn't eat for two days," she added.

After they abducted Nadine, IS jihadists took her across the border to the group's then de facto Syrian capital of Raqa.

Over four years, she says, six different men bought her – Saudis and a Tunisian.
After escaping, Nadine said several cousins are still being held in an IS pocket in eastern Syria.
Yazidi woman Shireen, a former sex-slave, had met a captured IS Commander with a BBC correspondent looking for answers to the horrors that she had encountered.
"With my [own] hands, the number of people I killed and slaughtered would be about 900 people..". "The 15 and 16 year old that I have raped is maybe about 50 and the older ones, [I raped] is over 200" he added.
"I had no control over myself…I mostly did it [rape] for money as I was poor.". The Commander also agreed to the fact that he enjoyed raping.
The fight against ISIS is almost won as Kurdish forces with the help of Iraq and NATO led coalition forces have liberated cities after cities and towns after towns but the scars which the alleged jihadists have left behind on survivors of some of their worst atrocities are far from over.
Terror reemerges
As many of these women resettled themselves in Europe and Canada starting a new life, they realized that they have been tracked down by their former handlers and subjected to a brutal and threatening campaign by suspected ISIS members.
Five women and one 14-year old girl in Canada have been bombarded by voicemails and text messages threatening rape and murder. At least one man claimed to be the women's former ISIS tormentor. The women were also sent pictures of armed ISIS Jihadis beheading their victims.
All the women survived the horrors of the ISIS takeover of their towns and villages in Iraq in 2014.
The Free #Yazidi Foundation, based in the Netherlands, also voiced fears that minorities could again find themselves highly vulnerable. "In the event of a future Daesh storm gathering pace in https://t.co/pOtAVTE46X

— bold & opinionated! (@ZkartalZekiye) February 9, 2019
"They are survivors of genocide. They are survivors of sex slavery and they came here to Canada starting a new life to be safe and sound and now this nightmare seems like it is repeating itself," said El-Shafie who suffered unspeakable torture in an Egyptian prison for converting to Christianity. He miraculously escaped to Israel on a jet ski, where he became a free man. He now lives in Canada.
A Yazidi teenager, Ashwaq, was sold into slavery by ISIS has faced horror after she escaped to Germany, only to come face-to-face with her captor in the street.
Ashwaq was only 14 when Islamic State fighters stormed into northern Iraq, including the heartland of the Yazidi people.
They took thousands of women as sex slaves, including Ashwaq - who was sold for $100 to a man named Abu Humam.
Ashwaq told international media that, "On the way back to school a car pulled up next to me. He was sitting in the front seat. He talked to me in German and asked: 'Are you Ashwaq?' I was so scared I was shaking. I said: 'No, who are you?'"
She said he then replied: "I know you are Ashwaq, and I am Abu Humam."
"I never in my life believed that I would see something like this in Germany.", she added.
"I left my family and my country and went to Germany to forget the beating and the pain. The last thing I expected was to meet my IS captor and that he would know everything about me."
Ashwaq had approach the German authorities after this incident.
"I waited a whole month," she says, but received no news.
Fearful of facing face her captor again and wishing to be reunited with four of her sisters who had since been rescued from IS, Ashwaq returned to northern Iraq, leaving behind the German town of Schwäbisch Gmünd where she dreamt of starting a new life.
"If you haven't been through it, you won't know what it's like... it goes straight to your heart," she said. "When a girl is raped by IS, you can't imagine what it's like when you see this guy again."
Germany activists say her case may not be an isolated incident.
Düzen Tekkal, an activist and the founder of Hawar.Help, a Berlin-based organisation which campaigns for Yazidi rights, says she has heard of several cases where female Yazidi refugees recognised IS fighters in Germany.
However, most cases are not reported to the authorities.
(Writing by Suryoday Mandal with inputs from The Guardian / Reuters/ New York Times / BBC /AFP/ Wikipedia)