Rights
Human Rights/Free Speech/Media
Syria: UN to reach besieged Palestinian refugee camp
16 Jan 2014, 08:37 am Print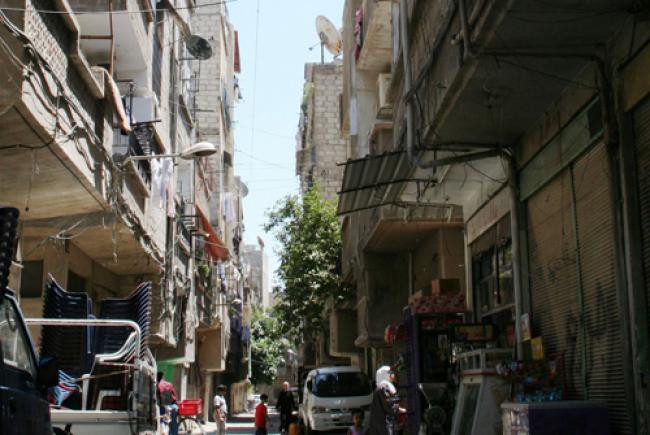 New York, Jan 16 (JEN): "Bursts of gunfire, including machine gun fire, erupted close to the trucks and UNRWA vehicles," the United Nations agency assisting Palestine refugees said Wednesday, recalling how its staff attempted to get to a camp in the suburb of Yarmouk where both Palestinians and displaced Syrians are believed to be starving to death.
The relief convoy of the UN Relief World Agency for Palestine Refugees in the Near East (UNRWA) included six trucks with food for 6,000 people, along with 10,000 doses of polio vaccine and some medical supplies.
"Syrian authorities provided us with a security escort enabling us to reach a last government-controlled checkpoint at the southern entrance of Yarmouk," UNRWA Spokesperson Christopher Gunness told the UN News Centre.
From there, the convoy proceeded behind a bulldozer that was clearing the road of debris, allowing the vehicles to drive on.
The convoy did not reach Yarmouk. The bulldozer was fired upon, hit by direct gunfire and forced to withdraw. Then gunfire broke out. One mortar exploded very close to the vehicles.
"At no time was the UNRWA convoy fired upon. No person or convoy vehicle was hit and no one was injured," Gunness stressed, but said security concerns forced the convoy to turn back.
"UNRWA remains undaunted by this frustrating failure and is already pressing Syrian authorities to support a further attempt," Gunness said.
This time, the team is pressing to use the northern entrance to Yarmouk, which is in Government-controlled territory and "is generally regarded as more likely to be accessible with relatively less risk."
When Syrian authorities gave UNRWA clearance to proceed to deliver assistance to Yarmouk, they required the UN agency to use the southernentrance which is some 20 kilometres further out in "an area of intense and frequent armed conflict
, in which numerous armed opposition groups, including some of the most extreme jihadist groups, have a strong and active presence."
He detailed how residents in the Yarmouk camp, including infants and children, are subsisting for long periods on diets of stale vegetables, animal feed and cooking spices dissolved in water.
Children are suffering from diseases linked to severe malnutrition, including anaemia, rickets, and kwashiorkor, a protein deficiency, he noted. The area is not believed to have electricity, heating or steady water.
"From a humanitarian perspective, Yarmouk remains closed to humanitarian access and remains a place where extreme human suffering inprimitively harsh conditions is the norm for Palestinian and Syrian civilians living there," he said.
"I emphasize that the imperative remains that Syrian authorities and other parties must allow and facilitate safe and open humanitarian access into Yarmouk to enable us to assist civilians trapped there," Gunness said.
Secretary-General Ban Ki-moon and UN Emergency Relief Coordinator Valerie Amos, among other UN officials, has repeatedly called for greater access to the 9.3 million Syrians believed to be in need of aid.
While in Damascus this weekend, Amos held talks with members of the Government and humanitarian partners about the plight of communities which have been blocked by Government or opposition forces and have not been reached with aid for months.
She also met Palestine refugees at an UNRWA school, which is now home to displaced families. More than 80 per cent of Palestine refugees inside Syria need humanitarian aid, according to the Office for the Coordination of Humanitarian Affairs (OCHA).
Yarmouk camp for Palestinian refugees in the Syrian capital Damascus. Photo: IRIN/Gabriela Keller