Addicted to war, power and greed, humanity is 'killing itself', warns Colombian President
Just Earth News | @justearthnews | 20 Sep 2023, 05:30 am Print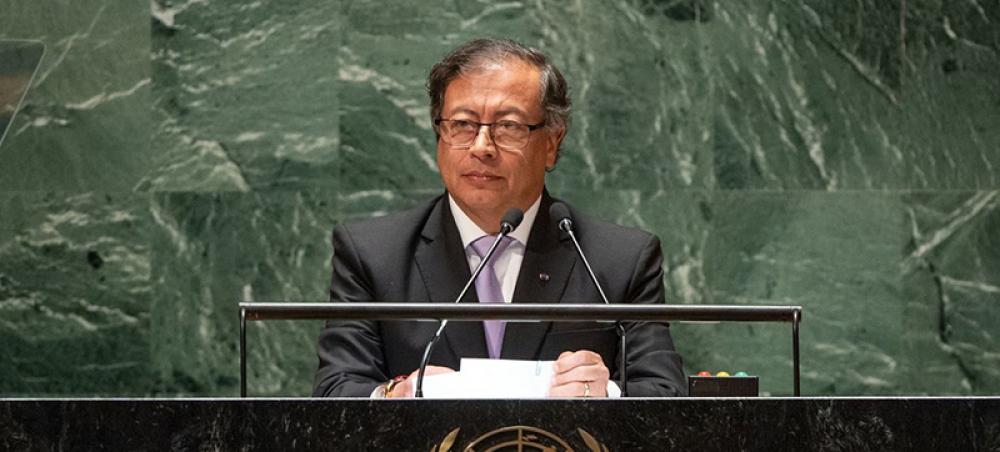 Colombia
Photo Courtesy: UN Photo/Cia Pak
Colombian President Gustavo Petro on Tuesday called at the UN General Assembly for peace summits to resolve conflicts in Ukraine and between Israel and the Palestinians, so the international community could focus instead on addressing climate change, which he said was "the mother of all crises".
"It would seem as though the global leadership has made enemies with life," he said in his address to the Assembly's annual general debate, stressing that the past year of climate catastrophes and conflict had been a "terrifying indicator" that humanity is running headlong towards "extinction."
President Petro proposed two UN-backed peace conferences to resolve both conflicts in Ukraine and the Middle East, not because there are no other wars in the world, but because it would show how to make peace in all regions of the planet."
Addressing both "and only both, would put an end to hypocrisy as a political practice."
A 'crisis of life'
As the crisis of life advances and the clock is ticking, "we decide to waste time killing one another" instead of solving the situation and ensuring a sustainable future, he lamented.
He highlighted that in 2070, there will be 3 billion migrants, and in Colombia, which is now covered in forests, only deserts will remain. "People will go north, no longer attracted by the sequins of wealth, but by something simpler and more vital: water."
To address the climate crisis, the Colombian President said there was a pressing need to decarbonize the economy and finance the Sustainable Development Goals (SDGs).

Frankenstein's Monster

Right alongside addiction to cocaine and drugs, and the addiction to oil and to coal, he said "there is the true addiction in this period of human history: addiction to irrational power, profit and money."
Unequal access to finance and greed was "the Frankenstein's Monster" plaguing humanity, and he advocated for reform of the global financial system, including the International Monetary Fund (IMF), echoing a similar call by UN Secretary General, António Guterres.
"Let the echo of the public, of the State, of humanity, of multilateralism resonate again, that is, let the word change resonate, because to save life it is essential," said Mr. Petro.