US House Speaker Nancy Pelosi visits Ukraine, meets President Zelenskyy
Just Earth News | @justearthnews | 01 May 2022, 08:56 am Print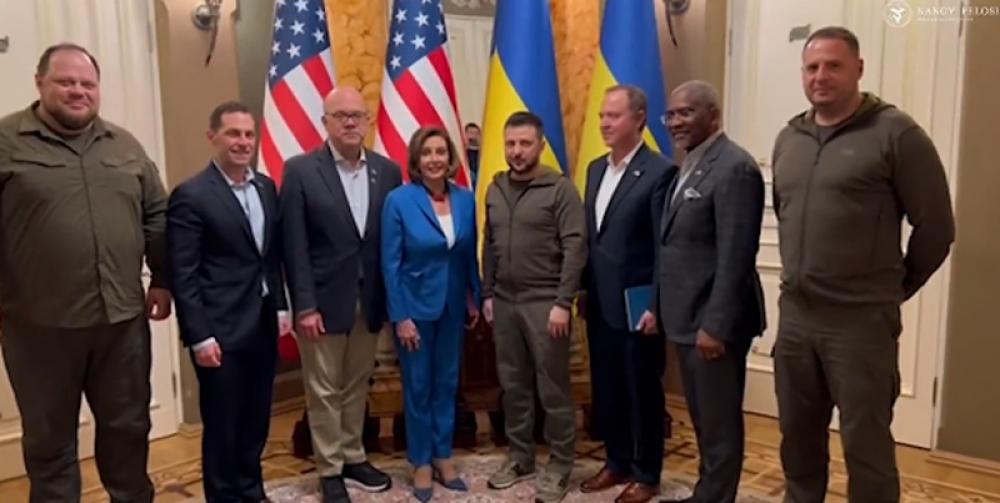 Ukraine
Image: Nancy Pelosi Twitter page video grab
Kyiv: US House Speaker Nancy Pelosi arrived in Ukraine and met President Zelenskyy in the latest show of support against the fight against Russian aggression by a senior Western politician.
She is the the highest-ranking American leader so far to visit Ukraine since the start of the war.
Our Congressional Delegation was honored to meet with @ZelenskyyUa in Kyiv to salute his leadership and courage, to commend the Ukrainian people for their outstanding defense of Democracy and to say that we are with you until victory is won. pic.twitter.com/zkc588Qcrv

— Nancy Pelosi (@SpeakerPelosi) May 1, 2022
Following the visit, Pelosi and the delegation said in a statement: "Our Congressional Delegation had the solemn opportunity and extraordinary honor of meeting with Ukrainian President Volodymyr Zelenskyy and other top Ukrainian officials in Kyiv."
"Our delegation traveled to Kyiv to send an unmistakable and resounding message to the entire world: America stands firmly with Ukraine. Our meeting with President Zelenskyy began with him thanking the United States for the substantial assistance that we have provided," the statement said.
"He conveyed the clear need for continued security, economic and humanitarian assistance from the United States to address the devastating human toll taken on the Ukrainian people by Putin's diabolic invasion – and our delegation proudly delivered the message that additional American support is on the way, as we work to transform President Biden's strong funding request into a legislative package," the statement said.
The statement further said: "Our delegation conveyed our respect and gratitude to President Zelenskyy for his leadership and our admiration of the Ukrainian people for their courage in the fight against Russia's oppression."
Nancy Pelosi also shared a video on Twitter where the delegation could be seen meeting the Ukraine President.
Ukraine and the West say Russia has launched an unprovoked war of aggression against the country.
Зустріч зі спікером Палати представників Конгресу США @SpeakerPelosi в Києві. Сполучені Штати є лідером потужної підтримки України в боротьбі з агресією РФ. Дякуємо, що допомагаєте захищати суверенітет і територіальну цілісність нашої держави! pic.twitter.com/QXSBPFoGQh

— Володимир Зеленський (@ZelenskyyUa) May 1, 2022
Zelenskyy also shared a video of his meeting with US leaders on Twitter.