Lebanon: Six dead, 30 more injured by gunfire at Beirut blast protest
Just Earth News | @justearthnews | 14 Oct 2021, 09:37 am Print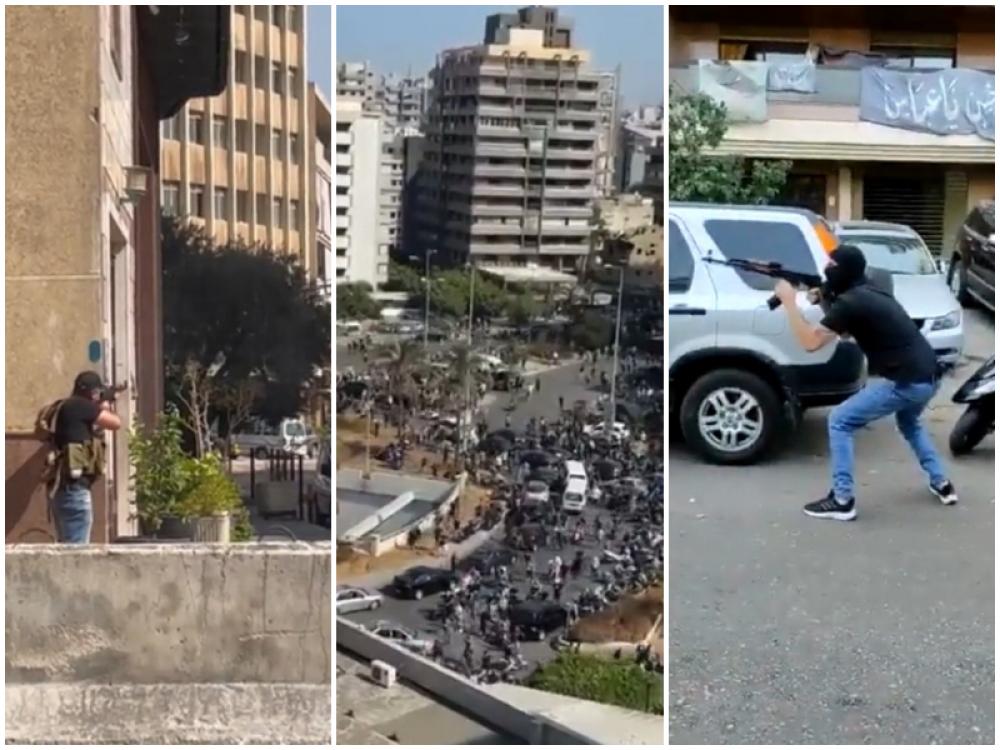 Beirut Violence
Images: Screengrab from Twitter videos
Beirut, Lebanon (JEN): At least six people have been killed and 30 others wounded by gunfire in Lebanese capital Beirut after a rally organised by the Hezbollah and Amal Movements to demand the dismissal of the lead investigator into last year's port explosion turned violent on Thursday, according to the Lebanese Red Cross.
The Lebanese capital today witnessed its worst violence in over a decade as gunfire broke out during the controversial protest held by Iran-backed Hezbollah and its main Shia ally, Amal, in central Beirut.
Local media said hundreds of agitators gathered at the Beirut Palace of Justice, calling for the removal of Judge Tarek Bitar from the explosion probe, accusing him of political bias.
Videos show masked gunmen, whose identities and affiliations were not immediately clear, shooting their automatic weapons and launching rockets from RPGs (Rocket-Propelled Grenade), taking cover behind street barriers.
Army units have been deployed to Beirut and armored vehicles have rolled into the areas of the port city where deadly skirmishes erupted earlier, following an attack on a protest, according to local media reports.
Lebanon's army, in a statement, has called for people to vacate streets near clashes in the Tayouneh neighborhood and also warned to shoot any armed person in the areas of Beirut where deadly clashes turned Beirut into a 'warzone'.
Lebanon Prime Minister Najib Mikati has called for restoration of calm and warned against attempts to drag the country into violence, while Lebanese Forces leader Samir Geagea has condemned violent clashes without responding to accusations from Hezbollah and Amal.
Meanwhile, Hezbollah and their allied Amal Movement have accused the right-wing Christian Lebanese Forces Party of sniping at their supporters from buildings during Thursday's violent clashes in Beirut, without providing any evidence.
Hezbollah, in a statement, has called on the Lebanese military to arrest the assailants who shot at their protesters in Beirut earlier today.
Following the deadly skirmish, the United Nations (UN) Special Coordinator for Lebanon, Joanna Wronecka, has called on all the parties to exercise "maximum restraint".