Cancer and Celebrities: One True Thing
Just Earth News 06 Oct 2013 Print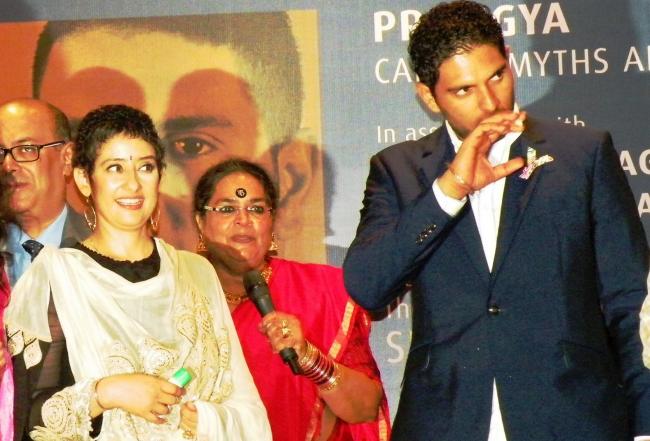 What do Yuvraj Singh, Monisha Koirala, Lisa Ray, Anurag Basu, Barbara Mori, and others have in common beside the fact that they are celebrities? They are gritty, fearless and fighting crusaders. They fought the biggest battle of their lives – death by cancer. Shoma A. Chatterjitries to find out what keeps their spirits up and how they inspire those affected by the disease
"I do not like to use the word 'survivor' as a person who has recently survived cancer because 'survivor' is too weak a word. I choose to use the word 'crusader' which signifies the inner strength we draw from and the positive attitude we develop not only for ourselves but for everyone similarly affected," says Monisha Koirala recalling her encounter with cancer against the backdrop of a beautiful PowerPoint presentation charting her at different phases of her illness at a function in Kolkata.
"I decided to develop a fun attitude towards cancer soon after I was diagnosed and went through the usual trauma. Problems arise because when we are healthy and fit, we do not value life and we do not value health and take both too much for granted. I did the same. It was only when I fell ill that I realised the value of health and happiness. The right attitude is to turn cancer on its head and make it a fashion statement since I now know that it does not spell death and is perfectly curable," she adds.
"You cannot and should not allow cancer to deflate and defeat your spirits," says Yuvraj Singh sharing the platform with Monisha. "You must not let it shatter your dreams and hopes. Though when I was diagnosed, I felt it was the end of the world for me, but my family, my friends and my cricketing colleagues stood solidly behind me and made the recovery easy and smooth," he adds. "What need to fight to control cancer through awareness among the masses."
Cancer is a life-changing miracle, according to the celebrities who happily shed their star images to blend into the people mode to bring cheer and happiness to people.
"Playing test cricket was also a fight every step of the way and so was my illness. It was not an easy fight, because it is a fight within yourself which you must go through", says Yuvraj.
Apollo Cancer Institutes, an integral part of the Apollo Hospitals Group, has joined hands with YOUWECAN, founded by Yuvraj Singh, on Dec 3, 2012, to fight the disease.
Dr. Rupali Basu, CEO, Apollo Gleneagles, says. "We along with Yuvraj have targeted 100,000 people for free cancer screening and we have already touched 60,000 of our target group. The bottom line is – track cancers early because the free-screening programme has brought about 3.2% positivity from those screened. Cancer is a coward, it sneaks upon you slowly. But it is no longer a killing disease and early detection is possible along with the various modalities linked to cancer and its prevention and cure. It is a chronic disease and a state of health you must learn to live with and manage it. Live life normally as you did before being diagnosed with cancer," she adds.
The Apollo Group has made a couple of DVD shorts to narrate the stories of ordinary survivors who have been as courageous and as motivating as the celebrities.
Farah Jowkar, a little girl cured of leukemia is one among Apollo Group's "Hope is Real" case histories. "My hair was falling off and I felt weak and sickly but I am now alright" she explains.
Amit Arora was dying of lung cancer but "I now have my life back," he says, smiling into the camera. Suraj Sharma, a senior citizen flying a kite with his grandson on the terrace of a building says, "Three years ago I was dying of prostrate cancer. Now I am free to fly like the wind."
Somasri Roy who worked as corporate manager in a private company was diagnosed with breast cancer six years ago. She set up the first Hospice in Kolkata for terminally ill people, something unique in this part of the country. Cancer survivors are awarded every year by the Bengal Oncology Centre.
In 2007, the awards went, among others, to Mary Ann Dasgupta who suffered from breast cancer and now finds happiness in taking care of slum children's education and health. She has written a book on cancer awareness. Kalyan Ray, another awardee, suffered from thyroid cancer 20 years ago and was cured in Mumbai. Today, he spends his time counselling cancer patients and their families.
Diagnosed with multiple myeloma in 2009, the gorgeous Indo-Canadian model and actress Lisa Ray, who broke headlines with a high-cut bikini and a grapevine liaison with Sunjay Dutt, turned her life over completely instead of getting sucked into depression born of self-pity and martyrdom. She turned herself into poster girl for cancer survival after she was completely drug-free and cured.
Lisa became a self-styled champion to fight the cause of cancer and stem cell transplants. She charted out other plans such as writing a book, speaking in public across North America, doing awareness ad campaigns and getting back to films.
"Before my illness, I was always racing against time. I now make sure that I have time for myself, the key to good health," she says.
"I would feel constantly fatigued though I gymmed and exercised regularly. I went to a yoga treat in Kerala and at the end of my second session, I was shocked to discover that I could not get off the floor and shivered for an hour. Back to Canada, a full Mediscan revealed that my haemoglobin levels had dropped and my RBC count dropped to 30 against the normal range of 90 to 120. I got a blood transfusion but the relief was temporary because soon after, there was a relapse and this was followed by a battery of tests ending with a bone marrow biopsy which was terrifying and terrible," she informs. Finally, she went through stem cell surgery and today she is happily married to her partner, a living example that cancer is no more a fatal disease.
Mexican actress Barbara Mori who starred opposite Hrithik Roshan in Kites was diagnosed with early stage cancer but has recovered completely. The illness has been a positive milestone in her life as it has changed her forever. Barbara Mori, Lisa Ray and filmmaker Anurag Basu, who has survived acute leukemia and directed Mori in Kites, along with Lisa Ray actively participated in the making of a film called 1 a Minute to raise funds for the cure, promotion, awareness and prevention as well as to support survivors of women's cancers.
Mori says, "My dream is to see and cancer-free world and I will do my best to support as many programmes as possible to tackle cancer."
Anurag Basu did not let his illness affect his life and behaved as if he suffered from a common cold though doctors predicted that his chance of survival was 50 per cent. He wrote the scripts of Life in a Metro and Gangster and directed some parts of Tumsa Nahi Dekha from the hospital. He put up a brave face throughout his ordeal and came out of it as if nothing had happened.
1-a-Minute follows a woman's journey through cancer with a focus on breast cancer and at each stage of her journey, the stars who are survivors of cancer from across the world or affected closely by it recount their experiences. Lisa donated a part of the proceeds from her film Cooking for Stella to the Institute for Myeloma and Bone Cancer Research in Los Angeles.
Cancer is not a death sentence. The fear factor must be erased completely which is possible with the spread of the right information at the right time to the right people and a patient needs to take the disease like a challenge and not be sucked into depression and tragedy.