WHO, health partners treat quake survivors in Nepal's remote regions
02 May 2015, 07:56 am Print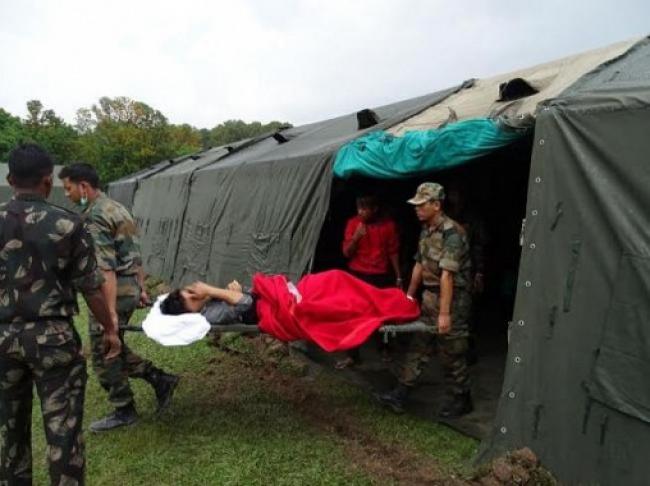 Kathmandu, Apr 30 (JEN): The World Health Organization has stepped-up efforts to deliver critical medical relief to populations outside the Kathmandu valley affected by Saturday's earthquake, with a major focus on reaching injured people and preventing disease outbreaks.
Coordinating health sector partners in support of Nepal's government, WHO is striving to reach remote areas beyond the capital, Kathmandu, where road access has been hampered by damage caused by the April 25 earthquake.
WHO is playing a vital role in coordinating international medical support in the mountainous region of Sindhupalchowk district, 75 kilometres north-east of Kathmandu, according to Dr. Khem Karki, of the Nepal Health Research Council and Government point-person for deploying foreign medical teams to affected areas, an official statement said.
"We have deployed many international teams to Sindhupalchowk," he said, adding, "The WHO is actively working to coordinate this with us."
To date, Sindhupalchowk has reported the highest fatalities of any region in Nepal. Authorities say that at least 1400 people had died there, and warning that the number could rise to 3000.
Many people in the district have been displaced, while others require immediate medical attention, which so far has been difficult to provide. Landslides block the district's transport arteries and the terrain is often inaccessible.

Other districts severely impacted by the earthquake include Gorkha, where the quake's epicenter occurred and several foreign medical teams are already working.
WHO has sent needs-assessment teams to the district headquarters, and outlying parts of the area, to consolidate what is currently known about the earthquake's impact there, allowing the deployment of resources to be calibrated according to needs.
"We have received conflicting information regarding damages there," says Damodar Adhikari, Project Manager for WHO's Nepal Earthquake Response Team. "We are verifying the information with the Gorkha authorities."
Gorkha's most affected areas are extremely remote, taking 10-12 days to reach by foot. Nepalese and Indian military helicopters have been flying to these affected regions, bringing local and foreign medical staff to hard-to-reach areas to deliver medical supplies and airlift badly injured people to Kathmandu for treatment.
But the needs remain great, with helicopters unable to reach some communities due to poor weather and steep hillsides. Reaching these communities and providing health support, is essential.
WHO is working with health authorities to get health workers in place to care for the injured, and prevent and control the spread of infectious diseases, including diarrhoea.