New health pass introduced amid soaring Covid cases sparks protests in France
Just Earth News | @justearthnews | 21 Jul 2021, 08:29 am Print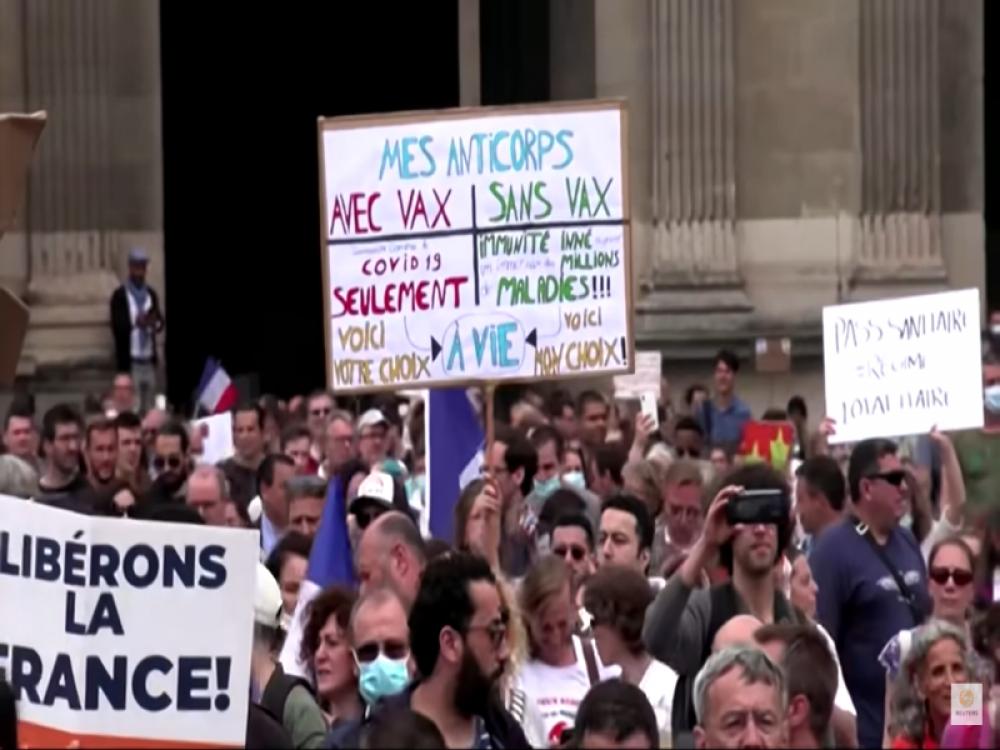 France Health Pass
Image Credit: YouTube Video Grab
Paris: France is seeing the fastest ever jump in coronavirus cases in this pandemic, prompting the authorities to bring into effect a new Covid health pass.
Despite being criticised, from Wednesday, the French government requires people to produce proof of vaccination, or a negative test for recent recovery from coronavirus infection to enter most museums and cinemas, according to a BBC report.
There has been a surge of 150 per cent in new coronavirus cases since last week, the report said, adding that the spike is attributed to the spread of the highly contagious Delta variant.
The daily coronavirus infections jumped from 7,000 last week to 18,000 this week. The new order imposing restriction on entries comes a day after French Health Minister Olivier Veran announced the increased figure.
President Emmanuel Macron had announced the plans for a health pass earlier this month as well as compulsory vaccination for all health workers by September, the BBC report stated.
The lawmakers will discuss later whether to extend the use of this pass to August and for entry into restaurants, shopping malls and cafes.
This plan is being protested by several people in France where there is widespread vaccine hesitancy.
As the government insists on vaccination and wants people to provide proof of inoculation for entering most public places, protestors are refusing to comply and calling the new rule "health dictatorship", the BBC report said.
Right now, the French administration is alarmed and wants to stop the Delta variant which can spread like wildfire and overwhelm the health system of a country.
Starting today, the people in the country will not have routine access to cinemas, theatres, museums and places like Disneyland Paris without the health pass.
The government plans to gradually extend that restriction to everyday public places like shopping centres, cafes and public transport, eliciting howls of protests.
This week protesters against the new coronavirus rules even vandalised two vaccination centres, the BBC report said.
Last week, some protesters compared the restrictions issued by the government to the singling out of Jews during France's war-time Nazi occupation, it added.
However, the majority of the French people support the plan and believe it's the only way to prevent another lockdown, informed the BBC report.