Environment/Science
Climate Change
Recent wildfires triggered by climate change, to be a norm if not acted quickly: Experts
Sumantra Das | @justearthnews | 04 Sep 2021, 11:06 pm Print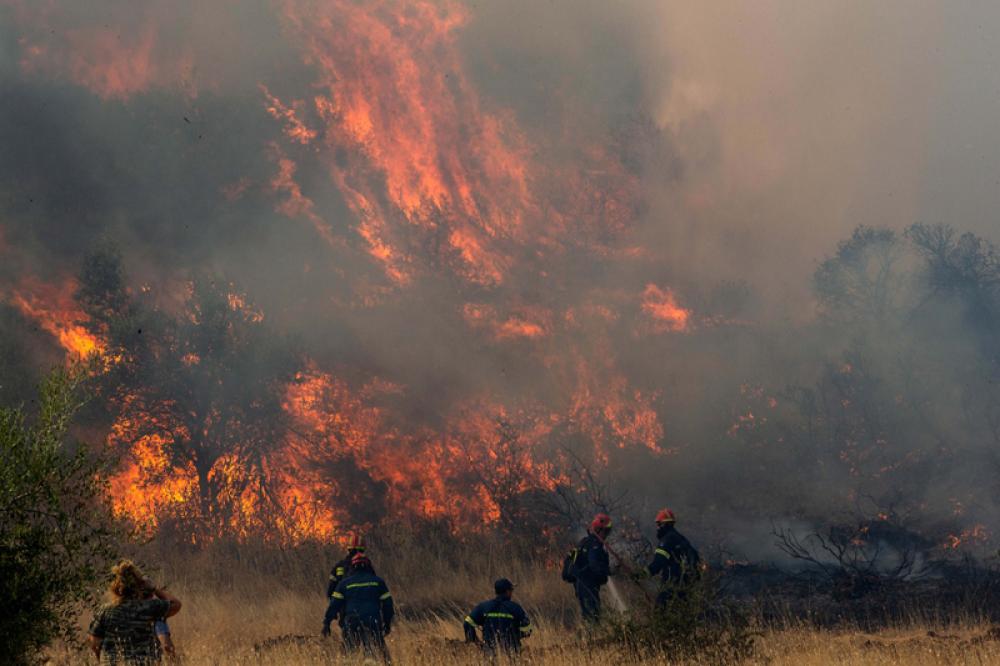 Firefighters battle a blaze in Vilia to the northwest of Athens, Greece, on Aug. 23, 2021. Photo: UNI/Xinhua
Washington DC: On Thursday (September 2), US President Joe Biden acknowledged the presence of climate crisis as the country is fighting both storms and wildfires. "We must be better prepared. We need to act," he said in a White House speech.
In the recent past, wildfires have also ravaged Greece, Turkey, and Italy, triggering the largest firefighting operation by the European Union.
According to UN experts, global warming is advancing at a faster rate than expected, and its effects are now showing. Scientists claim that these ongoing wildfires are happening due to climate changes caused by global warming.
They have warned modern society to let go of the use of fossil fuels or face nature's wrath.
Meanwhile, the EU's civil protection mechanism continues to channel support to help combat the unprecedented wildfires.
The wildfires have evicted many people from their homes, forcefully.
According to reports, around 2600 people were evacuated from Evia, Greece's second-largest island, in August after fires broke out during a week-long heatwave. Deemed the worst in three decades, the temperature hovered over 45 degree Celsius.
As the blaze raged through, firefighters from 22 nations struggled to contain it, forcing the United Nations to mobilize 14 firefighting planes, three helicopters, over a thousand rescuers, and support vehicles.
The elderly sought refuge on ferries or slept on sun loungers.
The Prime Minister of Greece, Kyriakos Mitsotakis, tendered an apology for failing to tackle the fires, after facing criticism for his rather underwhelming performance. He said 586 fires had erupted in a week, causing damages of 500 million Euros.
Commenting on the issue, European Commissioner for Crisis Management, Janez Lenarcic stated: "We are mobilizing one of Europe's biggest ever common firefighting operations as multiple fires affect several countries simultaneously. It shows the need to prioritize crisis response also at the European level. The EU stands in full solidarity with Greece, North Macedonia, Albania, Italy, and Turkey, at this difficult time."
In Greece alone, 1000 homes were estimated to have been destroyed in the blaze, which tore through many businesses, farms, and forest land, according to reports. On Evia, 50,000 hectares of pine forest were turned into ashes, while the damage in Peloponnese is incalculable. The fires left four firefighters severely burnt, and others critically injured.
In Italy, firefighters have dealt with 44,442 wildfires since June 15, with the majority occurring in Sicily. People enjoying their summers in the national park, hotels, motels, and beach resorts in Campomarino Lodi were evacuated.
Drone flying over Turkey showed the devastation after wildfires ravaged the nation's pine forests. Before the fire, Turkish sea resorts in Marmaris were decked in a thick green pine forest. Now, the same hills form a ghostly, grey landscape topped with blackened tree stumps. President Recep Tayyip Erdogan said Turkey's wildfires show the extent of the devastation.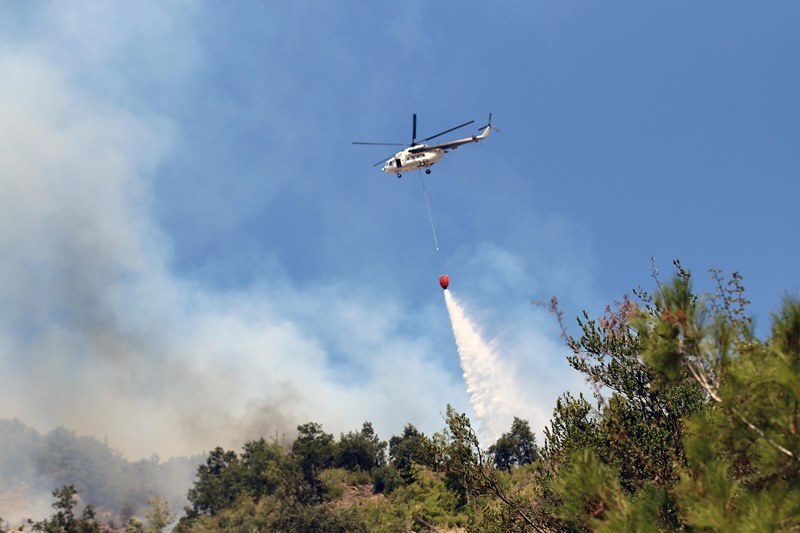 A helicopter douses wildfires in Koycegiz, Mugla province, southwestern Turkey, on Aug. 8, 2021. Photo: UNI/Xinhua
Tourists and locals were forced to flee the Aegean provinces, as eight people died in the last two weeks. The fires have burnt tens and thousands of hectares of Mediterranean forests.
After 13 days, the fires continued to rage in the Mugla province, where 36,000 people were evacuated, as the fire destroyed 55,000 acres of land. Turkey's Health Minister, Fahrettin Koca, said 400 people affected by the fires in Manavgat were treated at hospitals and released.
Meanwhile, the death toll rose to six after two forest workers died. The government postponed loan repayments for the injured, and interest-free credit was given to businesses.
The UN climate panel sounded a dire warning in August, saying the world is dangerously close to runaway warming.
The panel said these heat waves are more likely to reoccur due to climate change. Humans are "unequivocally" to blame, with greenhouse gas levels high enough to guarantee climate disruptions. It warned that the heat waves, hurricanes, and other calamities that are taking place will only become more pronounced.
U.N. Secretary-General António Guterres described these reports as a "code red for humanity", while climate activist Greta Thunberg called on the public and the media to put "massive" pressure on the governments to act fast.
The Intergovernmental Panel on Climate Change (IPCC), a UN intergovernmental body, termed the recent wildfires across Southern Europe as a wake-up call.
An IPCC report based on 14,000 scientific studies said unless fast and large-scale action is taken to reduce emissions, the average global temperature is likely to cross the 1.5-degree Celsius warming threshold within 20 years.
The rise in global temperatures has a direct and obvious risk to the planet's vegetation. With an increase in greenhouse gas emissions, more heat is trapped in the atmosphere, increasing the core temperature. Hotter climates will dry out vegetation more quickly and thoroughly. The presence of dry fuel will allow fires to start and spread wider.
Climate change has doubled the number of wildfires that occur between 1984 to 2015. According to research, climate change creates warmer, drier conditions.

The National Oceanic and Atmospheric Administration (NOAA)- an American scientific and regulatory agency within the United States Department of Commerce that forecasts weather, monitors oceanic and atmospheric conditions- estimated the total costs of wildfires from 2017-2018 to be 40 billion USD in damages.
More than a century of fire exclusion has created dense forests packed with excess trees and bushes that ignite and spread fires quickly under increasingly warm and dry conditions.
Each year the number of wildfires happening across the globe is increasing as the climate gets warmer and drier. It has become a major health concern for the people living near places prone to wildfires.
The smoke reduces air quality and causes eye and respiratory illness. Also, Greenhouse gases are again released into the atmosphere through carbon dioxide, aerosols, methane, and black carbon.