Environment/Science
Biodiversity
Indian scientist Rituparna Bose unravels biodiversity mystery
Just Earth News 03 Oct 2013, 06:51 am Print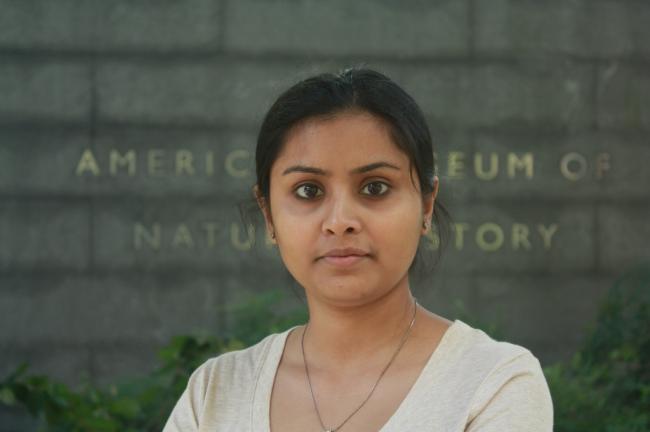 New York, June 16 (IBNS): Kolkata girl Rituparna Bose, who now teaches at the City University of New York, has developed mathematical algorithms that give the most specific estimates of biodiversity till date.
Bose, who is now 32, recently identified new fossil species in Michigan, a kind of ancient marine shells. Her work showed that the ancient biodiversitywas underestimated.

In fact, a greater diversity of life had existed in the past than has been previously appreciated, her findings showed.

"There are around 5 to 30 million species of plants and animals today. One reason for such ambiguity in biodiversity numbers is that organisms have been historically classified based on visual assessment of external morphology ever since the days of Carl Linnaeus (1735). Organisms that looked different were grouped differently, and that was fine till now," Bose said.

However, Prof. Bose's findings have demonstrated the shortcomings of such visual classification and highlighted the need of classification based on objective quantitative algorithms.

Part of the work was presented at the NAPC. This is especially significant as the United Nations have declared 2011-2020 as the UN Decade ofBiodiversity. She has subsequently been elected as a Fellow of the Paleontological Society of India and the prestigious Geological Society of London.

These findings were recently reported in Historical Biology and Paläontologische Zeitschrift, both journals on fossil science. She is also the editor of "Acta Palaeontogica Sinica", the flagship journal of the Chinese Academy of Sciences.

One of the exciting findings of Bose's work along with David Polly was that scientists may have mis-estimated the number of species that existed in pre-historic times.

"My research has been published in several acclaimed palaeontology journals including 'Palaios.' My dissertation has also been selected for the best theses award by prominent publisher Springer and is being published in their 'best of the best theses' series," she informed.

Bose, an alumnus of both Calcutta University and Jadavpur University, has also become an Editorial Board member of Historical Biology.

"The first step to estimate biodiversity and extinction is a precise count of the number of species at a certain time. I have used my mathematical techniques to identify ancient species," Bose said.

Her initial passion was in Mathematics which she used to understand biodiversity.

While working on marine biodiversity, she also serendipitously discovered several unique physico-chemical parameters that are responsible for coastal pollution in the Sunderban area in West Bengal, the habitat of the Royal Bengal Tiger.

"This [coastal pollution] is why this big cat is rapidly disappearing," she said.

The work has been published in 'Geochemistry International'. Dr. Bose is also the editor of a much anticipated book entitled "Coastal Conservation and Sustainability" along with Prof. Charles Finkl (President of Coastal Education and Research Foundation, an international organization dedicated to coastal research) which is due to be published soon.

She has recently become the Editor of "Acta Palaeontogica Sinica", the official journal of the Chinese Academy of Sciences. The Chinese Academy of Sciences is China's highest academic institution and provides scientific leadership on vital global issues. She also serves on the editorial board of a few famous scholarly journals including the Geological Journal and Bulletins of American Paleontology (Paleontological Research Institute, Cornell University).

Bose's work was funded by the Theodore Roosevelt Grant awarded by American Museum of Natural History and Dunbar-Schuchert Grant of Yale University. The process started in collaborations with major museums in the United States (Smithsonian National museum and Neil Landman, curator at the American Museum of Natural History) and aided by Susan Butts at Yale University.

Rituparna Bose is now an adjunct faculty at the Department of Earth and Atmospheric Sciences at the City University of New York.

She is married to Arnab De, a microbiologist from Columbia University, who has also been her co- worker. Arnab De is also from Calcutta and had graduated from the city's ivy league Presidency College.