Environment/Science
Biodiversity
UP: 65 captive reared Gharials released into Ganges
27 Feb 2015, 05:43 pm Print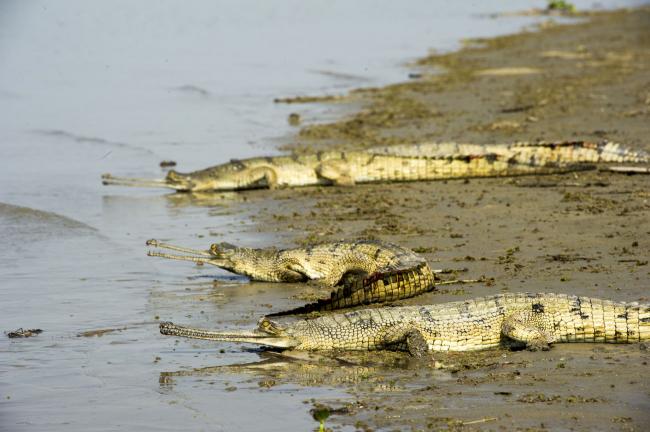 Hastinapur, Feb 27 (JEN): As part of a unique collaboration between the government, communities and civil society, 65 captive reared Gharials were released into the Ganges at Hastinapur.
WWF-India along with the Uttar Pradesh Forest Department scheduled the release with an objective to successfully introduce the species in their natural habitat, where their chances of survival are higher.
The release witnessed 65 juvenile Gharials of 3 years of age (50 females and 15 males) being released into the Ganga.

The captive-reared Gharials were transported in special containers from the Kukrail breeding facility in Lucknow to the Hastinapur Wildlife Sanctuary.
Prior to the release, the juveniles were weighed; their scales were cut for identification purposes and biometric study was conducted by WWF experts to check the health status of to be released stock. The Gharials which belonged to the 2012 batch of hatchlings weighed between 4 to 8 KGs and were 1.23 to 1.51 meters long.

Dr Rupak De, Chief Wild Life Warden and Principal Chief Conservator of Forests Wildlife, Uttar Pradesh Forest Department, said, "Uttar Pradesh Forest Department is committed to the conservation of aquatic biodiversity in the Ganga and today's release of 65 gharials is a step towards that."

The release, attended by Arvind Kumar Singh, Sub-Divisional Magistrate, Sushant Sharma, District Forest Officer, and other Government officials along with community members from Makhdumpur, Jalalpur & Kishorpur, witnessed a brief session by WWF-India experts on the anthropogenic threats faced by the species while stressing on regular monitoring of the released species.
The experts also shared insights on biometry exercise conducted prior to the release, and establishing skewed markings to create an individual identity number for all the animals due for release. The DFO administrated a Ganga Mitra pledge to actively engage in conservation of holy Ganga.
"Today on this day of Gharial release, I assure District Administration's support in this initiative to rejuvenate the Ganga and its species, thereby nourishing & supporting the lives in the Ganga", added Arvind Kumar Singh, Sub-Divisional Magistrate.

Highlighting the importance of regular release of species into the Ganges, District Forest Officer, Sushant Sharma said, "In December we witnessed the release of 532 Turtle hatchlings into Ganges and today is the day of release of 65 Gharials. With the support of communities and WWF-India, we hope to counter the dwindling population of these endemic & endangered species".

"We all need to come together to help our Holy river Ganga nourish the aquatic biodiversity it supports," added Luv Khush, village headman of Jalalpur village.

One of the key species of concern for WWF- India's Rivers for Life programme, Gharial (freshwater crocodile) is critically endangered crocodilian, with fewer than 200 breeding adults estimated to be surviving in the wild. In order to address the conservation needs of the species, WWF-India and Uttar Pradesh Forest Department initiated this programme in 2009. So far, 571 gharials have been released including Friday's release.

Suresh Babu, Director Rivers, Wetlands & Water Policy said, "Riparian communities along the Ganga in Hastinapur has adopted gharials as an integral part of their lives and this is a great example of community based conservation of endangered species and its habitats. We need more such examples of collaborative action between Government, Communities and Civil Society coming together as Ganga Mitras (friends of river) to rejuvenate our national river" .

Intensive post-release field surveys to document habitat use and dispersal pattern have revealed that almost 40% survival of release animals. Between 17 December 2010 to15 January 2011, thirteen animals were re-captured and biometric changes were recorded. Alongside the research, the study integrates conservation awareness work with riparian communities.

WWF-India and UPFD will initiate 20 day monitoring to closely watch the acclimatization of the gharials in the wild. "UPPFD and WWF-India will undertake an intensive monitoring to study the growth, behavior and sitribution of animals which will help design a long term conservation strategy," added Sanjay Shrivastava, IFS.