Environment/Science
Biodiversity
Tiger population in India increases by 30.5 pct: Prakash Javadekar
21 Jan 2015, 06:42 am Print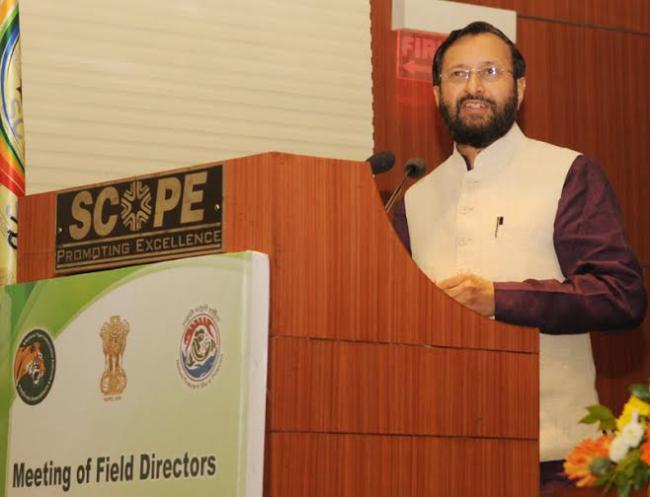 New Delhi, Jan 20 (JEN): Minister of Environment, Forests & Climate Change Prakash Javadekar has said that Government initiatives to streamline Tiger Conservation along with effective Forest Management and Community Participation had led to increase in the number of tigers.
All around involvement of all stakeholders had helped enhance the number of tigers from 1706 in 2010 to 2226 in the latest estimates.
This increase in Tiger Population was a testimony of the success of various measures adopted by the Government, said he.
These measures related to Special Tiger Protection Force, Special Programme for Orphan Tiger cubs, efforts to control poaching and initiatives to minimize Human-Animal conflict and encroachment. India was willing to donate Tiger cubs to international community and play a key role in the global Tiger Conservation efforts, the Minister stated this while inaugurating the two day meeting of the Chief Wildlife Wardens of Tiger States and Field Directors of Tiger Reserves
on Tuesday
.
Javadekar further stated that the successful Tiger Conservation practices in the country could be adopted and practiced by the international community as a step towards sustainable forest management.
He lauded the efforts of the Tiger Reserves Management and Project Tiger Team for the achievement.
The Third Round of country-level Tiger Assessment employing refined technology of double sampling using camera traps had recorded an increase in tiger population.
The mid value of the snapshot assessment using the same methodology in 2006 was 1411. In 2010 the Tiger population was 1706 and in 2014 it stood at 2226 with an increase 30.5 % since the last estimate. A total of 3,78,118 sq.kms of Forest Area in 18 Tiger States was surveyed, with total of 1540 unique Tiger Photo captures.
As per the survey, Tiger population has increased in Karnataka, Uttarakhand, Madhya Pradesh, Tamil Nadu, and Kerala. The third round of independent
Management Effectiveness Evaluation of Tiger Reserves has shown an overall improvement in the score of 43 Tiger Reserves from 65% in 2010-11 to 69 in 2014.
The Economic Valuation of 6 Tiger Reserves carried out for the first time provided qualitative and quantitative estimates of benefits accruing from tiger reserves. These included ecological, economic, social and cultural services. The assessment of Forest Cover Change in Tiger Landscape of Shivalik-Gangetic Plain has indicated an improvement of forest cover in core areas of Tiger Reserves.
The Minister released various Reports on the status of Tiger population in India namely Report on All India Tiger Estimation 2014, Report on Management Effectiveness Evaluation of Tiger Reserves -2014, Compendium on Status of Tiger Reserves, Report on Economic Valuation of Tiger Reserves, Report on Assessment of Changes Forest Cover in Tiger Reserves (Shivalik- Gangetic Plain Landscape), and Report on Corridors: Connecting Tiger Population for Long term Conservation.
Javadekar also distributed NTCA awards for Excellence in various categories.