Economy
World / Countries / MNCs
Japanese companies slowly moving out of China amid growing crisis
Just Earth News | @justearthnews | 02 Sep 2022, 07:29 am Print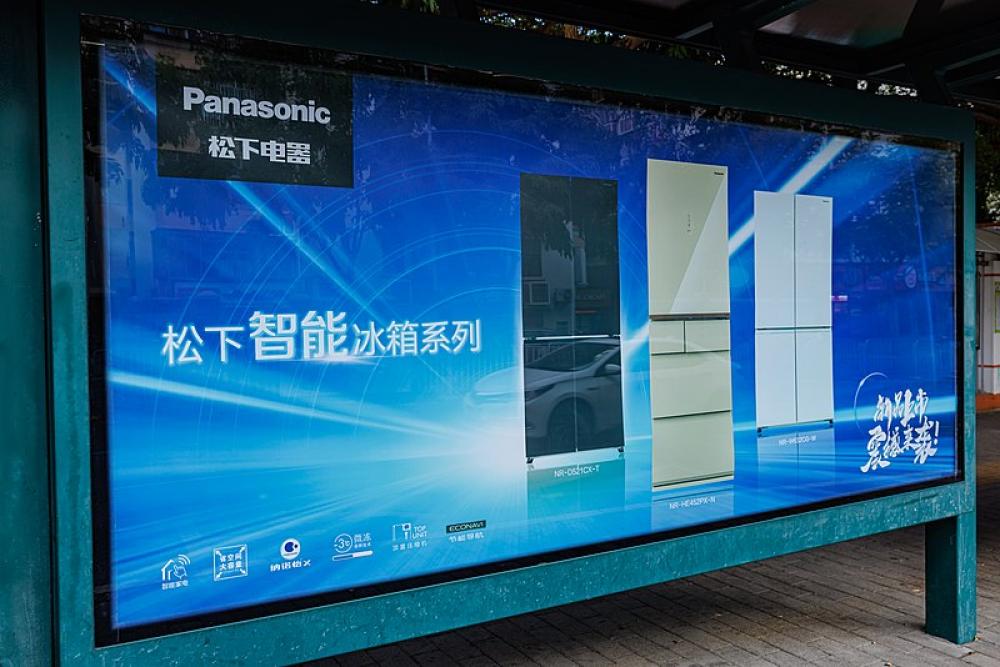 China-Japan
Advertisement of Japanese brand Panasonic's products in China. File photo by Dinkun Chen via Wikimedia Commons
Beijing: Several Japanese production facilities have started moving out of China as Beijing continues to follow its Zero COVID-19 policy and even the friction on the Taiwan straits heightening tension in the region.
According to the Asahi Shimbun newspaper, 135 companies engaged in the manufacturing of semiconductors, cosmetic items, clothing, household appliances, and motor vehicles have begun dismantling their operations in China.
Japan's widely circulated daily said that while some Japanese companies are relocating their manufacturing bases to Vietnam and the countries of the South Asian region, a sizable number of companies are coming back home since they feel the weaker yen is hurting their profits.
Japan has about 90 percent of its products manufactured abroad and of this, a large number of products are made in China.
Top Japanese multinational companies such as Toyota, Honda, Nissan, Mazda, Suzuki, Kawasaki, Mitsubishi, Toshiba, Hitachi, Sony, Nikon, Canon, and Pioneer have their bases in China.
But due to multiple factors, including Covid triggered lockdowns, US-China tension, weakening of yen, widening rift between Tokyo and Beijing on geopolitical and diplomatic fronts, and declining appeal of the Chinese market in the past one-decade, Japanese companies are not seeing a bright future for their growth in China.
As per the survey of the Japan-based financial research and support services, Teikoku Databank, as many as 249 Japanese companies left China between 2016 and May 2019.
However, in 2022, ongoing efforts by Japanese companies to locate their manufacturing capacities outside China gained momentum as 135 companies have either left the Chinese shore or are on the verge of relocating outside the Middle Kingdom.
Panasonic Corp, as per the Japanese daily, stopped taking orders from domestic retail outlets in April 2022 for microwave ovens and washing machines because its plants in Shanghai had suspended operations.
Similarly, Yaskawa Electric Corp. has three manufacturing plants in Shanghai.
Operations were suspended in one plant, while manufacturing continued at the two other plants, yet production was only between 20 and 30 percent of regular levels.
On May 31, 2022, the Japanese Chamber of Commerce and Industry in China released the results of a survey of Japanese companies and many of them said they realised for the first time the existence of a "China risk."
Therefore, amid a slump in productions and profits in China, Japanese companies have preferred to shift their operations back to Japan or cheap labour cost areas in Southeast Asia and South Asia, reports The Singapore Post.