Geopolitics
Governance/Geopolitics
Iraq: Ban pledges support as Government tackles ongoing threat from ISIL
31 Mar 2015, 03:12 pm Print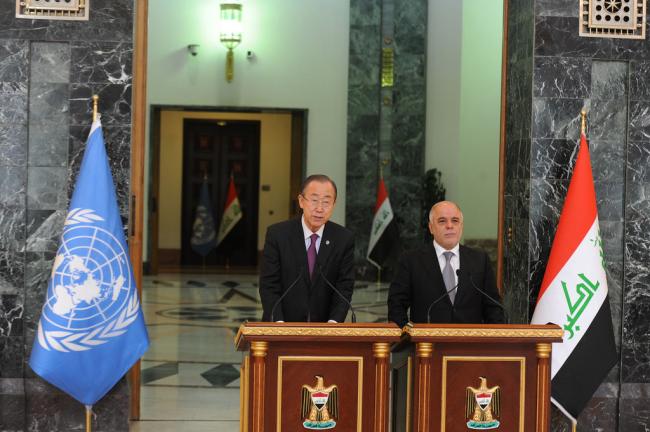 New York, Mar 31 (JEN): Despite recent military gains against the Islamic State of Iraq and the Levant (ISIL), "vast challenges" remain ahead as the Government of Iraq fights to consolidate its territorial integrity against the terrorist threat, United Nations Secretary-General Ban Ki-moon said on Monday during an unannounced visit to Baghdad.
"We will continue to do all we can to assist the people and Government of Iraq to end this crisis so that they may focus their energy and resources on building a more peaceful, stable, democratic and prosperous future for all Iraqis," Ban told reporters in the Iraqi capital.

The Secretary-General warned that the people of Iraq had suffered "unconscionable levels of casualties" as a result of ISIL's advance across the country which, he added, had caused the displacement of over 2.5 million people and the destruction of Iraq's cultural heritage.

"The threat of additional and secondary displacement during ongoing military operations may overwhelm local and international capacities," he warned, while calling for additional humanitarian resources in order to save lives in Iraq's conflict-ridden areas.

He added that alleged violations or abuses of human rights must also be investigated and perpetrators need to be held to account.

A report by the UN human rights office (OHCHR) recently found that ISIL, also known as Daesh, has committed widespread abuses throughout territories under its control in both Iraq and Syria, some of which may amount to war crimes, crimes against humanity and genocide.
Compiled by investigators sent to the region last year by OHCHR, the report highlights violations, including killings, torture, rape and sexual slavery, forced religious conversions and the conscription of children.
ISIL's attacks on the Yezidi population "pointed to the intent of ISIL to destroy the Yezidi as a group," the report says, which "strongly suggests" that ISIL may have perpetrated genocide.
Iraqi forces are currently engaged with ISIL fighters outside the city of Tikrit, just north of Baghdad, amid a series of military successes which appear to have put the terrorist group on the back heel.
As the Government of Iraq has moved in to reoccupy its territories, however, allegations of summary killings, abductions and destruction of property perpetrated by militias fighting alongside Iraqi armed forces have also arisen prompting some concerns.
According to the OHCHR report, retreating Iraqi forces allegedly set fire to an army base in Sinsil, where several dozen Sunni prisoners were held, and in another incident, at least 43 prisoners were allegedly shot dead in the al-Wahda police station in Diyala. Villagers reported being rounded up and taken to al-Bakr airbase at Salah-ad-Din where, the report says, torture is allegedly routine.
"Civilians freed from the brutality of Daesh should not have to then fear their liberators," Ban said
on Monday
, as he voiced concern about the allegations. "One form of violence cannot replace another."
Meanwhile, turning to his discussions with Government officials earlier in the day regarding oil and revenue-sharing between Iraq's regions, the Secretary-General also highlighted the importance of partnership between Baghdad and Erbil, the capital of Iraq's Kurdistan region, suggesting that it was "crucial" in addressing the country's security and financial crises.
It remained "essential" that any disagreements between Iraq's regional constituents be resolved within the framework of the country's Constitution, he added.
Photo: UN Iraq