Geopolitics
Governance/Geopolitics
Israeli Foreign Minister Yair Lapid inaugurates embassy in Abu Dhabi; lauds ex-PM Netanyahu's efforts in establishing ties
Just Earth News | @justearthnews | 29 Jun 2021, 12:55 pm Print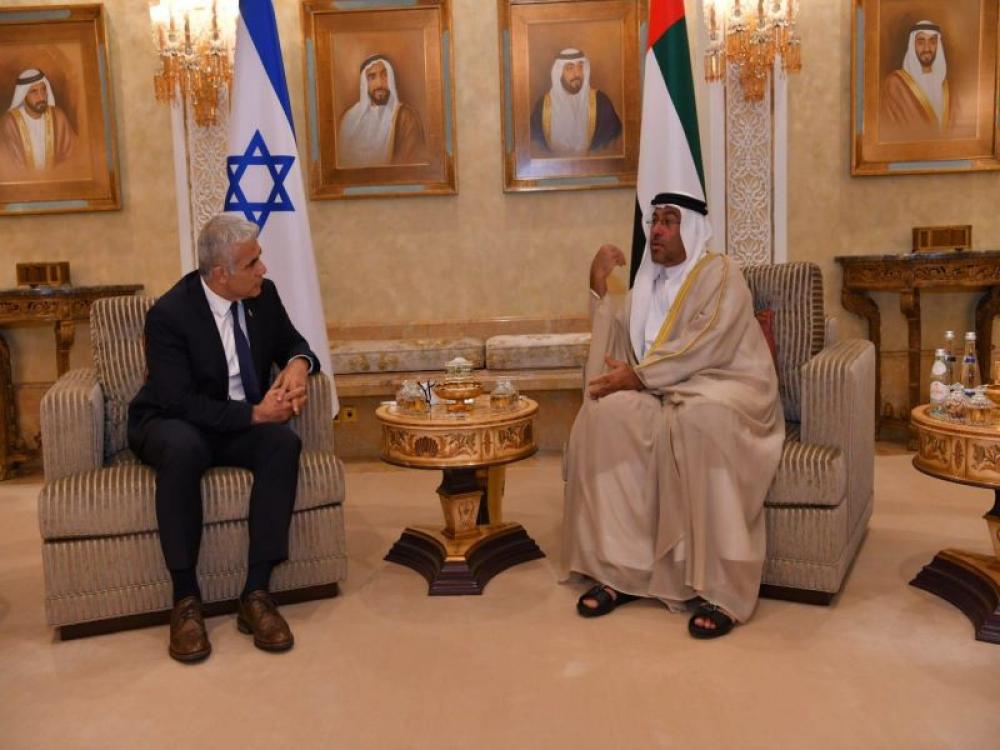 Israel-UAE bilateral ties
Image Credit: twitter.com/yairlapid
Abu Dhabi: Israel's foreign minister Yair Lapid reached the United Arab Emirates (UAE) Tuesday, marking the beginning of a bilateral relationship with the Gulf Arab country that was formally initiated eight months ago.
Kicking off the highest level visit by an Israeli official to the UAE, Lapid inaugurated Israeli Embassy in Abu Dhabi and told the diplomat it was a historic moment, according to an Al Jazeera report.
"The Middle East is our home and we are here to stay. So we call on all the countries of the region to recognise that and come and talk to us," he was quite as saying in the report.
Lapid's visit included meeting with UAE foreign minister in Abu Dhabi with talks mainly focussed on Iran which both consider a regional threat, the report added.
The bilateral relation between the United Arab Emirates and Israel has been established under the so-called Abraham Accords agreement brokered by the administration of former United States President Donald Trump.
Both Trump and the then Israeli Prime Minister Benjamin Netanyahu had held the development as their greatest achievement.
According to the report, Netanyahu had wanted to make the trip to Abu Dhabi that Yair Lapid is currently on, in hopes to capitalise on the normalisation deal his government signed and boost his re-election campaign.
Netanyahu's efforts were acknowledged by the new Foreign Minister of Israel belonging to the opposition coalition formed by Leopard himself that ended the former Prime Minister's 12 year run in the office.
He noted that the former Prime Minister was "the architect of the Abraham Accords" who "worked tirelessly to bring them about", the Al Jazeera report said.
Meanwhile, US Secretary of State Antony Blinken welcomed the opening of the Israeli embassy in Abu Dhabi.
Blinken described Lapid's visit and the opening of the Israeli embassy "significant for Israel, the UAE, and the broader region", The Times of Israel reported.
"The United States will continue to work with Israel and the UAE as we strengthen all aspects of our partnerships and work to create a more peaceful, secure, and prosperous future for all the peoples of the Middle East," Blinken said, the report quoted.
Bahrain, Sudan and Morocco have also made efforts to establish ties with Israel.
The development of friendly ties with Israel has been condemned by Palestinians who fear isolation as they want their demands for statehood free of Israeli occupation addressed first.
Lapid arrived in UAE through the Saudi skies as Riyadh opened its skies for UAE-Israel flights though the relationship between the two countries haven't been normalised.
The UAE also established its embassy in Israel, temporarily located in the Tel Aviv stock exchange, in a simple ceremony.
Israel's embassy has only three diplomats as of now and a head of mission, Eitan Na'eh, who has yet to be confirmed as full ambassador, the Al Jazeera report said.
Similarly, its consulate in Dubai is also located in temporary premises.