Geopolitics
Governance/Geopolitics
Libya: UN-mediated peace talks resume in Geneva as parties seek political settlement
16 Jan 2015, 08:48 am Print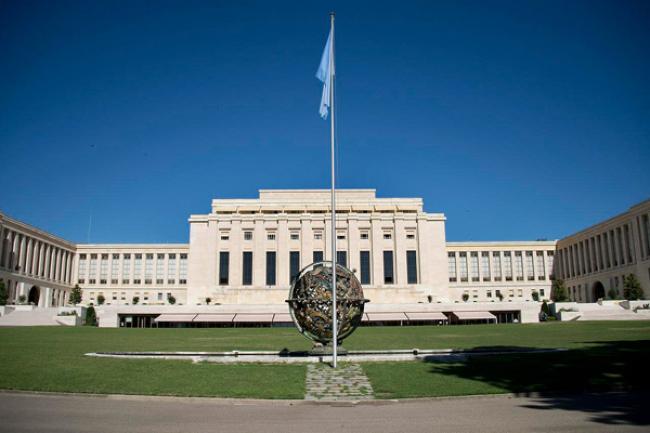 New York, Jan 16 (JEN) The new round of United Nations-led political talks aimed at easing the deepening political and security crisis afflicting Libya continued into its second day of dialogue on Thursday as national stakeholders and the United Nations Support Mission (UNSMIL) in the North African country resumed their meetings in Geneva amid encouraging developments.
"Discussions during the first session on Wednesday [13 January] were constructive and were conducted in a positive atmosphere," UNSMIL stated in a press release issued earlier this morning. "There was a clear sense of determination among the participants to ensure that this dialogue succeeds, and they look forward for more discussions today."
The agreement to hold the new round of dialogue comes after wide-ranging and intensive consultations with the parties by UNSMIL chief Bernardino León over the past several weeks, after the first round of peace talks stalled in October last year. In order to create a conducive environment for the dialogue, León has proposed to the parties to the conflict a "freeze" in military operations for a few days.
As fighting between armed factions continued to rattle the war-weary North African nation, León warned just days ago that time was running out, and the longer efforts to tackle the crisis are delayed, the more difficult it would be to reach a solution to end the fighting, restore political and State institutional unity and revive the economy.
Emphasizing that the political dialogue process is Libyan-led, and that the Mission's facilitating role is to help in the search for common ground, UNSMIL has repeatedly stressed that this new dialogue "is an important opportunity for the Libyans to restore stability and prevent the country's slide towards deeper conflict and economic collapse that should not be missed."
The resumption in talks follows a recent outburst of violence which has further rattled the beleaguered nation, in conflict since the beginning of its civil war in 2011 which resulted in the ouster of late Libyan leader Muammar Gaddafi.
In addition to mounting numbers of casualties, the continuing fighting has also caused a humanitarian crisis with at least 120,000 people forced to flee their homes, resulting in consequent shortages in both food and medical supplies.
Meanwhile, in the eastern city of Benghazi, an uptick in violence has seen 450 people killed since October as residents continue to face shortages in medical care. Moreover, upwards of 15,000 families – some 90,000 people – have been displaced.
UNSMIL has voiced hope that the planned talks would manage to secure the necessary arrangements for bringing about a total cessation of armed hostilities while also encouraging a phased withdrawal of all armed groups from all major towns and cities, including the capital, Tripoli, in order to allow the Government to reassert its authority over institutions and strategic installations.
United Nations Headquarters in Geneva is the venue for talks between all major Libyan stakeholders. Photo: Jean-Marc Ferré