Geopolitics
Governance/Geopolitics
Security Council adopts first-ever resolution on 'invaluable role' of UN police operations
21 Nov 2014, 12:01 pm Print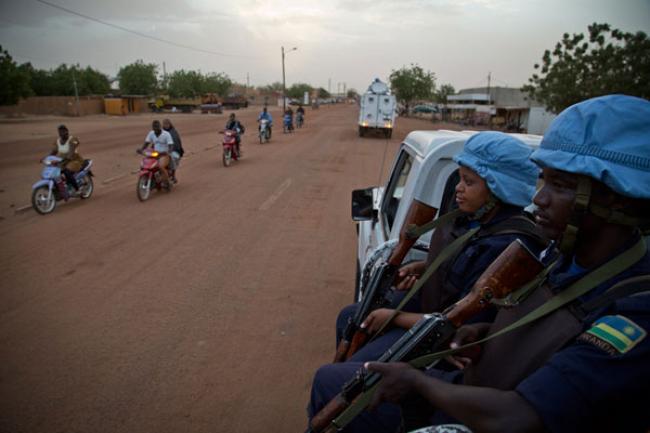 New York, Nov 21 (JEN): The United Nations Security Council on Thursday adopted its first-ever resolution focusing on the world body's policing operations, stressing their invaluable contribution to peacekeeping, civilian protection and the rule of law, and pledging to give clear mandates as well as appropriate resources to UN police-related work.
On Thursday's unanimously adopted resolution stresses the importance of close cooperation and coordination between the UN Police Components and other elements of peacekeeping operations and special political missions. It also "urges police-contributing countries to continue to contribute professional police personnel with the necessary skills equipment and experience to implement mission mandates."

At the initiative of Australia, which holds the 15-member body's Presidency for the month, the Council was briefed by the Under-Secretary-General for UN Peacekeeping Operations (DPKO) Hervé Ladsous on all aspects of UN policing.

"UN [policing] has seen an unprecedented growth in recent years," Ladsous said on Thursday, adding that UN police are now deployed from 91 Member States to 13 peacekeeping operations and four special political missions.

The nature of security and its traditional threats has evolved in recent years. This means the UN POLICE (UNPOL) now deals with a new reality – terrorism, organized crime, and corruption.

He went on to discuss the image that police must embody to foster trust and provide assistance to host countries on rule of law and in some cases, where there is less structure, undertake interim police tasks, enforce the law and "support everything to do with reform". Sometimes UNPOL even creates national police, he added.

"All of this ultimately calls into play the need for more sophisticated capacity," Ladsous explained, emphasizing the need to increase sophistication for police to be able to deal with modern challenges including greater linguistic skills for instance in Arabic or French speaking countries.

On bridging the gender gap in UNPOL, he said the ambitious goal of having 20 per cent of women among all police has been far from complete. "But this is, after all, a reflection of national police."

"While some are making great strides in gender, others are not. Obviously we are dependent on what Member States provide us. And increasingly we are deploying units made up entirely of women," he said.

Women in police are especially important in countries where issues of law and order emerge and where there is a need to address women's issues such as in Haiti, the Democratic Republic of Congo (DRC), and Liberia.

Also on Thursday, the Council heard from three heads of police components of UN missions including from in South Sudan (UNMISS), Liberia (UNMIL), and the Central African Republic (MINUSCA).

Luis Miguel Carrilho, Police Commissioner of MINUSCA, said that beyond security, UNPOL participates in rebuilding trust among the population and its police.

Police activities range from 24-hour patrols, the protection of the freedom of movement, the flow of humanitarian aid and generally keeping public order. UNPOL has continuously extracted and made safe civilians.

MINUSCA also apprehends criminals who perpetrate serious crimes. Turning to women and security, he commended the "unprecedented" increase of women in UNPOL and the free training courses offered in Rwanda, Burkina Faso, and Cameroon.

The presence of women increases a Mission's ability to establish trusting relationships with the populations and especially with women who have suffered sexual violence. They feel safer reporting such crimes.

Fred Yiga, Police Commissioner of UNMISS, said that the performance of UN police has clearly emerged as critical to peacekeeping missions. Police contributing countries must take a closer look at training before deployment to ensure that the host nation's needs are met.

He said that in South Sudan, immediate and long-standing challenges need the attention of the Council. True policing has never been offered to the South Sudanese people in over 50 years and the UN is "holding the mantle" to ensure that the first time "good policing, true policing" is provided.

Policing has generally been done by armed groups whose ethos is that of a soldier in battle. South Sudan is largely a nomadic society and the policing methods require special skills, policies and equipment, Yiga added.

Police Commissioner of UNMIL Greg Hinds said the adoption of on Thursday's policing resolution is a significant outcome as it will provide us with the much needed strategic and practical guidance which will help the police do their work more effectively.

Hinds thanked the UN for its support to the Ebola crisis in Liberia which remains "crucial in maintaining, peace, stability and security in these extremely challenging times."

Some 11 years since the end of the conflict in Liberia and the establishment of the UN Mission there, the legislative framework for the police remains piecemeal. However, focus on the development of a clear legislative framework at a much earlier stage would have addressed these organizational and institutional limitations and provided a much stronger foundation for reform.

The resolution adopted on Thursday highlights the importance of building the capacity of the host State, and requests the Secretary-General to consider security sector reform, including reform of policing and other law enforcement institutions, in the overall strategic planning of UN peace operations.

The resolution also expresses the Council's intention to consider holding an annual meeting on policing issues with the heads of police components and requests the Secretary-General to submit a report on the role of policing as an integral part of peacekeeping and peacebuilding by the end of 2016.

It also urges Member States and international partners to support, upon request, host State efforts to professionalize policing and other law enforcement agencies, within the context of broader security sector reform.

This is the first time heads of police components of UN missions briefed the Council. Since 2010, the Council has received an annual briefing by force commanders on cross-cutting operational issues in UN peacekeeping.
MINUSMA Police Unit on patrol in Gao, Mali. UN Photo/Marco Dormino