Geopolitics
Governance/Geopolitics
Nepal: China shows interest in ruling NCP tussle, its envoy Yanqi intensifies political meetings
Just Earth News | @justearthnews | 02 May 2020, 03:51 am Print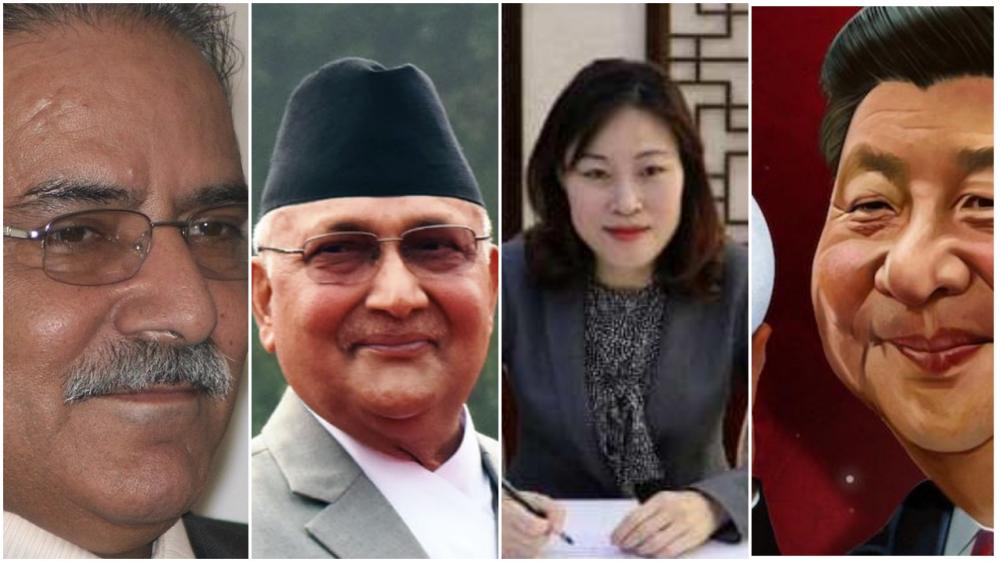 Kathmandu: Amid alleged internal strife in the ruling Nepal Communist Party (NCP), the Chinese government has been showing undue interest in the issue.
As the power struggle of the NCP is reaching its climax, the Chinese ambassador Hou Yanqui, has also increased her activities.

Interestingly, Chinese President Xi Jimping held telephonic conversation with his Nepali counterparty Bidya Devi Bhandari on April 27.
Is there a political turmoil in Nepal?
Recently, PM KP Oli-led government brought two ordinances. After the withdrawal of ordinances, PM Oli has met President Bhandari twice at her residence.
Meanwhile, Oli is also holding consultation with Chief Justice Cholendra Shamsher Rana.
When PM Oli was holding meeting with President, another Chairman of the party Prachadna was forming an anti-Oli front by holding meeting at Bhaiseparty.
New wave emerged in the party, when the meeting decided to dismiss Oli from the both PM and party Chairman posts.
However, the situation become little bit normal when Oli proposed to make Bamdev Gautam the new PM after the corona pandemic and MK Nepal the third Chairman of the party in the recently held secretariat meeting.
Now, it is believed that the necessary decision will be taken in the next meeting scheduled for May 2.
Sources said: "Indian Ambassador Vinay Mohan Quatra is active in uniting the Madhesi parties, while the Chinese Ambassador has started discussions with the NCP leaders to resolve their internal dispute."
China steps in:
Soon after the telephone call from Beijing on April 27, Ambassador Yanqui has stepped up her activities to resolve the NCP dispute. Ambassador Yanqui is meeting top leaders and holding consultations with them, sources said.
Chinese interest:
The Chinese president had telephoned Nepal's President Bhandari to express interest on the issue of controlling COVID-19.
China said it would continue to support Nepal in its fight against corona.
Beside corona issue they also discussed about implementing previous agreement reached between the two countries. Analysts have also linked the telephone conversation to a possible political catastrophe caused due to rift in the NCP, sources said.
The telephone call made by the Chinese President to his Nepalese counterpart was given more priority by China than the Nepali media.
"Chinese government owned news television CGTN had given detailed news about telephonic conversation between two Presidents. Likewise, state-run Xinhua news agency had also broadcasted brief news about the same. Similarly, the Ministry of Foreign Affairs of China had also given information about the telephone conversation between the two presidents through a press release," sources said.
China-Nepal and COVID-19 diplomacy:
China has already sent various health items to Nepal within a month to fight against corona.
At a time when the world is battling the Corona epidemic, China is sending medicine and health supplies from its immediate neighbours to Europe and the United States.
But after the NCP controversy in Nepal, China has intensified its meetings with senior leaders by showing different interest, sources said.