Geopolitics
Governance/Geopolitics
Canada: Trump, Trudeau discuss speedy NAFTA talks in G7 Summit
Just Earth News | @justearthnews | 09 Jun 2018, 06:17 pm Print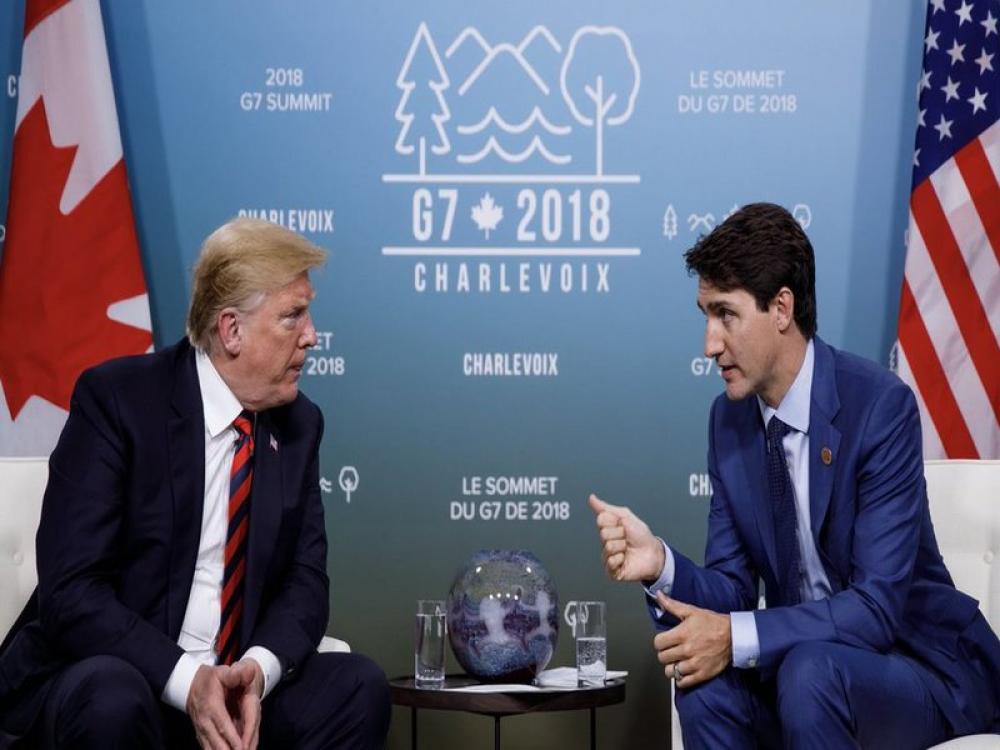 La Malbaie: US President Donald Trump and Canadian Prime Minister Justin Trudeau have discussed speeding up of North American Free Trade Agreement (NAFTA) talks at the G7 Summit here on Saturday.
A senior government official has been quoted by CBC News, "The prime minister and the president had a very positive, productive meeting and it lasted longer than originally scheduled."
"They did discuss NAFTA at length and they discussed the future of NAFTA, and I would say they also talked about accelerating the talks."
Trudeau and Trump met amid a embittered relationship between the two nations.
However, Trudeau said Canadian will always support its workers. In a tweet, the Canadian PM said: "We will always stand up for Canadian workers, their jobs & their livelihoods. Today at the @g7 I sat down with @realDonaldTrump for a meeting focused on trade and NAFTA negotiations."
The US and Canada have been at the loggerheads ever since the former imposed tariffs on steel and aluminum imports from Canada, Mexico and the European Union (EU).
The imposition became effective from Friday last week.
Trump originally imposed tariffs in March and had earlier exempted Canada, Mexico and the EU to buy time for negotiations. However, the negotiation time has expired on Thursday last week.
Countering Trump administration, Trudeau has imposed tariffs on imported steel, aluminium and other products from the US.
In a tweet on Friday, Trudeau said: "Canada will impose tariffs against imports of steel, aluminum, and other products from the US – we are imposing dollar for dollar tariffs for every dollar levied against Canadians by the US."
Criticised the US' move to impose tariffs on Canadian steel and aluminum, the Canadian PM tweeted, "American tariffs on Canadian aluminum & steel are unacceptable. As we have said, we will always stand up for our workers, and today we're announcing retaliatory measures to this attack on our industry."
The NAFTA is an agreement which came into force from January 1994 by Canada, Mexico and United States creating a trilateral trade bloc in North America.
Trump has alleged that the US faced severe losses in trade pacts with Canada and Mexico, the two partners of NAFTA deal.
For more than two years, US President Trump criticised the agreement and also hinted to take some serious steps being in the administration or at least send some ultimatums.
Trump reportedly wants the treaty to be more fair.
Both Canada and the US differ on the subject of climate change.
(Reporting by Suman Das, Image: twitter.com/JustinTrudeau)