Geopolitics
Governance/Geopolitics
Afghanistan: International support to Kunduz remains essential, says UN Mission
Just Earth News 03 Nov 2016, 12:25 pm Print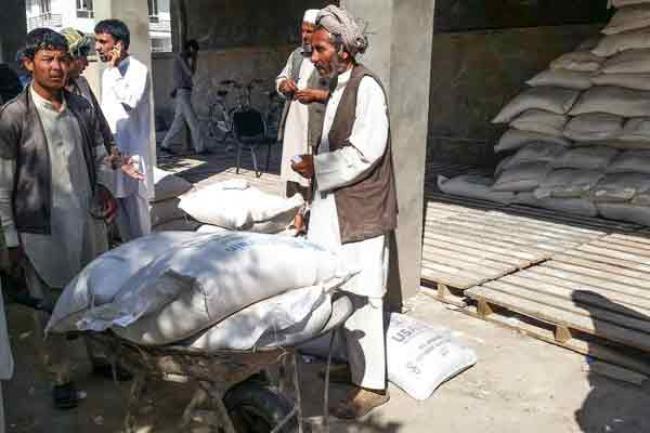 OCHA/Mohammad Sadiq Zaheer
New York, Nov 3 (Just Earth News): The United Nations will do everything in its power to support the people of Kunduz in, the political chief of UN mission in Afghanistan told Government officials, civil society and media professionals in the restive northern province, where the security situation has remained tense since the provincial capital was briefly overtaken by the Taliban in late 2015 and was attacked again in October this year.
"The United Nations stands with the people of Kunduz and is firmly committed to backing all efforts that lead to peace," said Pernille Kardel, the Secretary-General's Deputy Special Representative for Afghanistan and acting head of the UN Assistance Mission in Afghanistan (UNAMA).

"The international community is highly aware of the challenges the people of Kunduz have faced, and remains steadfast in backing the people of Afghanistan in recovering from the violence of the past and moving toward peace," she said.

According to a news release issued yesterday by UNAMA, Kardel discussed recent security developments and other issues with Governor Haji Asadullah Omarkhel and Kunduz leaders in a daylong visit to the province.

In a separate meeting, Kardel discussed the latest developments with senior media professionals working in Kunduz. Following the expulsion of the Taliban from Kunduz last October, radio broadcasts and other media programmes in the city resumed in March this year thanks in part to several UN initiatives.

Two local radio stations restarted broadcasts in March – Shaeesta Radio, a radio network dedicated to women's issues, and Kaihan Radio, which broadcasts shows geared to young Afghans.

Both stations were looted during the Taliban's attack and takeover of Kunduz between 28 September and 13 October2015, and their staff forced into hiding. But with assistance from the UN Development Programme (UNDP) in the country, damaged station equipment has since been replaced.

UNAMA has been supporting Kunduz radio and TV through a combination of technical assistance and outreach activities. Following the end of fighting in the city in October 2015, UNAMA supported the people of Kunduz by backing a series of public information programmes with Kunduz RTA and Independent Radio Kunduz. The broadcasts aired via four local radio and TV channels.

Many other outreach events have taken place in Kunduz this year, including most recently an event to mark the International Day to End Impunity for Crimes against Journalists on 2 November.

More than 20 different UN entities are present in Afghanistan, working to support Afghans through a broad spectrum of development and humanitarian activities, including through support for development planning, resource mobilization, and coordination of international donors and organizations.

UNAMA is mandated to support the Afghan Government and the people of Afghanistan as a political mission that provides good offices; promotes coherent development support by the international community; supports the process of peace and reconciliation; monitors and promotes human rights and the protection of civilians in armed conflict; promotes good governance; and encourages regional cooperation.

'Good offices' are diplomatic measures UN takes publicly and in private, drawing on its independence, impartiality and integrity, to prevent international disputes from arising, escalating or spreading.