Geopolitics
Governance/Geopolitics
Libya: UN envoy urges parties to make political draft 'a final one'
11 Jun 2015, 06:24 am Print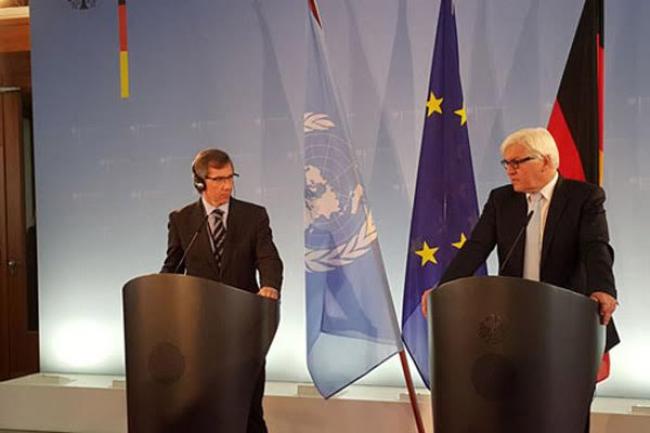 New York, Jun 11 (JEN): Amid "very encouraging signs" in the United Nations-facilitated Libyan political dialogue, the Secretary-General's Special Representative on the North African nation on Wednesday said that "time has come to make an agreement" and if possible, before or at the beginning of Ramadan, which begins on 17 June.
"We now have a draft.This draft provides solution for most of the challenges we have been facing and will be facing in the coming months," Bernardino León said at a press conference in Berlin on Wednesday.

"The principles of inclusion, balance and consensus are there, at every step, at every institution and the principle that no side, no actor will be able to impose its views on the other," he told reporters.

Delegations of the Libyan political talks are currently in Germany's capital for UN-led discussions hosted with senior officials from a number of States, including the United States, Russia, China, France and the United Kingdom.
The five permanent members of the Security Council are sending a "very strong message" of unity and support to Libya, León said.
"We can continue working for months and for years and maybe to reach a perfect agreement. But Libya doesn't have the time. Because the people of Libya cannot continue the situation of humanitarian disaster […] there are displaced people in their own country," he added.
Wednesday's
dialogue was different because Libyans were able to work together "discussing, interacting" which had "not been possible before".
In a communiqué issued following those discussions, participants renewed their strong commitment to the sovereignty, independence, and territorial integrity of Libya, while recalling relevant Security Council resolutions.

León underscored the security threat posed by Da'esh, also known as the Islamic State of Iraq and the Levant (ISIL).
The group has seized a city in central Libya and has strategized "maybe to divide Libya" by controlling its central city Sirte, which is close to the country's main oil facilities. He also stressed the importance of addressing the financial and economic situation.

"The main economic source of the country is oil. Libya is not producing oil, the Central Bank cannot sustain the currency anymore," he warned.

"So Libya has no more time… For all those who are listening from Libya, it is very important to understand and translate this into concrete action; saying very clearly that enough is enough and the time has come to make a deal," he declared.

From the many messages received on social media, Libyans have expressed that they are "eager to live in democracy and freedom – from all camps, sides and cities."

"And now it is in the hands of the Libyan actors, the Libyan people to make clear this draft becomes a final one," Leon said.

What is important is that the door is still open and that moderates remain strong, and are becoming a majority in both camps, he said, adding that achieving an agreement will not be easy.

"The problem we have in Libya there are many negative forces operating against the agreement," León said.

Photo: UNSMIL