Geopolitics
Governance/Geopolitics
Gaza: UN project to provide hundreds of new housing units to Palestine refugees
05 Jun 2015, 02:58 pm Print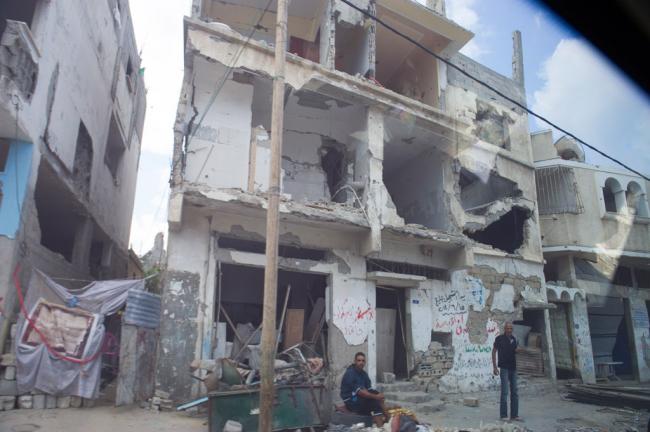 New York, Jun 4 (JEN): Palestinian refugee families living in substandard dwellings and owners of homes demolished in last year's hostilities in Gaza, are among those gaining access to shelter under a United Nations-backed project to provide close to 450 newly-built housing units, which was stalled for three years due the lack of access to construction materials.
The UN Relief and Works Agency for Palestine Refugees in the Near East (UNRWA), which is mandated to provide assistance and protection some 5 million registered Palestine refugees, including in Gaza, announced on Wednesday that the project, funded by the United Arab Emirates Red Crescent with $19.7 million, offers 600 new housing units in total.

"The completed dwellings are currently being handed over to refugee families living in substandard shelters that impose direct physical and/or health threats to their inhabitants in addition to other protection concerns. These families typically have very few assets or opportunities to escape from poverty and suffering," said UNRWA Relief and Social Service Programme Chief Asem Abu-Shawish.

One of the beneficiaries, Khaled Mohammed al-Jalous, who signed for one of the housing units with this wife, Etimad Shukri al-Jalous, said his 11-member family had lived in a small, deficient shelter for almost 20 years.

"Now we are 11 persons living in a small two-bedroom shelter; soon, we will have double the size of that, and it will be healthier and bigger," he said.

According to UNRWA, the construction of the housing units started in 2007, yet work stalled in the following three years due to the blockade.
In 2010, when access to construction material became possible for the United Nations under an agreed mechanism with Israel, 151 housing units were built and have provided shelter for refugee families ever since.
In 2014, UNRWA started the construction of the remaining 449 units, which were completed this spring.

Almost half of the eligible refugees are those who are living in constricted shelters in Gaza – defined narrowly as those with more than three persons living in less than 50 square meters, less than some 500 square feet, according to UNRWA.

Other selected beneficiaries include refugee owners of houses that were demolished by military operations before the 2014 hostilities and who have not yet received an alternative dwelling unit through UNRWA, refugee families from Khan Younis refugee camp whose houses will be demolished to improving living conditions in the camp, or families of school installation attendants who are living in UNRWA schools and thus occupying space urgently needed for the growing student population, it said.

Photo: UN Photo/Eskinder Debebe