Geopolitics
Governance/Geopolitics
Myanmar: Ban says 'much more hard work lies ahead'
26 Apr 2015, 01:03 pm Print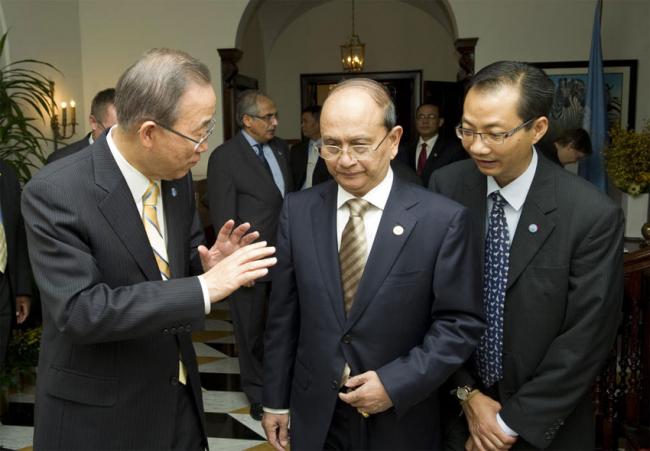 New York, Apr 25 (JEN): Secretary-General Ban Ki-moon, convening a meeting on Myanmar on Saturday, welcomed the positive direction of its reform process as it continues on its "path of historic transition", but emphasized that more work remains to be done to address the country's myriad challenges.
"The country has taken visible strides in many areas of socio-economic development, national reconciliation and democratization," Ban said at the Partnership Group on Myanmar, emphasizing that the reform process initiated by the Government of President U Thein Sein continues to progress steadily.

The general elections due to be held by year's end will be an important milestone and conducting them in a credible and inclusive manner, will require long-term engagement by all.
In that regard, the Government must ensure free assembly, an open atmosphere for the media and the protection of civil and political rights for all.

"President Thein Sein's efforts to engage in political dialogue with other leaders on key issues –including constitutional reform -- have been encouraging," the UN chief said, adding that the Government has shown "exemplary resolve" in striving to achieve peace.

After 16 months of negotiations, on 31 March, the Government and ethnic armed groups reached agreement on the text of a nationwide ceasefire accord, which can bring to an end more than sixty years of conflict, Ban pointed out.

"However, much more hard work lies ahead. It will be important that the ceasefire agreement is signed and sealed without delay," he said, emphasizing that the agreement is only a first step towards a broader national dialogue on important issues such as the role of military and constitutional reform.

Ban said that ongoing clashes in Kachin and Northern Shan States have caused immense suffering to civilians. The clashes in Kokang are also deeply disturbing in terms of the toll of lives and destruction as well as their implications for the longer term stability of the region.

"Humanitarian actors will need unimpeded access to provide much needed aid in a timely fashion. The tensions arising from these clashes must not jeopardize the larger peace process," the Secretary-General said.

The continued animosity between the communities in Rakhine could be "seriously destabilizing," said Ban, pointing out there are "already troubling signs of ethnic and religious differences being exploited in the run-up to the elections."
He also warned that the reform process could be jeopardized if the underlying causes of tensions are left unaddressed.

Meanwhile, the conditions of the vulnerable populations especially in the internally displaced persons (IDPs) camps remain a matter of "profound concern". Many people have risked their lives to flee the country by sea and others have become prey to trafficking rings.
While the Government has taken steps to stabilize the situation, long-term stability remains "unattainable without addressing the issue of status and citizenship of the Muslim populations".

A statement released by the Secretary-General's spokesperson later in the day said that Member States during the meeting voiced their continued support to the reform efforts of the Government in the areas of democratization, socio-economic development, and national reconciliation.

"They underlined the importance of the upcoming elections as a decisive phase in the reform agenda," the statement added.

Participants commended the resolve shown by Myanmar's President Thein Sein's Government and the ethnic armed groups in reaching a nationwide ceasefire accord of 31 March. They also expressed hope that early agreement would be reached on the framework for political dialogue that met the expectations of all stakeholders.

Referring to the ongoing communal tensions in Rakhine and elsewhere, Member States emphasized the need for firm and decisive action by the Government to prevent further conflict by resolving the substantive issues affecting those displaced by outbreaks of communal violence and addressing the underlying issues pertaining to status verification and citizenship for all the affected communities.

Member States welcomed recent positive initiatives to address the humanitarian concerns. On the larger issues of citizenship and status, they hoped the Government would urgently undertake new measures in line with its national laws as well as international standards.

While recognizing the complex ethnic and religious fabric of the country and its history, Member States also called upon Myanmar to remain committed to international humanitarian and human rights standards as it moves forward on its democratic reforms.

Photo: UN Photo/Evan Schneider (file)