STORY distributes books to underprivileged children
Just Earth News 20 Mar 2016 Print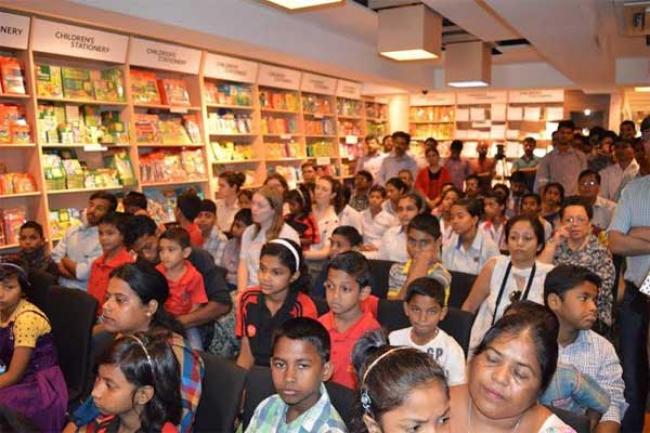 Images: Governor Keshari Nath Tripathi at the book distribution programme at STORY (Elgin Road, Kolkata)
Kolkata, Mar 19 (IBNS) West Bengal Governor Keshari Nath Tripathi, on Friday, graced the book donation ceremony organised by Kolkata's leading lifestyle store, STORY, and praised the organisation for its efforts in distributing books among the underprivileged children.
He said, "Donating books old and new is not mere charity. It develops new talent to show."

STORY, the lifestyle store from Primarc Group, organises a unique initiative called Share a STORY every year on Children's Day.

The initiative in 2015 had received a huge response and plenty of books as donation.

On Friday
, Governor Tripathi handed over these books to representatives of Child Rights and You (CRY), Future Hope Foundation, Loreto House Rainbow Homes, and Jewish Girls School.
Managing Director of Primarc Group, Sidharth Pansari, who also holds the position of Chief STORYteller, STORY, said that it was the company's way of putting into action PM Modi's call to start giving.

He said that children must be taught to share early in their lives so that it becomes a habit and through the Share a STORY initiative he wants to inculcate that habit among children.

Also present at the occasion were Atul Chaturvedi, Director, Corporate Affairs, Primarc Group; Satish Tiwari, Secretary to Governor; Tim Grandage, Managing Trustee, Future Hope; actor June Malia and noted fashion designer and pianist, Rajlakshmi Sham.

"I was intrigued by the concept when I was invited to the programme by Atul Chaturvedi. After attending the programme, I think the concept Share a Story and STORY is a great link up; a great effort," said Bharati Mandapaka, wife of India's hockey goalkeeper Anand Mandapaka.

During the book collection drive, book contributors are given a certificate from STORY and a coupon which entitles them to a 20% discount on books and 5% discount on toys and stationery. A lucky draw is also held among the contributors where winners receive STORY gift vouchers up to Rs 1500.

STORY at Elgin Road, Kolkata, is eastern India's largest standalone bookstore and a leisure destination. It covers an area of 15,000 sq feet. It has a massive collection of books of all genres and a dedicated floor for children. The best basket of collectible pens and writing accessories is available in the Pen and Ink section while the Art Street section offers art material and accessories. The Gift it! section has bountiful of special gift items, the Greetings section boasts of a wide range of all reasons greeting cards whereas the Papershop & Stationery section has a comprehensive range of house paper and stationery material of different kinds. There are a total of four STORY outlets in West Bengal. Besides Elgin Road, they are at Diamond Plaza Mall (Nageer Bazar, Kolkata) Avani River Side Mall (Howrah) and Junction Mall (Durgapur).