Libya: UN agency helps country upgrade response to boats in distress of its coast
20 Aug 2015, 06:14 am Print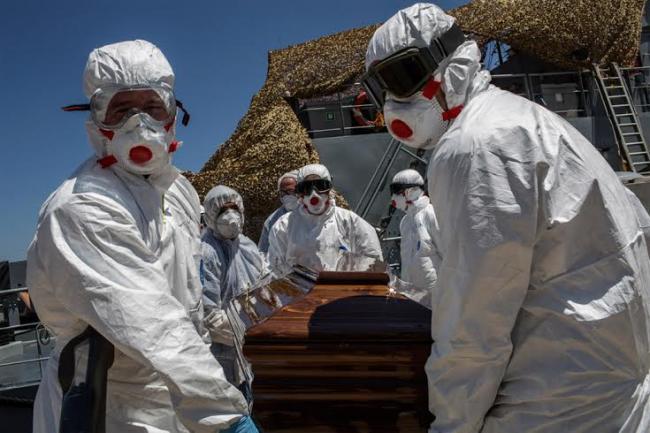 New York, Aug 20 (JEN): Following a spate of deadly shipwrecks of the coast of Libya, the UN refugee agency has announced that it has set up a forum to improve the country's response to boats in distress its waters by streamlining information sharing and coordination with international organizations.
"We hope the new contact group will boost Libya's ability to save lives, collect bodies at sea or along the coast and improve the humanitarian care of the rescued on disembarkation," said Leo Dobbs, spokesperson for the Office of the UN High Commissioner for Refugees (UNHCR) at a Geneva press briefing on Tuesday.

The contact group – including Libyan officials responsible for search and rescue, border security and detention centres for rescued or intercepted boat people – was established at a recent workshop organized in Tunis by UNHCR and the International Organization for Migration (IOM).

The group will convene at least three times over the coming nine months to discuss how to minimize refugee and migrant deaths during the Mediterranean crossing. Funded by the European Union (EU), it will also provide training in areas such as information management, body retrieval and identification of refugees, asylum-seekers and migrants.

Among other things, the contact group will gather officials from the Libyan Coastguard, Port Security Department, Directorate for Combatting Illegal Migration and Libyan Red Crescent (LRC) to improve maritime rescue coordination between them and international actors.
Initial international members of the group include UNHCR, IOM, the International Committee of the Red Cross and the International Medical Corps. The EU border management agency attended the launch meeting.

According to Dobbs, however, challenges remained. "The Libyans have been criticized for not highlighting the dangers and rescuing more people in peril. But the coastguard, operating along the western shores used by smugglers, has rescued or intercepted more than 4,500 people so far this year with meagre naval resources."

That figure compares to almost 100,000 rescued by other navies and area organizations.

Meanwhile, as more smugglers' boats leave from the Libyan coast, the odds of an accident increase – further accelerating the importance of body collection. On 5 August, an estimated 200 people drowned in Libyan waters when their vessel sank.

Currently, when national UNHCR staff in Libya hear coastguard reports of sinkings or body sightings, as in the 5 August tragedy, they alert the LRC.
The coastguard's aged small vessels collect the dead and transfer them to the LRC for transportation to hospitals before burial. The contact group agreed that Libyans can do more in this area.

"Future training could include corpse retrieval and storage and the provision of body bags, other equipment and medical supplies as well as trying to identify the dead in the hope of alerting families," the spokesperson explained.

The training would also include receiving and questioning the rescued before their transfer to UNHCR's detention centres.

"This information will help us and our partners identify who is coming ashore and which of the 18 operational detention centres they are being taken to, allowing us to start the process of getting them released, especially women and children," Mr. Dobbs concluded

Photo: UNHCR/Fabio Bucciarelli