Tweeting for a cause
24 Dec 2013, 11:22 am Print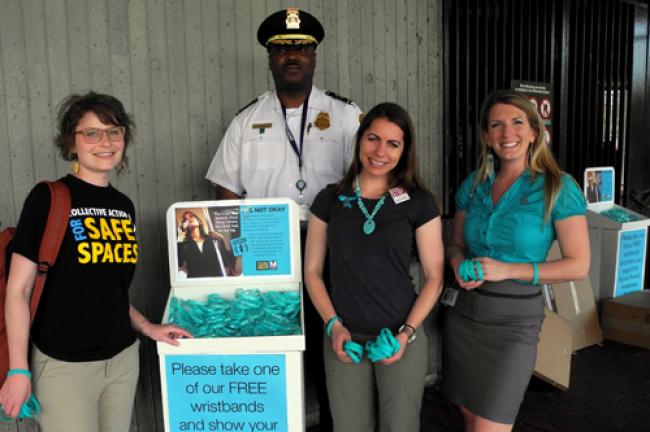 Much has been said about social media like the Twitter as an attention grabbing tool. But in today's fast moving communication era it is also being used for serious causes like fighting gender violence, writes SPAN writer Carrie Loewenthal Massey
Sure, you go on Facebook to see what your friends are up to. And you may tweet your thoughts on a great article you just read. But social media offers so much more, including a platform to speak out on some of the most important issues of the day, like the fight against gender violence.

In recent years, Facebook and Twitter have become launching pads for anti-violence campaigns and centers of conversation on how to make the world a safer place for women.

"A [Twitter] hashtag that takes off and gets people talking, people who wouldn't necessarily talk about this stuff, is really powerful. I find people stumble upon issues by seeing hashtags in their feeds, so it's effortless. Then they can jump in and learn quickly," says Nancy Schwartzman, a New York City-based filmmaker and activist against gender violence.

Schwartzman runs The Line Campaign, a movement led by young people that uses film, social media, a blog and more to help end gender violence. The project stems from Schwartzman's first film, The Line, which was released in 2009 and chronicles her personal experience with sexual assault.

To draw people to The Line Campaign, she uses Twitter along with blogging and in-person events.

"I've worked on other campaigns where Facebook pages have been good, but in general I think Twitter is more fluid and people are used to talking to people they don't know on it. Facebook is a little more closed. On Twitter, if you have a good moderator for a discussion, it'll be a good conversation and people will jump in," she says.

The Line Campaign's presence on social media—the Twitter handle @thelinecampaign has more than 5,700 followers—caught the attention of someone who encouraged Schwartzman to enter a White House-sponsored competition to create a mobile app that helps prevent sexual violence. Schwartzman, along with others, created the Circle of 6 app, which enables people, when they find themselves in threatening situations, to connect instantly and seamlessly to six chosen friends. Pre-written text messages let users request rides home, ask friends to call them to create interruptions, or alert their circles that they are in trouble and need help. The Circle of 6 app was one of the two winners at the competition and is used all over the world, with people in India downloading it the fastest of any population outside of the United States.

Schwartzman continues to use Twitter to keep the dialogue going about violence against women. She organizes Tweet Ups, conversations that take place on the social media site, which she publicizes by reaching out to a high-profile partner, such as the United Nations, and then telling 50 people she knows. As those 50 people share on their Twitter feeds, the participant list grows.

"I have done a bunch of Tweet Ups about the safety of women in India, mobile technology and women's safety and sexism," Schwartzman says.

Like Schwartzman, Holly Kearl, a Washington, D.C.-based activist, uses social media to fight gender violence. Kearl founded 'Stop Street Harassment', an organization devoted to ending the kinds of public behaviour that humiliate and victimise women—catcalls, indecent exposure and other actions that intimidate and limit people's safe access to public spaces.

Kearl uses Facebook to create pages for events she is hosting and share content from her blog, and Twitter to broadcast upcoming gatherings, host tweet chats and connect with people worldwide who are sharing street harassment stories. She says there are positives and negatives to social media use, but that in general she finds the advantages are greater.

"I think street harassment is such a complex issue that it can be hard to discuss it through Twitter where you have to be so short. A lot of nuances are lost. … But [through story-sharing on social media] you see that gender violence and street harassment are problems in every country and we can speak out and amplify each other's voices. That's very, very powerful," she says.

Schwartzman agrees, saying social media is an important component of fighting gender violence and furthering other social causes.

"We need boots on the ground, people signing and creating petitions and all the in-person work. If social media can benefit social causes too, then great. Some people call [social media activism] 'slacktivism,' like it's not the same as being on the ground, but I don't think that's useful. We need all hands on deck," she says.
SPAN/Trans World Features (TWF)