Earthquake kills 1000 people in Afghanistan's Paktika province; over 1500 injured
Just Earth News | @justearthnews | 22 Jun 2022, 12:47 pm Print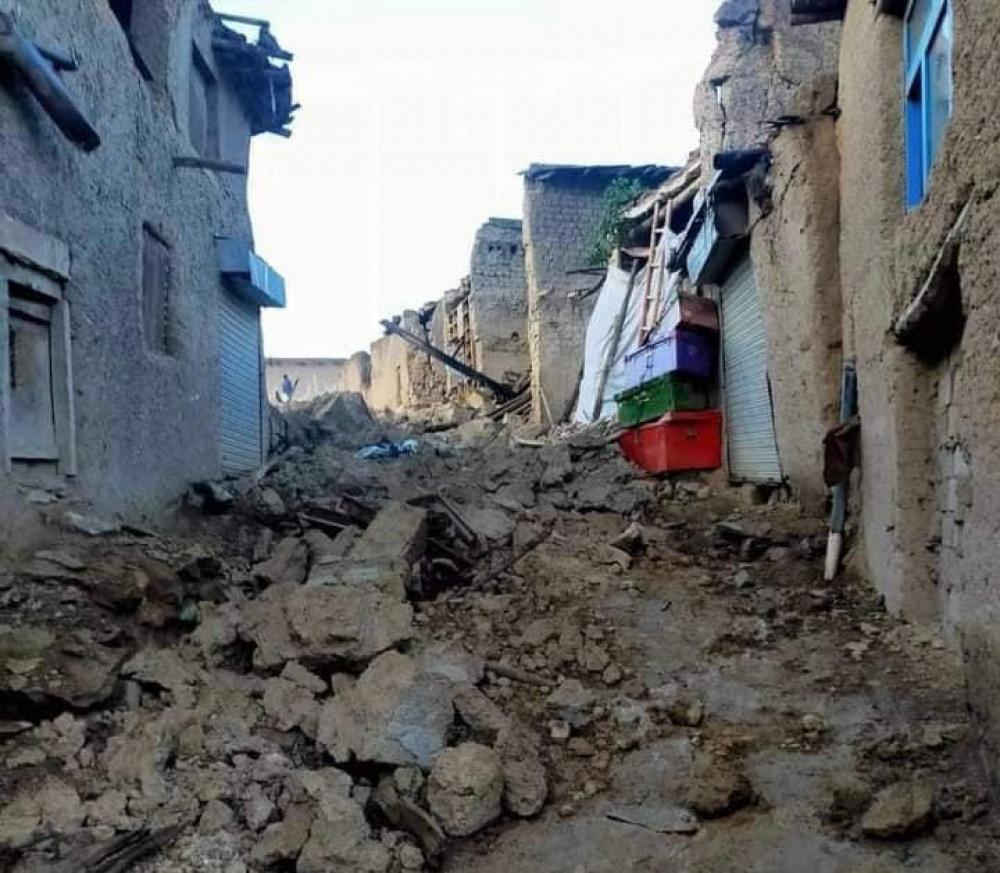 Afghanistan
Image Credit: twitter.com/mssirsa
Kabul: The death toll in a 5.9 magnitude earthquake that rocked Afghanistan's eastern parts last night has jumped to 1,000, media reports said.
It is the deadliest earthquake to hit Afghanistan in the last 20 years.
The earthquake struck about 44km (27 miles) from the south-eastern city of Khost shortly after 01:30 local time (21:00 Tuesday GMT), when many people were asleep at home, BBC reported.
Taliban leader Hibatullah Akhundzada confirmed that hundreds of houses were destroyed and the death toll was expected to rise.
The head of information for Paktika province, Mohammad Amin Hazifi said that 1,000 people had died and 1,500 more were injured, the BBC report stated.
Search and rescue operations are still going on for others buried under the rubble, he added.
"Every street you go, you hear people mourning the deaths of their beloved ones. Houses are ruined," a local journalist in badly-hit Paktika province was quoted as saying by the BBC.
Earthquakes tend to ravage Afghanistan, where houses in many rural parts are unstable or poorly constructed.
With mobile phone towers damaged after the earthquake, communication is difficult, making rescue operations more difficult.
The report quoted another journalist that many people were unaware whether their family members were alive.
Taliban officials called for aid agencies to rush to the affected areas in the nation's east, the BBC report stated.
The Gayan and Barmal districts in Paktika district have suffered heavy casualties, said the report. Local media site Etilaat-e Roz reported a whole village in Gayan had been destroyed, it added.
The earthquake was magnitude 6.1 at a depth of some 51km, according to seismologists.
The tremors were felt in Afghanistan's capital, Kabul, as well as Pakistan's capital, Islamabad. So far no casualties have been reported in Pakistan, according to BBC Urdu.
Afghanistan is prone to quakes as it is located in a tectonically active region, spanning over a number of fault lines including the Chaman fault, the Hari Rud fault, the Central Badakhshan fault and the Darvaz fault.
In the last 10 years, over 7,000 people have been killed in earthquakes in the country, the UN's Office for the Coordination of Humanitarian Affairs reports.
On an average, earthquakes kill 560 people every year.