Pakistan Islamist group TLP's long march towards Islamabad triggers tension and violence; clashes claim lives
Just Earth News | @justearthnews | 23 Oct 2021, 10:58 pm Print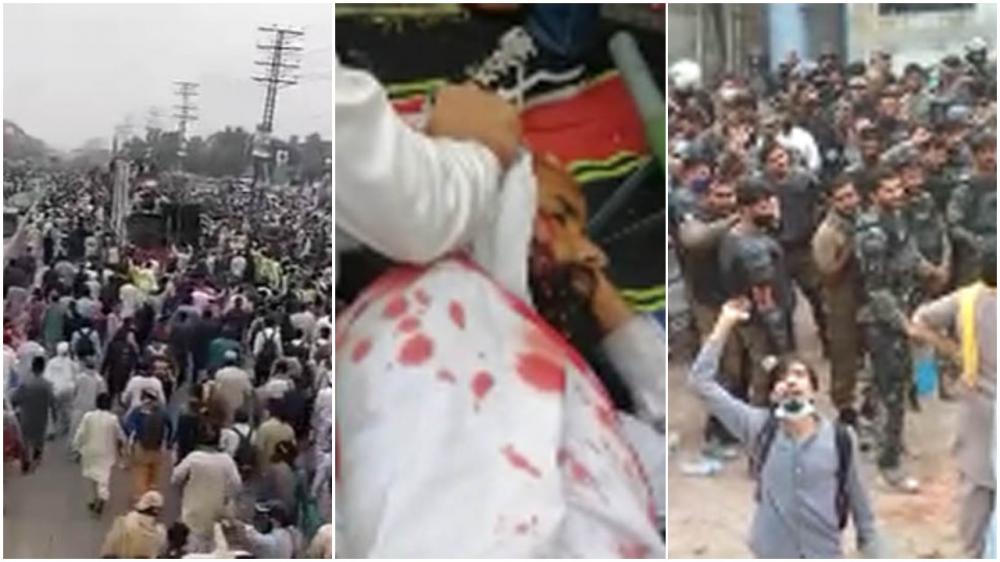 TLP
Islamabad: Tension prevailed in several regions of Pakistan on Saturday over banned Tehreek-e-Labbaik Pakistan (TLP)'s long march towards Islamabad from Lahore, forcing the government to sit for negotiations with the group that had been pressing for the expulsion of French ambassador over Prophet's caricature among other demands.
Several deaths of TLP men and cops were also reported.
Pakistan's federal government even dug up a trench on GT Road near Gujranwala in response to the long march.
A deep and long pit was dug with the help of cranes while the roads were also blocked in advance by placing containers. Thus, all paths via road leading to and from Gujranwala were blocked, reports Geo News.
Meanwhile, a procession by the banned outfit, the participants of which began marching from Lahore, have reached Sadoke, Geo News reported.
Government representatives, earlier in the day, held talks with members of the banned outfit.
Minister for Law Punjab Raja Basharat made a statement during a meeting of the committee formed for negotiations which was chaired by Minister for Interior Sheikh Rasheed.
The law minister informed the committee that in the last three days, the government has spoken to the banned outfit four times.
The banned outfit, whose long march has triggered tension, announced a "peaceful protest" on Friday after jummah prayers to demand the release of their leader Saad Rizvi.
The doors for negotiations are always open, Tehreek-e-Labbaik Pakistan (TLP) spokesperson and member of their core committee Pir Syed Sarwar Shah told Samaa TV .
But for this, intentions have to be pure, he added.
The government is attempting to sabotage the peaceful protests, he said.
No one can deprive us of our legal and constitutional rights, he said.

Meanwhile, a TLP spokesperson claimed to Samaa TV that three of their supporters were killed during clashes with law enforcers.
We will take the bodies to Islamabad with the long march, he said.
This information could not be verified independently as the police and rescue officials haven't shared any such information, the Pakistani TV reported.
Three policemen were killed and multiple injured in a clash with TLP supporters on Lahore Friday evening, according to Punjab police, reports Samaa TV.
"Six policemen were injured in the clashes as well," the police spokesperson told the Pakistan news channel.
Earlier, TLP chief Saad Rizvi was taken into custody after the federal government declared the TLP a proscribed organisation under anti-terrorism laws and launched a broad crackdown against the party.
TLP began protesting in November last year over the publication of a caricature of Prophet Mohammad by French magazine Charlie Hebdo, an action that was also defended by French President Emmanuel Macron.
The protest was called off after the government and the TLP signed an agreement but earlier this year in February, TLP again resumed violent protests demanding expulsion of the French ambassador.