Man armed with bow and arrow kills five people in Norway, arrested later
Just Earth News | @justearthnews | 13 Oct 2021, 05:22 pm Print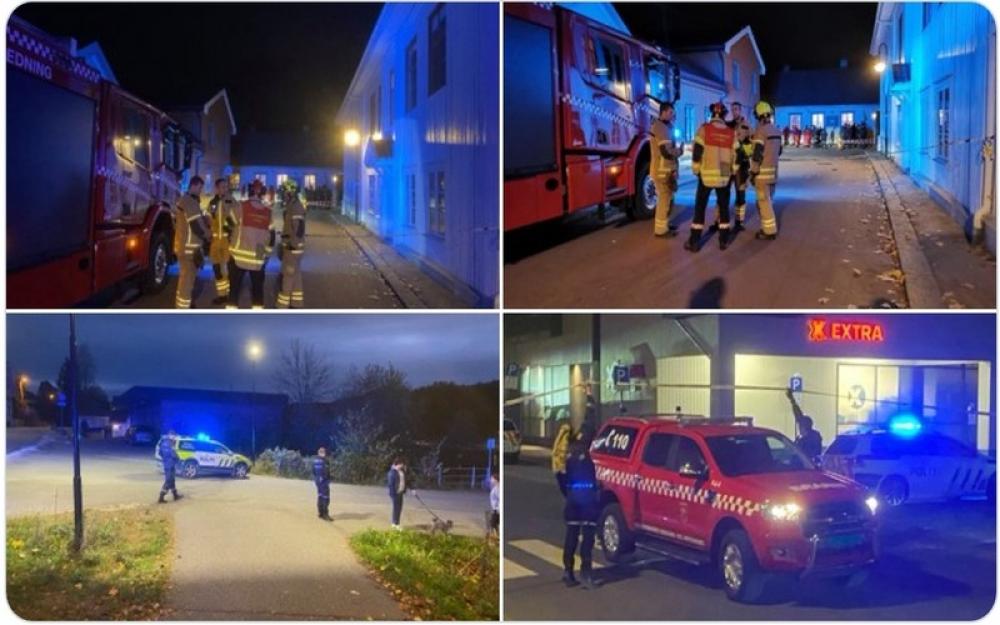 Norway Attack
Image: Twitter-grab from Amichai Stein
Oslo, Norway (JEN): Five people have been confirmed dead and two more have been wounded after a man armed with a bow and arrow attacked them in the Norwegian town of Kongsberg on Wednesday evening, according to local authorities.
Norway Police, in a statement, said they received inputs about the suspected 'bow-and-arrow' attack at about 6:13 pm. local time (GMT+2) in the center of Kongsberg city, nearly 51 miles (82 km) south-west of Oslo, the Norwegian capital.
Kongsberg's assistant police chief Øyvind Aas said the suspect, who seemed to have acted alone, was apprehended at 6:47 pm. local time and he is presently in custody at Drammen police station under South-East Police District.
According to local media reports, the attacker is said to have launched the assault inside a Coop Extra supermarket on Kongsberg's west side.
Local police officials said one of the two injured was an off-duty cop who was in the shop that time.
Norwegian police stated it will investigate whether it was an act of terror.
"We will also have to look at whether this is an act of terror or not, and it is too early to say anything about the suspect's motivation for his actions," assistant chief of police Øyvind Aas said.
Norwegian terrestrial television channel TV2 reported quoting several independent sources that the attacker, who is presently in custody, was an ethnic Norwegian convert to Islam who had been in contact with the the country's health service several times.
Local media said Norway's acting Prime Minister, Erna Solberg, has called the deadly attack in Kongsberg "horrific."
"Terrible acts have been committed against several people, I understand that many are afraid," Erna Solberg said in a press conference following the incident.