Four killed, thousands injured as Islamist violence rocks Pakistan
By South Asia Monitor/IBNS | @justearthnews | 14 Apr 2021, 06:17 am Print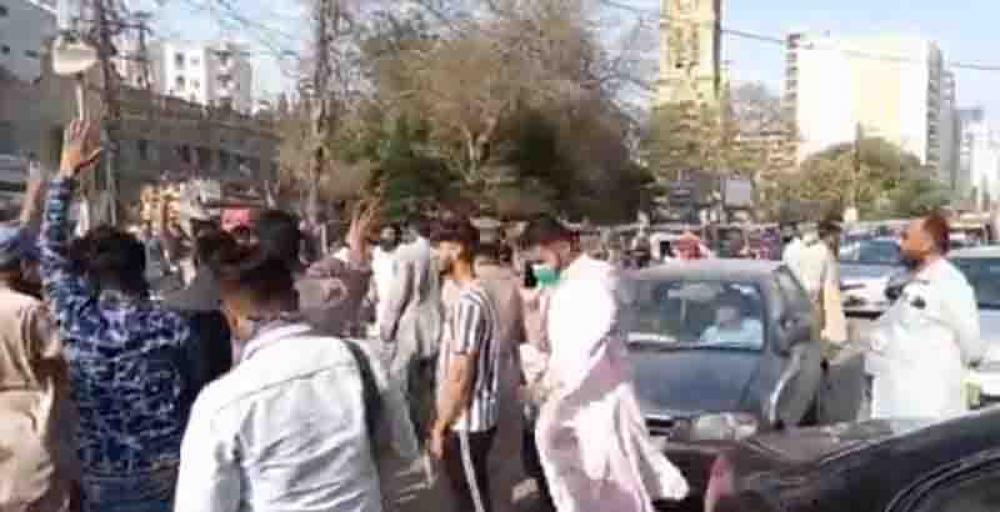 TLP
Image: One Security Private Limited Twitter video grab
At least four people were killed and thousands injured, including members of security forces, as violent protests, led by a radical Islamist group, Tehreek-e Labbaik Pakistan (TLP), continued for the second day on Tuesday across major cities in Pakistan, forcing the government to deploy paramilitary forces.
The protests --triggered following the arrest of the TLP chief, Saad Hussain Rizvi, on Monday- saw some protesters firing on security personnel on Tuesday, leaving at least four policemen injured in Punjab province. Over 300 police personnel alone were injured in the province.
Lahore, Islamabad, Karachi, and Peshwar remained the worst affected areas in the country.
Sajid Kiani, the DIG Lahore, speaking to Dawn confirmed: "The TLP armed men opened straight fire on the police and our four constables were injured." Over hundred roads in major cities were cleared off protesters by police on Tuesday, reports say.
The government hinted at holding talks with the group, but refused to be dictated by them. "Every group has a right of protest and we are ready to hold talks with TLP," said Fawad Chaudhary, the country's Minister for Science and Technology at a post-cabinet meeting press conference.
He also informed that the government has decided to deploy Rangers, a paramilitary force, across major affected cities in the country.
The group, an ardent supporter of the country's blasphemy laws, has been demanding the government to expel the Frech ambassador from the country, and ban on French imports.
Last year, following the controversial remarks by French President Emmanuel Macron on Islam, and what he termed Islamic separatism, the TLP had threatened the Pakistan government for a nationwide stir if it failed to act on its demands.
The government and the TLP reached an agreement last year, where the former asked more time to consult parliament and to act on the demands of the group. Later, the government expressed its inability to follow those demands, leading the group to intensify its protests.
Media reports showed many protesters, at various locations, even forced unarmed policemen to chant religious slogans. Rights activists in Pakistan termed the situation a "state failure."
On many occasions earlier too, the TLP-founded by a radical Islamist preacher late Khadim Hussain Rizvi- laid seize to major cities in Pakistan. This is also the first time after the death of its charismatic founder Khadim Rizvi, the group has been flexing its muscles on the streets.
Khadim Rizvi, known for his fiery and somewhat hateful speeches, died last year in November. Many experts had then predicted the group might lose its street influence after his death. However, contrary to these predictions, the group managed to retain its significant influence.