Arup Biswas flags off Cable TV Show in Kolkata
06 Jan 2016, 08:42 am Print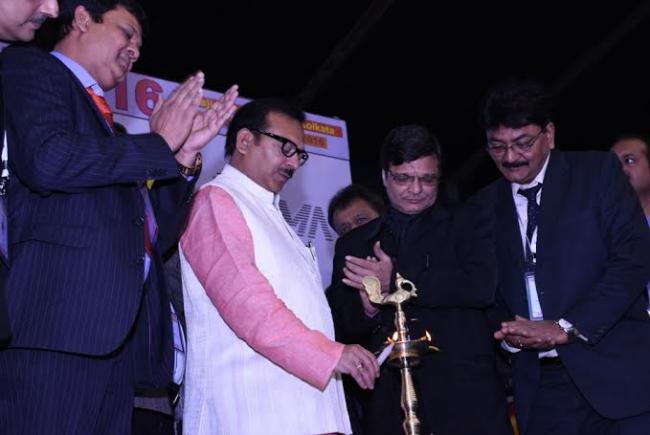 Kolkata, Jan 6 (JEN) West Bengal's Housing and Youth Affairs Minister Arup Biswas on Tuesday flagged off Cable TV Show 2016 Kolkata, one of the largest shows on satellite and cable television in India, at the Netaji Indoor Stadium.
The three-day event from Jan 5 to 7, is an annual affair organized by Kolkata-based Cable TV Equipments Traders & Manufacturers Association (CTMA).

Speaking at the inauguration, Pawan Jajodia, Chairman Exhibition, CTMA, said "Cable TV Show 2016 is the 19th Annual Show organized by CTMA on 5,6 and 7 January, 2016. Every year the number of vendors and participants are increasing. This year due to Digital India focus nationally there is huge demand for the space and the SHOW has been fully booked. We could not accommodate many vendors who wanted to participate this year. The total number of participants this year has crossed all time high figure of 70. This year the Cable TV Show is sponsored by NXT Digital, a Hinduja Group venture."

"CTMA thanks all the participants and visitors for making this SHOW a grand success. A special thanks to the authorities of Netaji Indoor Stadium, Sports Department, Government of West Bengal, Kolkata Police, KMC, Fire Department, Commercial Tax Department and all other support services providers for their support and co-operation in making this SHOW a success. All the members of CTMA and my colleagues in The Executive Committee also deserve special thanks for their assistance and confidence in me," Jajodia added.

More than 10,000 cable operators, traders, manufacturers, channel partners, distributors, broadcasters and Multi-System Operators (MSOs) from across India and overseas vendors are participating in the show.

K Binani, Secretary, CTMA said, "Cable television has completed 25 years in India. Though still young, the industry is going through a technological leap from analog to digital. From a single video channel it has matured into nearly 800 channel network. Urban India is now watching cable TV in the digital format through their set top box having access to value-added services beside satellite channels. MIB and TRAI has also taken very bold steps in ushering in digital services in this sector. The digital delivery has brought transparency and accountability in the trade. The disputes are much fewer now and business is progressively moving towards predictability. Every sector in this trade has seen growth and buoyancy in their revenue. The ground revenue is ultimately finding its way to fair share to all the players. Governments have also found a new revenue source to augment their coffers. The competition between MSO/LCO, DTH & HITS is making the customer king."

"Digital India roll out plans will make the cable TV sector more relevant. With its last mile connectivity to every household even in the remote village or hill, this sector is poised to play a invaluable role in its implementation and success, no doubt enriching itself on the way. Now the focus also needs to be on the proper maintenance and customer support as the viewer has become very knowledgeable and demanding. The customer retention will be new mantra in days to come. CTMA through its trade shows and other efforts round the year plays its role in making all the stakeholders aware of the emerging scenario and how to tackle it," Binani said.

Digital India is the new mantra which is very much dependent on the success of the digitalization of the cable TV sector that will also enable the broadband delivery to be co-carried on the same network. The government will also augment its revenue flow and greater transparency is set to usher in a better business environment.

"Cable TV in urban India has gone fully digital now, this is a great technological leap opening a new dimension in customer experience and potential of delivery of yet-to-be-developed services. There are over 850 channels with license to download in India and the customer has access to all of them. The regional language content has got a great fillip with digital delivery. Viewer empowerment has opened newer business opportunities for the broadcasters which will lead to new content and variety generating huge employment in the country. CTMA is in the forefront to prepare the industry to move ahead and exploit the opportunity," said Rajesh Doshi, President, CTMA.

CTMA called for a need to treat the Cable TV sector as an infrastructure engine to drive economic growth and not just as an entertainment tool only.