Indian Minister calls for effective implementation of Constitutional safe guards for Scheduled Castes
Just Earth News 21 Jul 2016 Print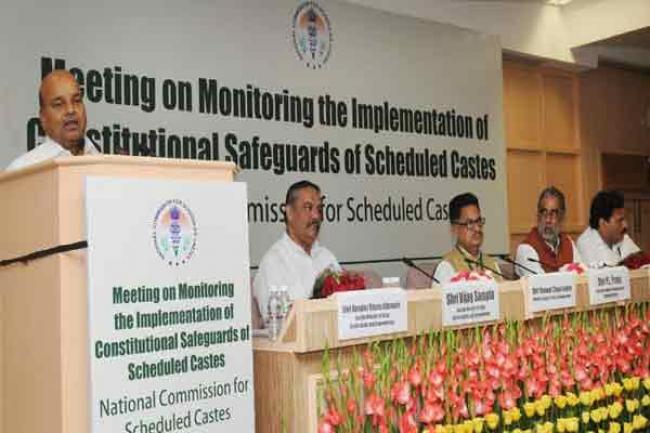 New Delhi, Jul 21 (Just Earth News): Thaawarchand Gehlot, Union Minister of Social Justice & Empowerment, urged the states to implement constitutional safe guards for Scheduled Castes (SCs) effectively to create a crime free environment while inaugurating a meeting convened by National Commission for Scheduled Castes (NCSC) on Thursday.
The minister said the central government has strengthened constitutional provisions for prevention of atrocities against Scheduled Caste and for their empowerment and urgent steps should be taken to ensure implementation these provisions effectively and to set up monitoring mechanism at each level.
At the meeting, which included Chief Secretaries, Secretaries (Home), Secretary Social Welfare and Director Generals of Police of the states, discussions were held over issues of atrocities on SCs and utilisation of Scheduled Castes Sub- Plan Funds.
Gehlot said that eradicating the discriminatory practices against SCs is a constitutional responsibility. State governments should sensitise the official machinery at each level for this purpose.
The Minister said that the persistence of socio-economic backwardness of SCs in spite of the development efforts have warranted a special and focused strategy, inter alia, to enable them to share the benefits of overall economic growth in a more equitable manner. This has been sought to be achieved through the budgeting for Scheduled Caste Sub Plan.
The prime objective of Scheduled Caste Sub Plan is to channelise funds and benefits through identifies dedicated schemes, for which the states/ UTs and Union Ministries have to earmark funds in proportion to the SC population in the states/UTs and the country respectively, he said.
He said that there should be emphasis on SC beneficiary Community oriented schemes and that states should ensure that the actual expenditure under SCSP is 100 per cent of the allocation and funds are not re-appropriated.
The meeting was also attended by Ministers of Social Justice and Empowerment Vijay Sampla, Krishan Pal Gurjar and Ramdas Bandu Attawale. Chairman of NCSC, P.L. Punia and Vice- Chairman, Dr. Raj Kumar Verka also participated in deliberations.
The meeting discussed monitoring of prevention of atrocities on Scheduled Castes, identification and rehabilitation of manual scavengers, implementation of Scheduled Caste Sub Plan (SCSP) and implementation of reservation in state government services, including state government PSUs.