Development
Governance/Geopolitics
Britain's HMS Defender sailing near Crimea warned by Russia
Just Earth News | @justearthnews | 23 Jun 2021, 07:06 pm Print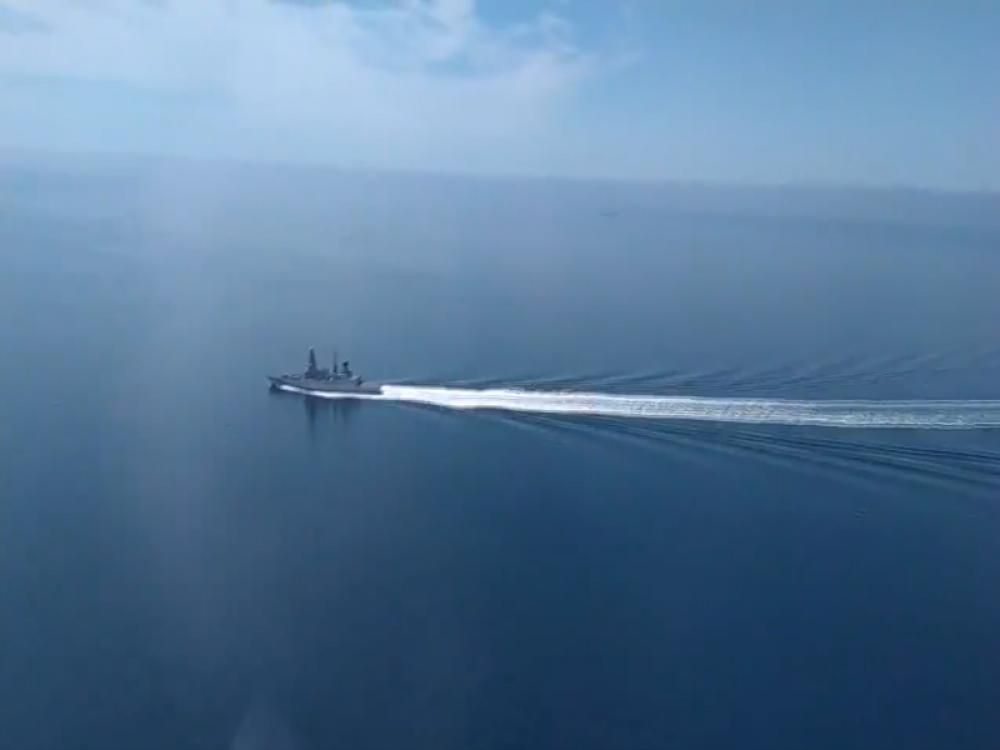 Image Credit: Screenshot of video shared by twitter.com/mod_russia
More than 20 Russian military aircrafts and two coast guard ships shadowed a British warship sailing near Crimea.
According to Russian defence ministry, a patrol ship fired warning shots and a jet dropped bombs in the way of British warship HMS Defender when it reached some 12 miles (19km) off Crimea's coast, said a BBC report.
The UK government denied that any warning shots had been fired at its ship.
BBC said that its defence correspondent, who was present in HMS Defender, reported that the British warship in the Black Sea, sailing to Georgia, was harassed by Russia's military.
Aircraft could be heard overhead and hostile warnings were given over the radio as the warship crew prepared for a possible confrontation, the BBC report stated.
"Our correspondent, who had been invited on board the ship before the incident happened, saw more than 20 aircraft overhead and two Russian coastguard boats which at times were just 100m (328ft) away," BBC stated in the report.
"This is at odds with statements from both the British prime minister's office and defence ministry, which denied any confrontation,"it further added.
While sailing from Odessa in southern Ukraine to Georgia, the British warship passed south of the Crimea peninsula, which Russia annexed from Ukraine in 2014, the report said.
BBC reported quoting a source that "the Defender was not there to pick a fight but to make a point, to assert its right to freedom of navigation in international waters."
Russia claims the peninsula and the waters as its territory but the UK said it was passing through Ukranian waters which is "commonly used and internationally recognised territory", the report said.
Moscow has said Britain's warship's "dangerous actions" are a "gross violation" of the UN Convention's sea laws.
After a while, the Russian embassy in the UK said: "HMS Defender turns HMS Provocateur and violates Russian border. Not exactly a 'routine' transit, is it?"
The Russia's defence ministry released a video that allegedly shows HMS Defender from a Russian aircraft.
Footage of Russian Black Sea Fleet and Border Service of the Federal Security Service's prevention of the breach of the Russian Federation state border committed by the UK Navy destroyer «Defender» pic.twitter.com/4VnAlMjK4Y

— Минобороны России (@mod_russia) June 23, 2021
A UK government spokesperson said Russia was doing "gunnery exercises" in the Black Sea, ruling out notions of hostilities, said the report.
UK Defence Secretary Ben Wallace added: "As is routine, Russian vessels shadowed [the ship's] passage and she was made aware of training exercises in her wider vicinity."
Meanwhile, the Russian foreign ministry summoned the British ambassador in Moscow, who met officials on Wednesday afternoon.