Geopolitics
Governance/Geopolitics
Pope Francis visiting UAE, attends Global Conference of Human Fraternity
Just Earth News | @justearthnews | 05 Feb 2019, 01:53 pm Print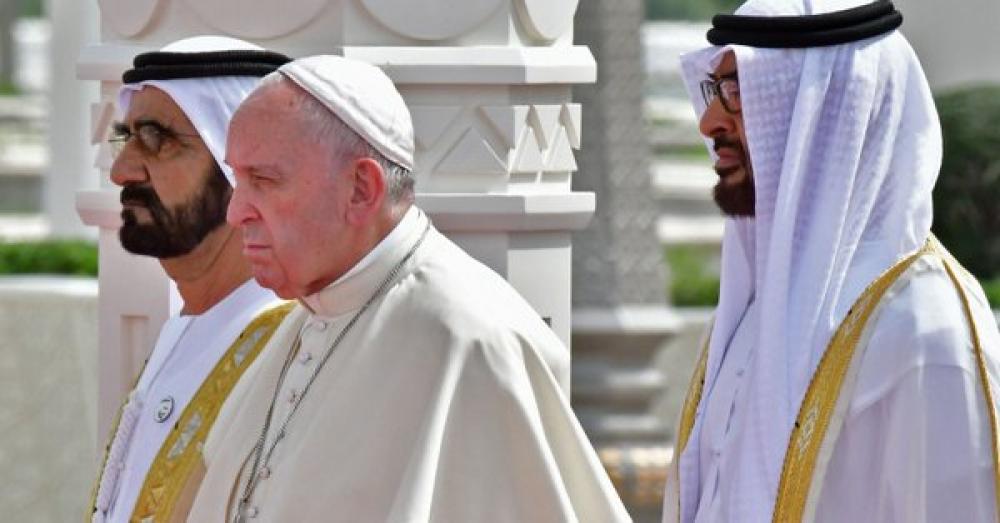 Abu Dhabi: Visiting UAE, Pope Francis attended the inter-religious meet where he emphasized the need for religious freedom in his speech.
Speaking at the event, Pope was quoted as saying by Gulf News: "The courage of otherness is the heart of dialogue, which is based on sincerity of intentions. Prayer for one another is important. We will either build the future together or there will not be a future."
"Education and violence are inversely proportional. Justice is the second wing of peace, which often is not compromised by single episodes, but is slowly eaten away by the cancer of injustice. Here the desert has flourished not just for a few days in a year, but for many years to come. This country, in which sand and skyscrapers meet, continues to be an important crossroads" he said.
He urged the world community to end war.
"Weapons bring nothing but death. Let us oppose war with the sweet power of prayer and daily commitment to dialogue," he said.
Pope, earlier in the day, visited the Shaikh Zayed Grand mosque.
He met members of the Muslim Council of Elders at the mosque, reports said.
Pope Francis also visited the Presidential Palace.
On his arrival at the Presidential Palace in Abu Dhabi, accompanied by cavalry mounted on Arabian horses, Pope Francis was accorded a 21-gun salute, followed by the playing of the anthems of The Vatican and the United Arab Emirates. The UAE Air Force aerobatic display team, Al Fursan, flew over the Presidential Palace, painting the Vatican flag in the clouds to celebrate the visit, reported Gulf News.
During this visit, Pope Francis and Dr Ahmad Al Tayeb, Grand Imam of Al Azhar have also signed a Human Fraternity document. It is known as 'Abu Dhabi Declaration'.
Interestingly, this is the first visit by a pontiff to the Arabian peninsula.
Image: Vatican News Twitter page