FAO and MasterCard join forces to support refugees and small-scale farmers
03 Sep 2015, 09:20 am Print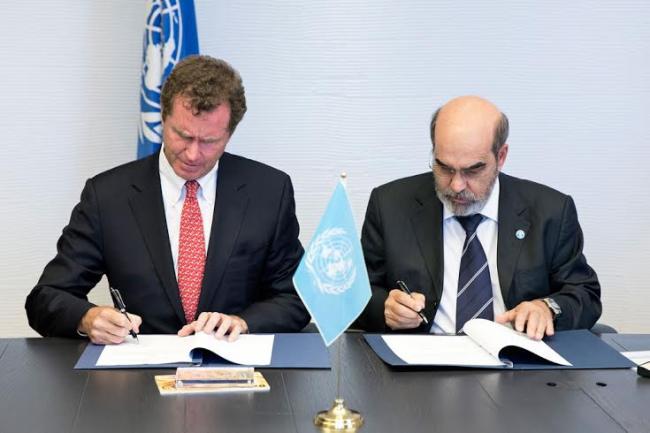 New York, Sep 3 (JEN): Residents at the Kakuma refugee camp in north-western Kenya will soon be able to buy charcoal produced in an environmentally-friendly way by local farmers as part of an innovative new alliance between the United Nations Food and Agriculture Organization (FAO) and MasterCard to support small farmers and poor families.
"FAO is extremely proud of this collaboration with MasterCard that will support small-scale farmers to become economically independent by advancing financial inclusion," said FAO Director-General José Graziano da Silva.

A new partnership agreement, signed today by the FAO Director-General and Walt Macnee, Vice Chairman of MasterCard, at FAO headquarters in Rome, paves the way for a collaborative effort that will develop inclusive payment systems to support small-scale farmers and poor families, the agency said in an announcement.

"The partners' first joint effort will be in the Kakuma refugee camp, in Turkana County, Kenya, currently home to 170,000 refugees who have fled wars and violence in neighbouring countries," FAO said.
It said, "Camp residents will be provided with prepaid cards that will permit them to buy charcoal produced locally by the host community – charcoal that has been certified as being produced in a sustainable, environmentally-friendly way."

The project "is designed to improve incomes of Turkana residents, reduce social tensions between those residents and the refugees, and relieve pressure on the environment," the agency said.

According to the UN refugee agency, Kakuma camp is a melting pot of refugees from more than 20 countries. The majority are from South Sudan, Somalia, Sudan and the Democratic Republic of the Congo.
The town of Kakuma has hosted the camp since 1992. MasterCard will provide its technology expertise and a meaningful financial contribution, to kick-start the business chain by providing 1,240 host-community households with improved charcoal making kilns and 7,000 refugee households with energy efficient stoves and credit to purchase 25 per cent of their annual charcoal needs.

FAO said "the effort will benefit from the complementary strengths of each organization: MasterCard's expertise in payments technology and FAO's global reach and track record in combating hunger and malnutrition."

FAO's three main goals are: the eradication of hunger, food insecurity and malnutrition; the elimination of poverty and the driving forward of economic and social progress for all; and, the sustainable management and utilization of natural resources, including land, water, air, climate and genetic resources for the benefit of present and future generations.

Photo: FAO/Alessia Pierdomenico