City of Joy gets its first 'Bengal Mango Utsav'
13 Jun 2015, 08:54 am Print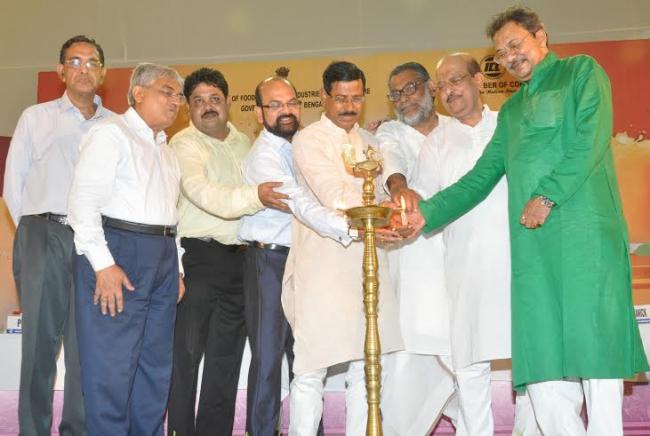 Kolkata, June 13 (JEN): The juicy, pulpy mango this summer is a centre of gastronomic attraction in the City of Joy as a festival of the queen of fruits is underway even as the ministers from West Bengal highlighted how the production of the fruit has gone up by 25 percent in the state and can be a major source of revenue earning.
Bengal Mango Utsav 2015, jointly organized by West Bengal's Department of Food Processing Industries & Horticulture and The Indian Chamber of Commerce, opened
on Wednesday
last in the city.
Farmers from West Bengal as well as from Bihar and Andhra Pradesh have come to display their mangoes.
Representatives from West Bengal districts like Malda, Mursidabad, Bankura, Nadia, Burdwan have come to participate in this event.
"Nalin Chandra Das & Sons", a traditional sweet shop from Kolkata, also put up a stall of sweets which are made of mangoes.

"The state has increased mango production by 25%. Many new places in the state have started growing mango. But, increase in production should be backed by better marketability," said CM Bachhawat, Additional Chief Secretary, Department of Food Processing Industries & Horticulture, said.
West Bengal Agriculture Marketing Minister Arup Roy said "West Bengal produces best of the mangoes and Himsagar is better than Alfonzo."
West Bengal Agriculture Minister Purnendu Basu said, "People have to be informed regarding different mango breeds and festivals like this one can do that. Scientific post harvesting and organic farming in mango cultivation would eventually lead to the concerned fruit's greater international acceptability."
He added, "In near future ICC should come forward to support food processing industries at a greater scale."
Krishnendu Narayan Chowdhury Minister, Department of Food Processing Industries & Horticulture, said, "Mango is a good source of business and foreign exchange earnings nowadays. It can be marketed in various forms such as pulp, wine, chips, oil, juice, fertilizer."

West Bengal Consumer Affairs Minister Sadhan Pande Minister, said, "Packaging is the need of the time as far as mango cultivation and promotion of the same is concerned. Better packaging, cleanliness and presentation can unleash a new horizon for the mangoes of west Bengal."

(Reporting by Jagrik Dey)