Syrian refugee women key to country's future: UN
05 Dec 2013, 11:01 am Print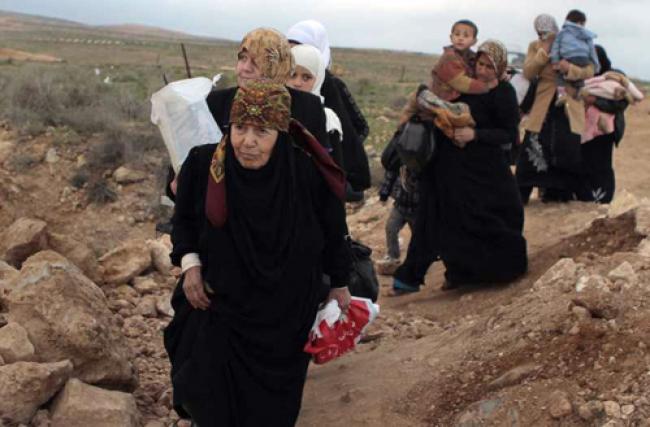 New York, Dec 5 (JEN): Syrian refugee women have a key role to play in shaping the future of their war-torn homeland, the protection chief of the United Nations refugee agency (UNHCR) told a conference in London Wednesday.
"Despite the conflict, horrors and human rights abuses they have escaped in Syria, refugee women have an amazing motivation and determination to be a positive part of shaping Syria's future," said Volker Türk, UNHCR Director of International Protection, at the Thompson Reuters Foundation Trust Women conference during a panel discussion on Women's rights in the Arab world: Has spring turned into winter?
Recently returned from meeting Syrian refugees in Jordan, Turkey, Lebanon and Egypt, Türk said he came away with a profound desire to create opportunities to empower Syrian refugee women to build a stronger future for themselves and play a positive role in the future of their country.
He added that more than 80 per cent of the more than 2.2 million Syrian refugees were women and children – a particularly vulnerable population facing serious protection risks such as early marriages, child labour, isolation and lack of livelihoods.
UNHCR is leading a massive international response to support refugees and the neighbouring countries, in particular the host communities which have been generously hosting Syrians through more than 33 months of a conflict that has killed more than 100,000 people and driven some 6.5 million others from their homes since opposition protesters first sought to oust the Government of President Bashar al-Assad in March 2011.
"I was absolutely struck [when] meeting a Syrian teacher who had lost her husband and was supporting her three children by making and selling candles in an abandoned shopping mall in Lebanon. Amidst this misery, she had built a small business and was strikingly positive. I saw in her the future of Syria," he said.
Türk went on to say that UNHCR wants to hold a forum for Syrian refugee women in neighbouring States to meet and share their stories of empowerment in displacement. "By sharing their struggles and experiences, their confidence will be strengthened and they will become long-term advocates of change, not only in displacement but also when conditions are right to return to Syria," Türk added, asking conference participants to help make this a reality.
A line of Syrian refugee women, some carrying children, cross into Jordan from southern Syria. Photo: UNHCR/N. Daoud